Verizon redefines wireless freedom, launches first in U.S. plan that puts customers in charge
Media contact(s)
Adria Tomaszewski
908-809-2382
Ashley Colette
908-559-2204
Introducing myPlan: We provide the most reliable 5G network, you design the plan that fits your needs; change it anytime. Meet the first ever customizable, personalized phone plan from Verizon.  
Full Transparency
No Updates
Update: Beginning August 31, all Verizon customers will have a new unlimited option to choose from within myPlan. Unlimited Ultimate will join the current Unlimited Plus and Unlimited Welcome plans. Unlimited Ultimate offers Verizon's most advanced connectivity experience with 5G Ultra Wideband, our fastest 5G, no matter how much you use, a whopping 60GB of mobile hotspot data, the most offered in the industry, and international connectivity with 10GB per month of international premium data, Global Choice, and unlimited text while abroad and calls within 210+ countries and back to the USA. Plus, it comes with our best device promotions for new and existing customers and 50% off not one but two connected device lines. To learn more visit verizon.com/plans/unlimited/.
The below press release was originally published on May 16, 2023.
---
What you need to know:
Pick only the perks you want. SAVE on every one—choose from Apple One, Apple Music Family, Disney Bundle and Walmart+, to name a few. 
Change it up anytime. 
You're not locked into your plan and your phone isn't locked1 on our network. 
Everyone in the fam can customize their own plan. And singles too.
It's simple. Really. Super simple. 
Introducing myPlan.
Verizon is putting an end to bloated bundles and a "one size fits all" approach to wireless plans. Now, customers can pay for only what they need. You're in charge. You decide what goes into your plan and what stays out. You choose how it changes—you're never locked in. Everyone gets to customize their own plan, so each person, or family member, gets what they want—and everyone can save.
It's as easy as 1, 2...and that's it.
With a price that's guaranteed.
First, choose your Unlimited network option. Select from Unlimited Welcome with fast, reliable 5G; or Unlimited Plus with 5G Ultra Wideband, our fastest 5G, 30 GB of premium mobile hotspot data, and up to 50% off a watch, tablet, hotspot or Hum plan. Plus, for a limited time, the price you pay for your Unlimited Plus monthly plan is guaranteed for three years (price guarantee excludes taxes and fees).2 
Get all of this on America's most reliable 5G network3 with the strength that gives more customers an amazing network experience. Unlike others, Unlimited Plus has no smartphone data caps, won't slow you down, and won't deprioritize your data.

After you choose your network, choose your favorite content and services. We like to call them "perks", because at just $10/mo per perk4, you're saving on every single one, every single month. It's that simple.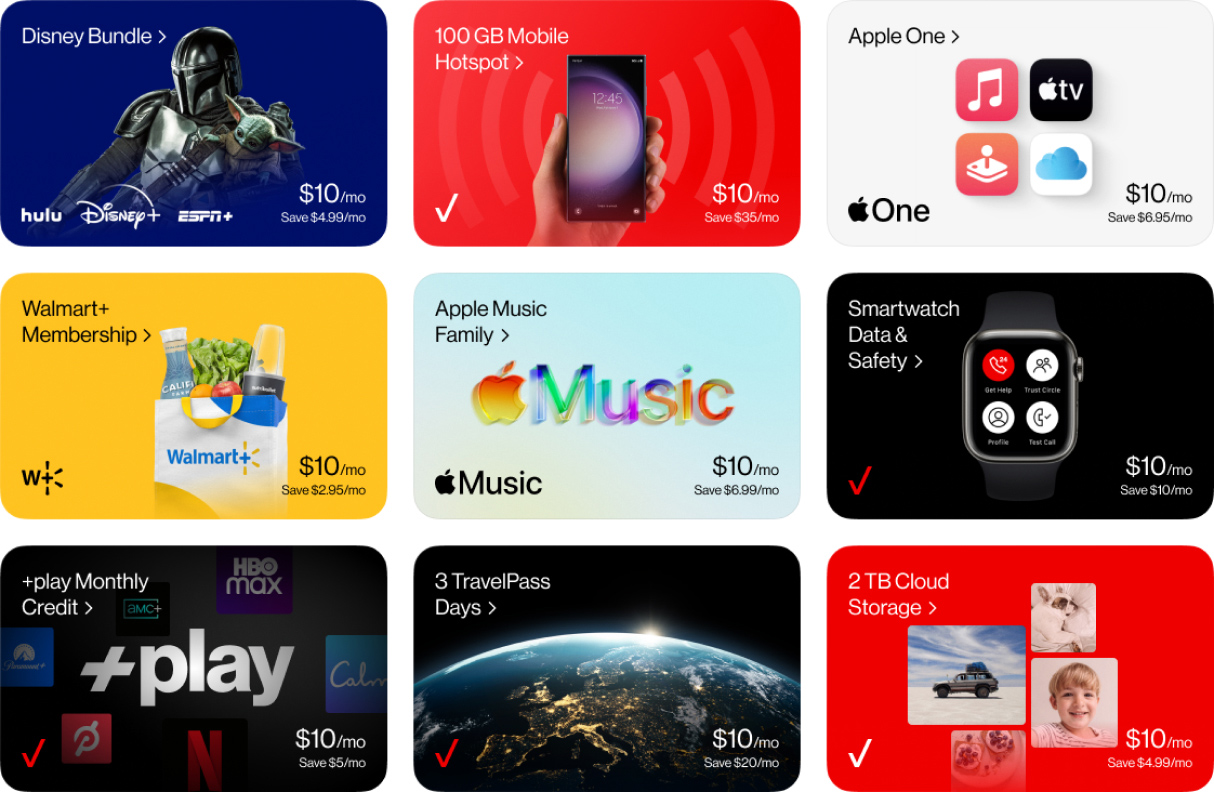 You can also start with our most popular plans and customize it to make it your own. 
 

Get everything Apple all in one place. Choose Unlimited Plus with Apple One that comes with Apple Music, Apple TV+, Apple Arcade, and iCloud+. Stream a catalog of over 100 million songs and expertly curated playlists with Apple Music—with access to Apple Music Family for the first time ever, watch award-winning series and films on Apple TV+, play over 200 fun games with no ads or in-app purchases on Apple Arcade, and get plenty of storage for your photos and files, plus premium features like Private Relay and Hide My Email from iCloud+.

 
| | |
| --- | --- |
|   | If you love a content library chock full of incredible movies, shows and sports match Unlimited Plus with the Disney Bundle perk that features Disney+, ESPN+ and Hulu5. |
            

            

         

If online shopping and saving on entertainment is more your style, pair Unlimited Welcome with the Walmart+ Membership perk that also includes Paramount+.            
Also, for the first time ever, we're offering the Apple Music Family plan to our customers, which gives you and five of your family members access to 100 million-plus songs, expertly curated playlists, immersive Spatial Audio, and much more. Apple Music subscribers can also enjoy the new Apple Music Classical app at no extra cost.
Adjust, tweak and put your own spin on any plan you choose, anytime from the comfort of your phone with the MyVerizon App.
How much does it cost?
myPlan starts at just $30/line/month when you sign up for Unlimited Welcome with four or more lines with a $10/line Auto Pay discount, plus taxes and fees.6 From there, you decide exactly what goes in and what stays out of your plan, so you only pay for what you want. And, our best Unlimited plan comes with a three-year price guarantee for a limited time.
Unlimited
Plus

Unlimited
Welcome

5+ lines

$42/line

$27/line

4 lines

$45/line

$30/line

3 lines

$55/line

$40/line

2 lines

$70/line

$55/line

1 line

$80/line

$65/line
Why it's important:
myPlan changes the game. Others talk about phone "freedom," but in reality they're just pushing customers into their most expensive, bloated plans—which are limiting, don't allow for changes, and where customers end up paying for things they don't want or need. With myPlan, however, you get what you want, exactly how you want it. So everything is on your terms with the flexibility to change it up anytime. The network, the perks, the savings—all without compromise. All in your control. Because we recognize everyone is different and should be able to choose exactly what they want down to the line level. Plus, you get unlimited 5G data6 on Verizon's award-winning network. 
Who it's for:
For anyone who doesn't want to be told what they need or forced into a plan that's already decided for them. And for everyone—new and loyal customers alike. If your best phone plan is one where you're in charge and you want to be on Verizon's fast and reliable 5G network, then myPlan is your plan. It's easy, simple, and convenient to change your plan in the MyVerizon App—no calls or visits needed, no hidden change fees or shenanigans.
What executives are saying:
Verizon: "We are always listening and reacting to our customers and now, more than ever, they want increased control and flexibility with their plans. They want plans to be simple and convenient, and of course, they want the best network and the best value," said Sowmyanarayan Sampath, CEO of Verizon Consumer Group. "myPlan gives customers the ability to pick and choose the perks they want, save on every one, and change anytime – that's real wireless freedom. Plus, savings from amazing partners that provide the best in content, entertainment and more." 
Apple: "We're so glad that Verizon customers can choose Apple One or Apple Music Family to access the world's best entertainment " said Oliver Schusser, Apple's vice president of Music, Video, & Sports. "From expertly curated playlists and immersive Spatial Audio on Apple Music, award-winning series and films on Apple TV+, over 200 incredibly fun games on Apple Arcade, and amazing features like Hide My Email and even more storage with iCloud+, there's something for everyone—so it's great that up to six family members can access Apple's services at no additional cost across their iPhone, iPad and other Apple devices."
Disney: "Since the launch of Disney+, our partnership with Verizon has delivered subscribers unparalleled blockbuster films and series from our iconic brands—Disney, Pixar, Marvel, Star Wars and National Geographic. Now, with myPlan, millions of Verizon customers can enjoy endless entertainment and sports from The Disney Bundle, including Disney+, Hulu—home of FX, Searchlight, 20th Century Films, and award-winning Hulu Originals – and ESPN+," said Joe Earley, President, Direct-to-Consumer, Disney Entertainment."
Walmart: "Walmart+ was designed to make our members lives easier, saving them time and money like no other retailer can. We are excited for myPlan to bring the convenience of Walmart+ to even more people, giving them access to free delivery7 from store, fuel savings and more," said Catherine Keane, Vice President, Partnerships, Walmart+."
Get ready to take control May 18. 
Change is coming. Take charge with myPlan, available May 18 only at Verizon. Visit your local Verizon retail store or head to verizon.com or the MyVerizon App. 
---
1 In order to mitigate theft and other fraudulent activity, newly purchased devices are "locked" to work exclusively on the Verizon network for 60 days. After 60 days, we will automatically remove the lock. Following the 60 day lock period, we do not lock our phones at any time.
2 Limited time offer 3-yr price guarantee applies to the then current base monthly rate charged by Verizon for your talk, text, and data; excludes taxes, fees, surcharges, additional plan discounts or promotions, and third-party services. Price guarantee is void if any of the lines are canceled or moved to an ineligible plan. Plan perks, taxes, fees, and surcharges are subject to change.
3 $10/mo for each myPlan perk; Add'l terms & conditions apply per perk.
4 Most reliable 5G network based on more first place rankings in RootMetrics' 5G data reliability assessments of 125 metro markets conducted in 2H 2021. Tested with best commercially available smartphones on three national mobile networks across all available network types, excluding C-band. Your experiences may vary. RootMetrics rankings are not an endorsement of Verizon.
5 Disney Bundle includes Disney+ (No Ads), Hulu (w/Ads), and ESPN+ (w/Ads). EXISTING DISNEY+, HULU OR ESPN+ subscribers: Offer will not automatically replace existing subscription(s). Managing subscriptions may be required to avoid multiple subscriptions and corresponding charges. Terms apply.
6 Auto Pay (Debit Card, Bank account, or Verizon Visa Card) & paper-free billing req'd. Unlimited 5G / 4G LTE: For Unlimited Welcome plan, in times of congestion, your data may be temporarily slower than other traffic.  For Unlimited Plus plan, after exceeding 30 GB/mo of 5G Ultra Wideband, 5G, or 4G LTE Mobile Hotspot data, Mobile Hotspot speeds reduced to up to 3 Mbps when on 5G Ultra Wideband and 600 Kbps when on 5G / 4G LTE for the rest of month.  Mobile Hotspot not available on Unlimited Welcome  plan.  Domestic data roaming at 2G speeds.
7 Delivery restrictions apply, details at www.walmart.com/plus. Paramount+ Essential plan only. Separate registration required.