Let's face it; wires are pretty much considered eyesores in a home.  A wire running down your wall to a set top box or router can be hard to hide.
So we partnered with Samsung Fiberoptics to come up with our new undressed fiber.  Well… it is only wearing a clear coat of polymer.  We are calling it Magic Wire, and it looks more like a fishing line then a traditional wire.  You can see the official product by Samsung in its INVISIA brochure.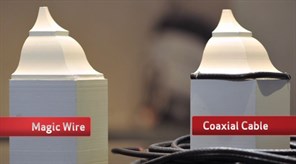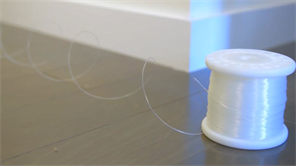 The Magic Wire idea stems from the feedback from Verizon's customers in New York's high-rises and apartment complexes.  Some customers wanted a cleaner look, so Verizon tapped its longtime partner Samsung for a new type of fiber.  The fiber would need to be flexible, clear, and easy to install.  The result: A nearly see-through and extremely flexible fiber optic line, which can be installed without needing to use staples, nails or conduit.
What do the experts say about Magic Wire?
As Shelly Palmer recently reported… Magic Wire "is a clear, clean, almost invisible fiber optic cable that can deliver the speed and power you've come to expect from FiOS.  It's currently right now only in use in the tri-state area, but may expand to other parts of the country in the future.  Magic Wire gets laid around your molding (or wherever you're running your cable), and it's so low-profile that you won't be able to see it, even if you're looking for it.  I'm stunned by how capable this piece of wire is, and how much it means aesthetically."
 Want to see more?  Take a look at this video from FOX 5 News: