Newly Designed Verizon State College Store Re-opens in PA With Grant Commemoration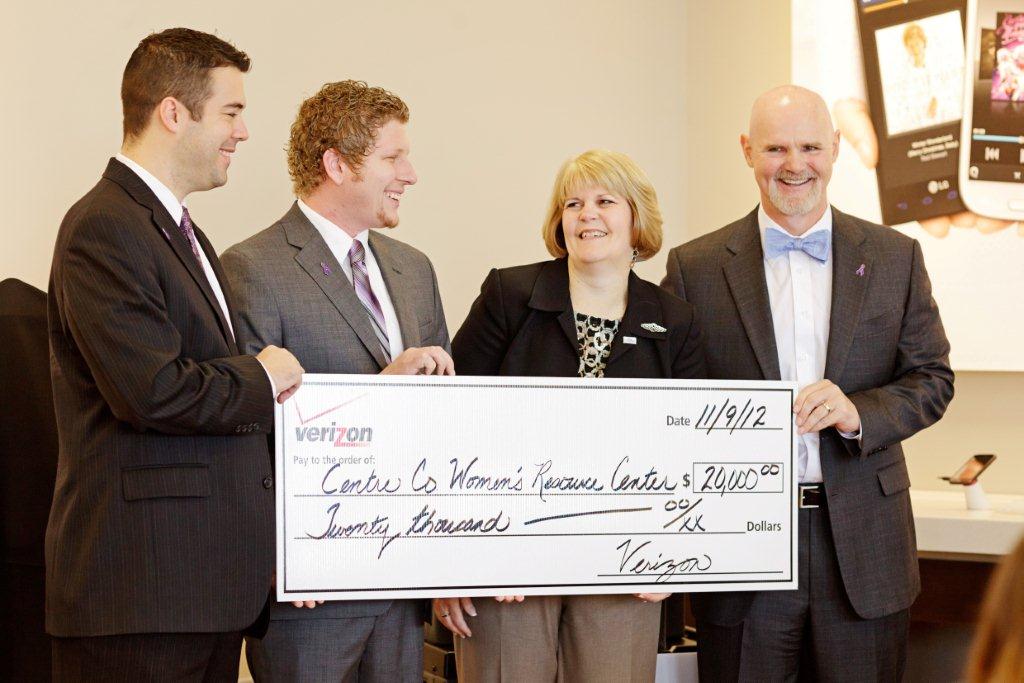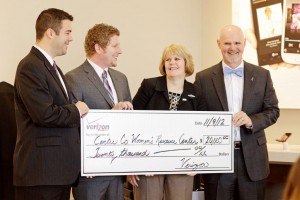 Left to right: Craig McCann, district manager, retail sales for Verizon Wireless; Travis Tierney, manager, retail sales for Verizon Wireless; Anne Ard, Centre County Women's Resource Center Executive Director; Mark Frazier, president of the OH/PA/WV Region.
We have completely remodeled our Communications Store at 2030 North Atherton Street in State College, PA, and I'm excited to share the news about all our updates and grand re-opening ceremony. The newly designed Verizon State College store offers our customers hands-on interaction with wireless voice, data, music and video services in a sleek, new full-service environment.
To commemorate our latest "evolution" communications store in State College, Mark Frazier, president of the Ohio/Pennsylvania/West Virginia region for Verizon Wireless, hosted a ribbon cutting ceremony.
The event included the announcement of a $20,000 grant to the Centre County Women's Resource Center (CCWRC) and a tribute to Amy Homan McGee. Amy was a Verizon Wireless employee who lost her life to domestic violence in State College 11 years ago this month—and whose story led to the creation of the documentary, Telling Amy's Story. A plaque remembering Amy was presented at the ceremony and will be permanently displayed in the store.
In addition, we kicked off a month-long wireless phone recycling drive to support our HopeLine® program that turns no-longer-used wireless phones into support for victims of domestic violence. We encourage people in the State College, PA area to bring unwanted phones or tablets from any provider to the store to recycle it in a convenient and responsible way. For every phone or tablet recycled at the store during the month-long drive, a $5 donation will be made to the Centre County Women's Resource Center.
Now, back to the store amenities! Visitors to the newly remodeled Verizon State College store can sample a wide array of fully-activated new basic phones, smartphones, tablets and other devices for a total wireless experience on Verizon's 4G LTE network and the largest, most reliable 3G network.
Additional convenience features of the newly designed Verizon State College store include:
- More than 50 working models of handsets, tablets, air cards and other devices for customers to handle and test.
- A Bill Payment Kiosk that enables customers to pay their bills quickly and easily using checks, cash or credit/debit cards.
- Customer Service and Technical Support departments that make it easy for customers to get account information and service and address technical issues from the trained in-store staff.
The Verizon Wireless Communications Store in State College is open Monday through Saturday 9 a.m. to 8 p.m., and Sunday from 10 a.m. to 5 p.m. The store's phone number is 814-231-3948.
Questions? Send me a tweet - @VZWlaura.
For more Verizon Wireless news, subscribe via RSS feeds in the right rail.