Partnering to plant trees worldwide: 399,000 & counting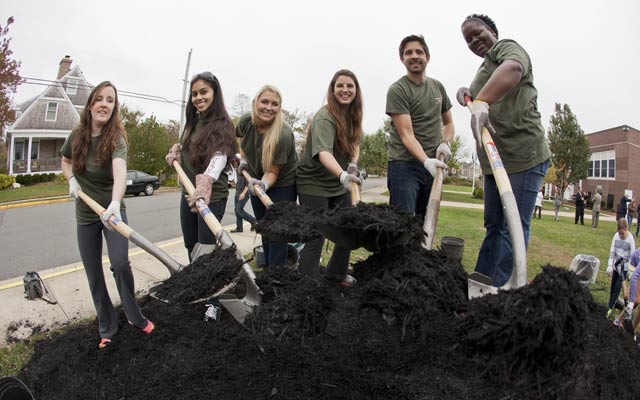 This article is authored by Jami Westerhold, Esq. She is responsible for the strategic development and management of American Forests' forest restoration programs, including Global ReLeaf and Endangered Western Forests. Jami has worked in the environmental and conservation arena for more than 10 years.
If you are familiar with American Forests, you know that our mission is to restore threatened forest ecosystems. This is no small task. Hundreds of thousands of acres of forests in the United States – let alone the world – are under a myriad of threats. To help restore forests, our projects are focused on:
Repairing areas along waterways to reduce erosion and improve water quality
Reestablishing fragmented wildlife corridors, where forests have been removed due to development
Planting trees to restore mountain sides decimated by high-intensity wildfires, and in our country's major cities, to reduce air pollution and crime
This year American Forests is on track to plant our 50 millionth tree. This is an exciting milestone, and one we could not have accomplished without the help of our partners. One such long-time partner is Verizon. For nearly a decade, Verizon has generously supported our organization and America's forests.
This year, Verizon welcomed its 20,000th employee to the Verizon Green Team, a group of employee-volunteers who "Live Green and Work Green" by employing sustainable practices at work, at home and in our communities. Verizon honors its Green Team members by planting a tree in each of their names. Verizon will celebrate the 20,000 membership milestone by planting more trees for its new members with American Forests.
Working together, Verizon and American Forests will have planted more than 399,000 trees worldwide.
Verizon has encouraged sustainable activities from paperless billing for its customers to electronic voting for its shareholders. Furthermore, Verizon promotes responsible sourcing internally, with a public goal of 90 percent of paper sourced to be FSC certified by 2017.
As American Forests celebrates our 140th anniversary, we have an opportunity to look back on everything we have accomplished throughout our country's wild land and urban forests. We can also see all the work that still needs to be done. As we move forward with partners like Verizon, we hope to help protect and restore our forest ecosystems and inspire others to do the same.