Paving New Pathways to Technology
Recently a group of 12 students from University High School in Waco, Texas visited Verizon's Richardson facility to get a head start on their future.
The students are part of the "Pathways to Technology" program run by the Verizon Foundation – the philanthropic arm of Verizon. The program prepares students for college and a successful career in the fields of science, technology, engineering and math.
Genia Wilbourn, global engineering design and transport leader at Verizon, is the students' mentor. She shares her knowledge and experience and guides them on this journey. This day was the first in a series of meetings to introduce the students to the many opportunities at Verizon and other technology companies should they choose a STEM career path.
"I'm honored to share my excitement for engineering and technology with these students. Through this mentoring opportunity, I'm hoping to help connect the dots between the students' own driving passions and a potential career in a STEM field – and perhaps even inspire a few to one day join Verizon."
The day's events gave the students a look at some of the many possibilities: a tour of Verizon's global transport engineering facility and a tour through Big Red -- Verizon's 53-foot mobile communications trailer and other vehicles from our disaster response fleet.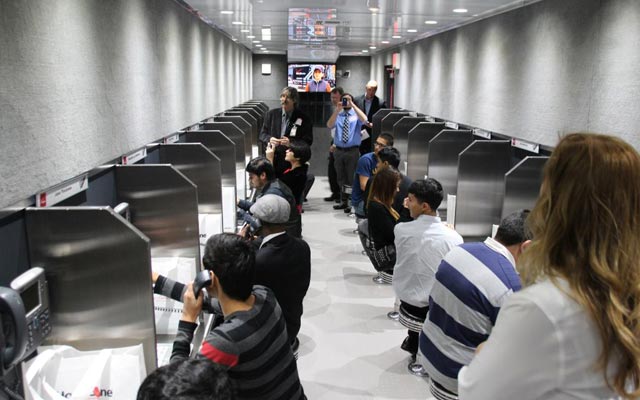 The students ended the day with a new outlook, and the possibility of a career in the STEM world. They also learned more about Verizon -- and the importance of a good education:
Before: Verizon sells cellphones.
After: Verizon is a worldwide technological solutions provider — including wireless, copper, fiber, even undersea communications that reach across the globe.
Before: When disaster strikes it's up to the police, fire rescue and EMTs to help those impacted.
After: In addition to emergency response teams, it's also vital to restore communications to maintain our infrastructure and support health and human services. Verizon's satellite solutions group and their equipment are ready at a moment's notice to meet that need.
Before: Algebra, chemistry and physics are challenging subjects with lots of book work.
After: Getting a good education is the first step for a career in STEM and to make a difference for a better future.