Reinforcing our commitment to public safety and communities
Reinforcing our commitment to public safety and communities
"Our law enforcement and public safety officers are the first line of defense in our communities. The men and women who do the hard, and so often dangerous, work every day, every night and every weekend to ensure the rest of us are safe. When duty calls, you answer the call without question."
Mike Maiorana, senior vice president, Public Sector Markets, reiterated Verizon's support of law enforcement and public safety agencies nationwide in remarks delivered at the National Police Week Legacy of Honor Gala in Washington DC.
Addressing an audience of law enforcement and public safety officers and their supporters, Maiorana spoke about the changing world of law enforcement and the rapid adoption of new technologies by law enforcement agencies large and small.
"We've come a long way from the cop on the beat," he said. "Today's law enforcement agencies…are using cutting edge technology to watch over our communities."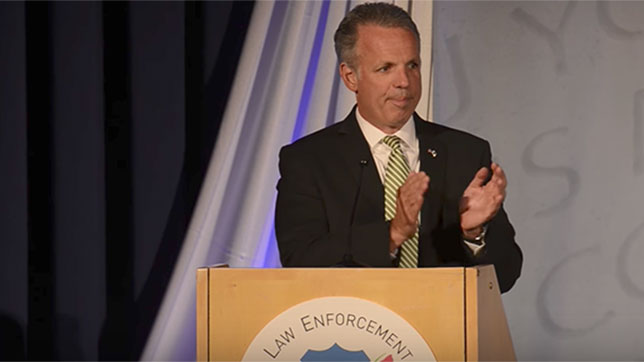 He reinforced Verizon's long history of support for public safety and delivering innovative solutions on a proven, reliable network:
First responders use smartphones, sensors and other devices powered by Verizon's 4G LTE network to connect to dispatchers and databases in real time.
Government-centric services like wireless priority, push-to-talk service with LMR two-way radio interoperability – even drones – all with 24x7, 365-day global customer service and support.
Forward-looking municipalities are deploying new Smart City applications that allow them to monitor vital public services.
Verizon's business continuity and emergency management teams routinely deploy to impacted areas to assist public safety as they respond to emergencies.
In cyberspace, Verizon detects and prevents attacks on its networks and those of its customers, and assists in protecting our nation's critical infrastructure.
Looking ahead, Maiorana shared how 5G technology will continue to change the ways law enforcement and public safety agencies communicate, and Verizon's commitment to leading the way.
"Today's law enforcement agencies are going ultra high tech, and Verizon is proud to support them. It's what we do every day."
Learn more about Verizon's solutions for law enforcement and public safety.