With tablets in student hands, California school is on upswing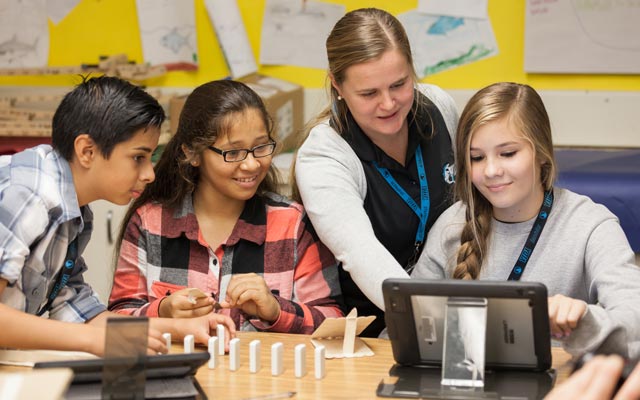 The assignment in Marissa Born's 7th grade mechanical engineering class was to make a "Rube Goldberg" machine, a comical series of wedges, weights and levers that would cause a thumbtack to pop a balloon.

The kids tried and tried. But the balloon wouldn't pop.

Then students had the idea of using their iPads to videotape the experiment in slow motion.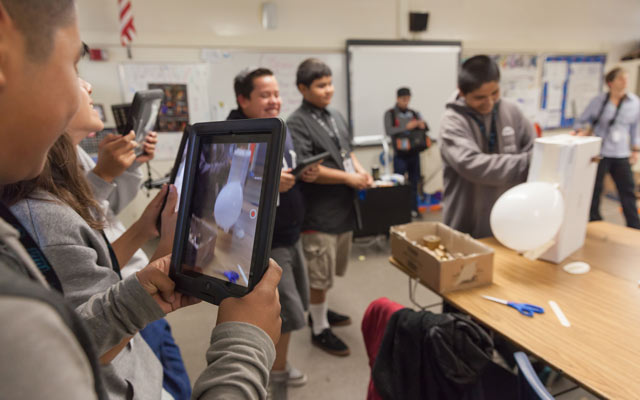 Suddenly they were able to examine the action in detail. And soon they saw how to make that thumbtack spring up with enough force to puncture that balloon. Success!

At the Vista Innovation & Design Academy (VIDA), near San Diego, every one of the 680 students and 38 faculty members received an iPad and 24/7 data plan last fall as part of the Verizon Innovative Learning Schools program.

"The excitement and novelty of having an iPad has led to learning," said Provost Cindy Anderson.

VIDA is a new magnet school, based on creative problem solving. It started in August in what used to be Washington Middle School, a school with a traditional curriculum, plagued by poor attendance, discipline and academics.

Two-thirds of the students — a majority from families in poverty and many with no fixed address — had attended the former school.

This school year, there has been a 92 percent reduction in suspensions and a 79 percent decrease in discipline referrals. Almost 60 percent of students have an attendance rate of 98 percent or better. School-wide, average daily attendance has improved 8 percent compared to the former school.

Quarterly grades are on the rise. And internal assessments are showing marked improvements in math and reading. "Failing students are the exception rather than the rule at VIDA," Anderson said.

"The connectivity — that's the game-changer," said Principal Eric Chagala. Many students had no Internet access at home before Verizon stepped in. Now "teachers are discovering ways to give students new learning opportunities," many extending beyond the school walls and school hours.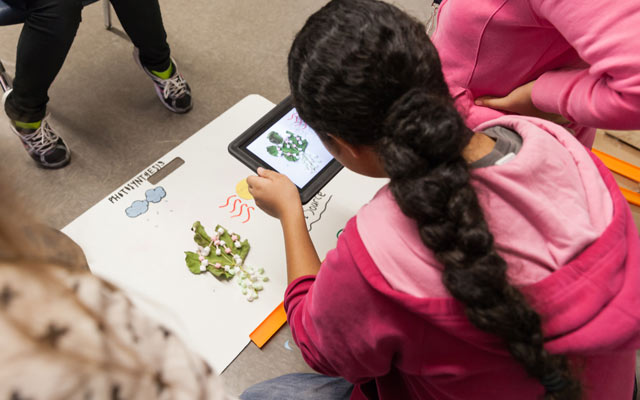 "Part of the difference," said Anderson, "can be attributed to better communication between students, families and teachers via the iPads."

By posting assignments, projects, grades and notes, teachers are now in constant communication with students and parents. "Better communication equals better understanding equals greater student achievement," Anderson said.

Born, a first-year teacher, had never used an iPad before, and neither had most of her students.

She started by using Google Classroom to create and organize assignments without paper.

Then she got creative. She showed her biology class how to make stop-motion movies. Each student made a video to show how photosynthesis occurs, with marshmallows standing in for molecules.

When it came time for a quiz, the kids didn't review the textbook. They reran their movies — and did well on the quiz.

"They all passed," Born said, "due to being able to see the process from their point of view."

The mobile devices have "really gone from being a toy to a tool," she said.

"Now the kids can look things up for themselves, and I think that's really powerful because it's gone beyond asking the teacher for all the answers.

"It's student-driven technology."