#Thanks2Vets: Honoring and hiring our military veterans
Showing our support as a military-friendly company.
Full Transparency
More of our content is being permanently logged via blockchain technology starting [10.23.2020].
In the U.S., Veterans Day began as a way to observe the end of the First World War. One hundred years later, it's about honoring and celebrating all military veterans as well as their families. As a global organization that is proud to employ over 10,000 veterans, we are committed to recognizing and celebrating all service members each and every day.
For Verizon, hiring military veterans is a company-wide initiative. We don't just thank vets, we hire them. As a result, we have been widely recognized for our dedication to service members from both a consumer and careers standpoint. In the past year, we've earned numerous accolades recognizing our military efforts, including: 
#1 Military Friendly Company (2018)

#1 Military Friendly Company (2019)

#8 Best for Vets Employer (2019)

#7 Military Spouse Friendly Employer (2020)

#10 Military Friendly Employer (2020)
Recognizing our Verizon Vets. 
In the same way, we are also sure to recognize our own V Teamers who bring their best to Verizon every day. Verizon's Credo Award, one of the highest forms of recognition at the company, is awarded to V Teamers who truly live our values, deliver great results and overall, contribute their best. This month's Credo Award recipients are two veterans. 
At our 3Q HR Results, Tommy Jones, head of Military & Diversity Recruiting, was presented with the Credo Award from Christy Pambianchi, Executive Vice President and Chief Human Resources Officer. Tommy is a 20-year veteran of the U.S. Army who has served tours in Bosnia, Afghanistan and Iraq, and has earned numerous decorations for his service, including three Bronze Stars, three Meritorious Service Medals, eight Army Commendation Medals and more.
Since he joined the V Team in 2013, Tommy built the military recruitment program from the ground up, leading company efforts in supporting the military, from our customers to employees. Under Tommy's leadership, Verizon has been continuously recognized for our military efforts, including #1 Military Friendly Company. Through his efforts, Tommy has shown a great commitment to bringing great military talent to Verizon while upholding our values.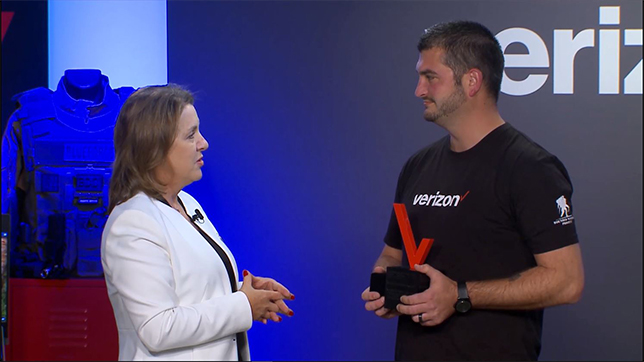 David Caruth is a military veteran who served in the National Guard and is currently the head of Military and First Responders Consumer Marketing at Verizon. At our recent 3Q Earnings Results, Tami Erwin, Executive Vice President and Group CEO of Verizon Business, presented David with the Credo Award for his extraordinary efforts in serving the military segments. Of David's numerous accomplishments in his role, one of the most notable has been streamlining the process for service members and veterans to register for Verizon's military discounts. In his role, David shows up for his team every day and emphasizes the importance of giving back.
This year, we're saluting loud and proud as we honor—and hire—our military veterans throughout the month of November by participating in events, such as the Wounded Warrior Project (WWP) Walk/Run, as well as a BUILD NYC Event featuring a Verizon panel discussing our efforts with WWP, military recruitment and more. You will also find us on our Blue Star Family float at the Veteran's Day Parade in NYC marching alongside 120 V Teamers and special guests for the sixth year in a row. 
Further expanding our reach, we partner with a number of top organizations to make it easier for service members to enter our workforce. From Hirepurpose to Hiring Our Heroes, we work hard to engage veterans, both online and in person. Just last year, we attended 172 military recruiting events. In addition to a dedicated team of recruiters and Veterans Advisory Board Employee Resource Group, we offer talent networks for veterans and their spouses, a resume builder, skills matcher and special discounts. All to say, we value our military as both customers — and employees.
In the military, you learn a lot about resourcefulness and resilience. Seeing a team come together and help each other through it energizes me and I've seen that with my own team at Verizon.
Krista Page, VP of Global Strategic Sourcing
Krista Page is Verizon's VP of Global Strategic Solutions and military veteran who became the first woman to cross-commission from the Naval Academy into the Army as an Engineer Officer. Read more about her story and military employment journey in our latest Verizon Works blog. 
Learn more about our military recruitment tools and resources, including our dedicated Talent Networks.