Verizon invests $100K to support Small Business Digital Inclusion in New York State
Full Transparency
No Updates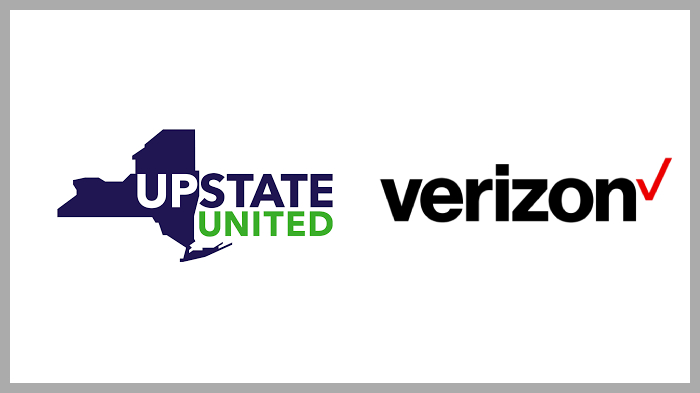 NEW YORK – Verizon has announced a $100,000 investment to award to Upstate United as part of the Verizon Digital Equity and Inclusion Program. This partnership builds on Verizon's longstanding investment in small businesses in New York, including investing $550,000 in 2023 to help entrepreneurs and small businesses to thrive.
According to the New York State Digital Equity Portal, more than 1 million New York households lack broadband internet at home. These barriers impact small-business owners who need the skills and resources to succeed in an increasingly digital economy.
In partnership with Upstate United, a coalition made up of business and trade organizations from all parts of Upstate New York, Verizon's investment will support a range of upstate business community partners, including:
Upstate United

Greater Rochester Chamber

Greater Binghamton Chamber

North Country Chamber

Capital Region Chamber
These partnerships will uplift local small businesses through digital readiness and inclusion programs across New York State, and Verizon's investment will support programing to expand knowledge and capabilities in, as well as reach of, digital technologies to assist underserved communities including rural, low-income and MWBEs. In addition, the funding will help facilitate enhancements to existing digital readiness/workforce development programs.
"At Verizon, we believe that small businesses are essential for fostering economic growth, community cohesion and cultural pride," said Tony Lewis, Vice President of Public Policy for Verizon. "Through our Citizen Verizon responsible business plan, we have a goal of supporting 1 million small businesses with the resources they need to thrive in the digital economy. We are committed to listening to and meeting communities where they are by partnering with innovative organizations to deliver the tools and skills that can drive meaningful change for businesses and help them succeed."
"Verizon's support of the small business owners that UU and our partner Chambers of Commerce represent is significant," said Justin Wilcox, executive director of Upstate United. "This investment will go far to close the digital divide that's prevented so many entrepreneurs across Upstate New York from achieving their full potential in today's complex economy. We are grateful for Verizon's partnership and look forward to continuing to work together to advance digital equity and make New York a more accessible place to live and do business."
Verizon's small business partnerships are part of the company's goal to support 1 million small businesses to succeed in the digital economy by 2030. Through its free platform Small Business Digital Ready (SBDR), Verizon fosters inclusive growth across the country including reaching over 56,000 business owners in 2023. To learn more about Verizon's Digital Inclusion efforts, visit CitizenVerizon.com.