Verizon lights up 5G Ultra Wideband across Iowa
Customers in Ames, Cedar Rapids and Iowa City benefit from new high-performance 5G technology with higher speeds, greater capacity and ultra network reliability
Full Transparency
No Updates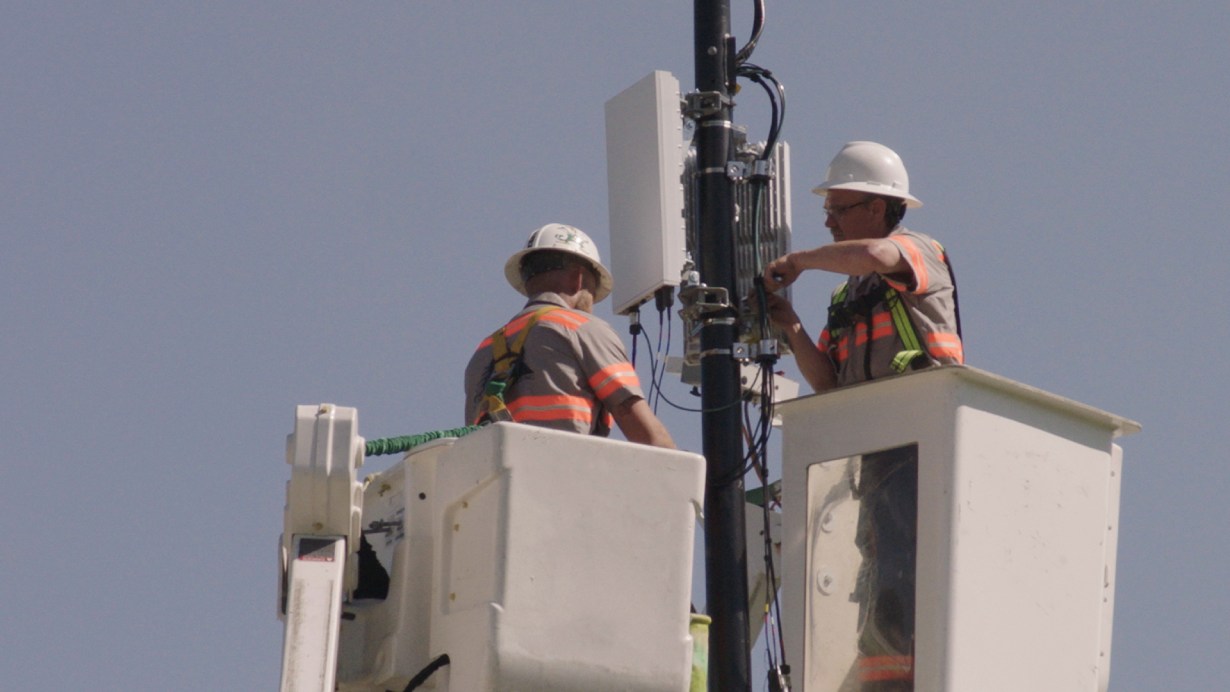 CEDAR RAPIDS, IA - Residents across Ames, Cedar Rapids and Iowa City now have access to higher speeds and greater capacity from Verizon's award-winning 5G Ultra Wideband network. Verizon's 5G Ultra Wideband brings power and performance comparable to a wired broadband internet connection to customers' pockets.
Verizon's 5G Ultra Wideband enables people to do things on their mobile device that many could only do before when connected to their home internet service. This includes everything from downloading huge documents and streaming movies in HD audio and video, to playing console quality games and conducting video chats, video conferencing and FaceTime calls with clear sound and video.
Verizon's first 5G Ultra Wideband cell sites in each of these communities are now live, with even more coverage on the horizon. In the coming months, Verizon will deploy 5G Ultra Wideband service to downtown Iowa City, the University of Iowa campus, the Cedar Rapids metropolitan area including the Rockwell Collins campus, downtown Ames and Iowa State University campus.
"We're thrilled Verizon is expanding its services in Iowa, bringing enhanced connectivity to multiple cities across our great state," said Rep. Bobby Kaufmann (R-Wilton) Chair, House Ways & Means Committee. "Verizon's 5G Ultra Wideband service will bring new benefits and possibilities to residents and visitors in Iowa, and I'm happy to see their continued support of our citizens and investment in our communities."
"Verizon is widely known for having the most reliable 5G network experience, and it's exciting to see the positive impact our work has had in Iowa," said Dean Brauer, Vice President of Engineering and Operations for Verizon. "Our network engineers work tirelessly to provide unmatched connectivity to our customers across Ames, Cedar Rapids, Iowa City and beyond, and we will not slow down."
Network enhancements in Iowa
These deployments use Verizon's recently acquired C-band spectrum. Verizon will deploy 5G Ultra Wideband using 100 MHz of C-Band spectrum in multiple Iowa markets, and will add even more bandwidth once all of its licensed spectrum is made available. This additional bandwidth, which will be available at the end of this year, will provide exceptional speed and capacity.
Lastly, the addition of 5G service in Iowa will result in exponential increases in data carried into and out of the cell sites serving the community, which requires upgraded fiber optic cable links. Verizon has increased the capacity on the fiber connections in many cell sites so they can carry 10 times the amount of data.
Get the most of our 5G Ultra Wideband
To experience the benefits of 5G Ultra Wideband, customers will need one of Verizon's latest 5G phones with the latest software update. There's never been a better time to upgrade or switch. Verizon is offering great deals on its best 5G smartphones in store, on the My Verizon App or online at verizon.com/deals, and for businesses at verizon.com/5gdevices.
Customers will also want to be on one of Verizon's latest plans. To sign up for premium 5G Unlimited plans – 5G Get More, 5G Play More and 5G Do More – customers can visit a store, use the My Verizon app or go to verizon.com/plans/unlimited. Or if customers are looking for a great value and access to Verizon's 5G Nationwide network, they can review Verizon's 5G Start or the brand new Welcome Unlimited plan. Plans for business include the Business Unlimited Plus Data Device and the Business Unlimited Pro Data Device. Business customers can shop for plans at verizon.com/business/plans.
Additionally, through Verizon Frontline, the advanced network and technology developed over three decades of partnership with first responders to meet their unique and evolving needs, public safety agencies in Iowa will also be able to experience the benefits of these network enhancements. To learn more about Verizon Frontline, visit verizon.com/frontline.