Verizon Reaches Agreement on Sale of Portion of Its Historic Building at 140 West St. in Lower Manhattan; Company Headquarters to Remain in New York City
Full Transparency
Our editorial transparency tool uses blockchain technology to permanently log all changes made to official releases after publication.
More of our content is being permanently logged via blockchain technology starting [10.23.2020].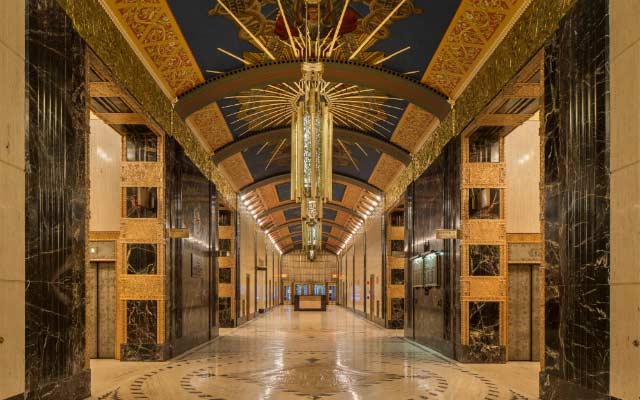 NEW YORK – Verizon today (Sept. 12) announced that it has reached an agreement to sell a condominium interest to an affiliate of Magnum Real Estate Group, encompassing 22 floors and one of the five sub-basement levels of Verizon's historic 140 West St. building, a New York City landmark.
Verizon will retain approximately 60 percent of the building – floors two through 10 and four of the sub-basement levels – for necessary telecommunications switching equipment and administrative offices.  This is consistent with other partial building sales the company has previously conducted in New York City and elsewhere. Notably, the company has sold parts of its buildings at 1095 Ave. of the Americas and 375 Pearl St., while maintaining an ownership interest in these properties.
The company also will return its headquarters to space it owns in 1095 Ave. of the Americas in midtown Manhattan.  After the sale, approximately 600 Verizon employees will occupy the lower floors of 140 West St., maintaining Verizon's significant presence in lower Manhattan. 
"We are pleased to continue to move forward with the conversion of our building on West Street from a traditional telecommunications hub to a multipurpose building that will  contribute meaningfully to the city's long-term vision for a vibrant World Trade Center neighborhood," said John M. Vazquez, Verizon senior vice president of global real estate. "We believe that with our co-owners, Magnum Real Estate Group, we will stand out in what already has become a desirable tourist and residential center for New York City."
Said Benjamin Shaoul, president of Magnum Real Estate Group: "We are excited to acquire a significant portion of this distinguished Tribeca asset.  In light of the success of Walker Tower, the condominium developed above the Chelsea Verizon building, our aim is to convert 140 West Street into another world-class residential property.  Verizon has been an excellent partner throughout our negotiations, and we look forward to extending the relationship."
Steven Spinola, president, REBNY (Real Estate Board of New York), said: "Downtown Manhattan is as dynamic and alive as it has ever been with more residents, more tourists, more retail stores and a more diverse tenant base than ever before.  The plan to convert 140 West Street is a continuation of this growth and transformation of downtown and a meaningful addition to the fabric of the city."
Company Moves Will Help Better Serve Customers
As previously announced, the company is moving approximately 1,100 employees -- most of them customer service representatives -- to a Verizon-occupied building at 395 Flatbush Ave. Extension in Brooklyn.  The company is making enhancements to that building, creating a state-of-the-art facility that will include a fitness center and centralized training facilities.  A modern, centralized customer service center provides for greater business continuity, and encourages collaboration and sharing of best practices among customer-facing teams to help Verizon employees deliver a better experience for customers.  The facility will also include meeting rooms, and other facilities for close collaboration to address specific customer issues. 
The sale price of the 140 West St. transaction is $274 million.  Verizon utilized the services of a Cushman & Wakefield brokerage team led by Josh Kuriloff to market the space to real estate developers.  Verizon is currently marketing the ground-floor space to find the proper fit with the redevelopment of the property. 
Since the 140 West St. building contains switching and other telecommunications equipment, the sale must be approved by the New York Public Service Commission.  The company made the necessary filing today, and has asked the PSC for approval by Nov. 15.
Verizon Communications Inc. (NYSE, Nasdaq: VZ), headquartered in New York, is a global leader in delivering broadband and other wireless and wireline communications services to consumer, business, government and wholesale customers.  Verizon Wireless operates America's most reliable wireless network, with more than 100 million retail connections nationwide.  Verizon also provides converged communications, information and entertainment services over America's most advanced fiber-optic network, and delivers integrated business solutions to customers in more than 150 countries.  A Dow 30 company with nearly $116 billion in 2012 revenues, Verizon employs a diverse workforce of 180,900.  For more information, visit about.verizon.com.
####