Verizon Repair Crews Respond to So-Cal Fires
The Pines Fire erupted on Friday night (July 17) in steep, mountainous terrain along the Angeles Crest Highway, near the town of Wrightwood in the Angeles National Forest. Burning in heavy timber, the fire spread quickly, growing to more than 100 acres in less than two hours.
By Saturday, the fire scorched 200 acres, closing roads in the area, threatening structures and forcing the evacuation of more than 300 people from nearby campgrounds.
The U.S. Forest Service, Los Angeles County Fire Department, San Bernardino County Fire Department, Angeles National Forest Service and Cal Fire, all had personnel fighting the flames.
Using fire engines, hand crews and bulldozers, firefighters attacked hot spots to contain the blaze and continued to hold it to 200 acres on Sunday. No injuries were reported, and no structures were damaged.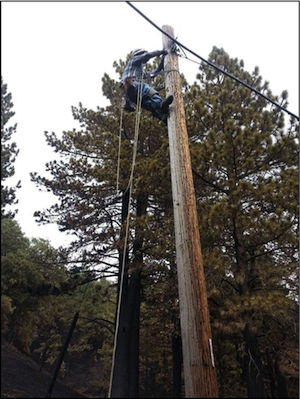 The blaze caused a loss of electric power and also damaged Verizon aerial lines on poles crossing the fire area.
As soon as authorities lifted safety restrictions on Sunday, Verizon Outside Plant Construction teams entered the fire area to replace burnt cables – though their work was interrupted by lightning storms that rolled through Southern California throughout the day.
Verizon services were restored to customers in and around Wrightwood on Monday (July 20), powered by portable generators until commercial electric power could be restored.
The cause of the fire is being investigated by fire officials.