Through messages of inspiration, VTeamers strive to create an inclusive world
With hand-drawn artwork, volunteers support LGBTQ youth while cultivating team camaraderie.
Full Transparency
Our editorial transparency tool uses blockchain technology to permanently log all changes made to official releases after publication. However, this post is not an official release and therefore not tracked. Visit our learn more for more information.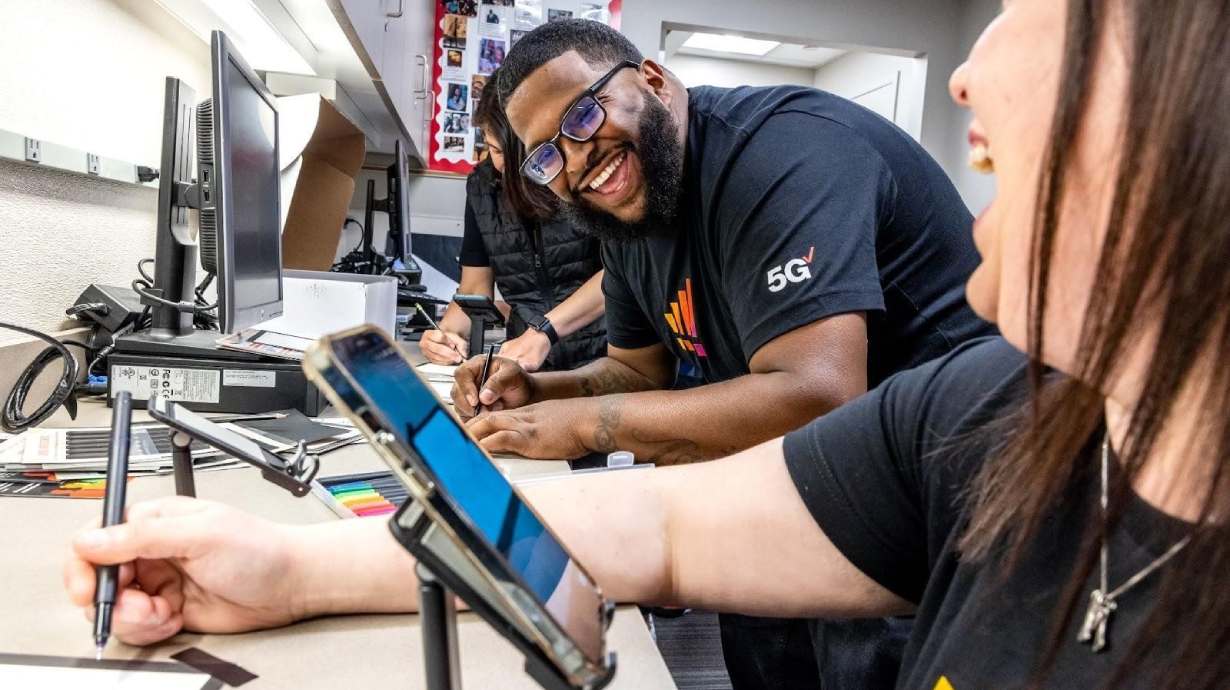 In the break room of a Verizon retail store in Wallingford, Connecticut, a group of eight VTeamers are doing their best to draw inside the lines. For the next hour or so, they're going to set aside work talk—conversations about battery life and lens resolution can wait—to sketch words such as "peace," "love" and "positivity" onto greeting cards. These VTeamers, along with thousands of their colleagues at stores across the country, are creating this inspirational artwork as a message of support and celebration for Pride Month. The hope is that these small tokens of encouragement can have a big impact on their communities.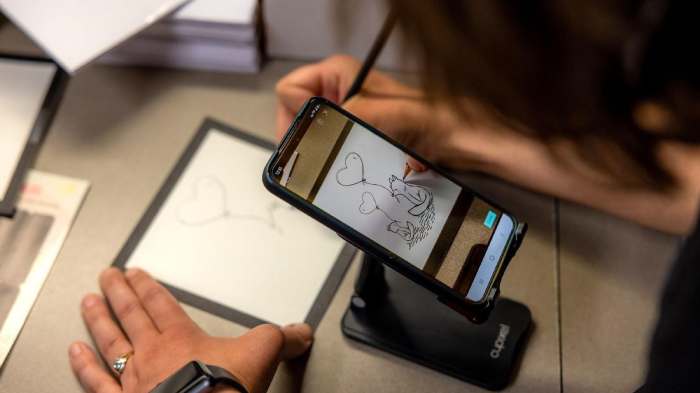 VTeamers used an augmented reality app to project images they could trace onto a card, in order to create their drawings. Credit: Michael J. Le Brecht II
This activity, titled "Creating an Inclusive World," is part of the Citizen Verizon Volunteers program and was developed in collaboration with Verizon Strategic Volunteer Partner The Trevor Project, the world's largest suicide prevention and crisis intervention organization for LGBTQ young people. VTeamers plan to distribute the cards throughout their communities—to a neighbor, at a coffee shop—to share an encouraging message and promote engagement with The Trevor Project. On the back of each card is a sticker with a QR code that card recipients can scan to learn more about the organization.
"It's so wonderful to see Verizon employees engage with The Trevor Project through our volunteer opportunities designed to support LGBTQ young people, empower allies, and educate folks about our organization's crisis services and resources," says Leah Kartun, corporate partnerships manager at The Trevor Project. "For companies like Verizon with employees across the country, galvanizing team members to celebrate inclusion is a great way to send messages of love and support to LGBTQ youth everywhere."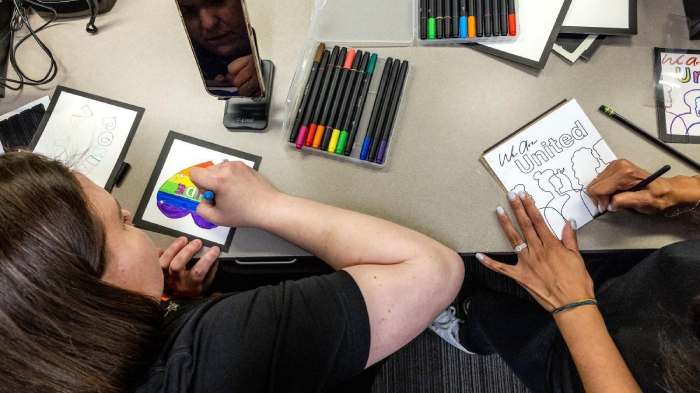 VTeamers received a kit that included supplies to complete their drawings using augmented reality technology. Credit: Michael J. Le Brecht II
Anna Hardin, Verizon employee experience manager, agrees. "The 'Creating an Inclusive World' event provided our VTeamers the opportunity to celebrate uniqueness and share kindness with one another and the communities we serve." Hardin, who collaborates with the Verizon Corporate Social Responsibility team to create curated events, says "events such as this one matter most as our teams make memorable moments and connect together in our commitment to move the world forward for good." The event also aligns with Citizen Verizon's human prosperity pillar.
"To me, an inclusive world is everything," says Taishaly Lebron, general manager at the Wallingford store. "It doesn't matter where you're coming from, what your background is — we're coming together to support this cause."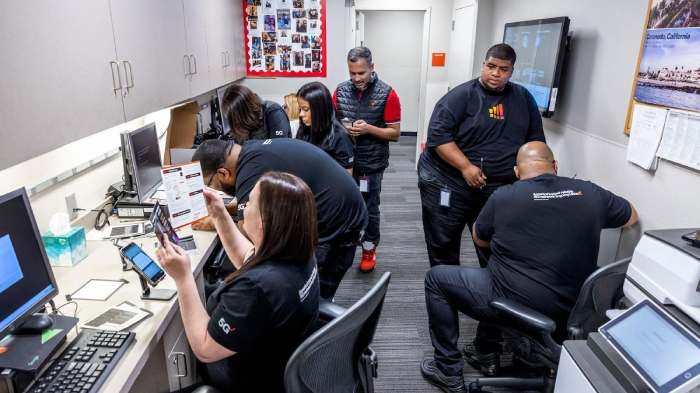 In the Wallingford store break room, VTeamers begin the "Creating an Inclusive World" activity. Over 1,400 Verizon retail stores participated in the project. Credit: Michael J. Le Brecht II
For Kevin Kitchens, the opportunity to make an impact, and contribute to a project he believes in, brought him in for the event. "Today's my day off," explains Kitchens, general manager at Verizon's Avon, Connecticut, location. "I came to help out because this is important."
Kitchens said he also wanted to represent his district team as well as his local store team, the Avon: Champions of Swag. Each store in the area has an affectionate crew name—the Wallingford Wolfpack, the Brass City Bulldogs—and the volunteer events provide an outlet for VTeamers to both show up for a good cause and to build relationships within their team. "It's not only the conversations about the project at hand, but also the side discussions and the joking that build camaraderie and make these events about more than just volunteering," Lebron says. For new employees, that can be a way to make connections with colleagues: Shauna Shepard, store manager in North Haven, said the volunteer projects have helped her get to know her co-workers, as she's new to her store.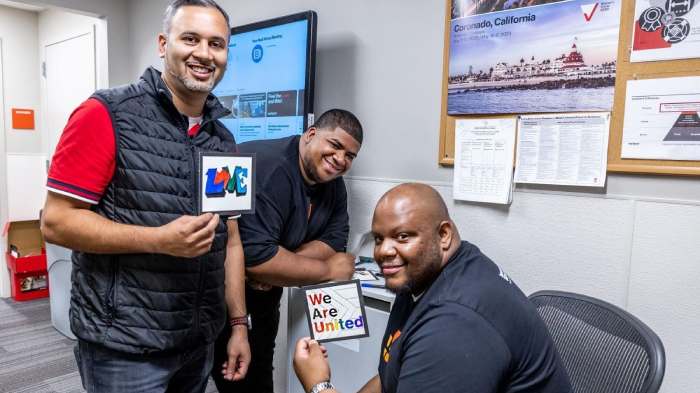 Sully Ali, Ryan Ramos and Kevin Kitchens show off their finished artwork. Credit: Michael J. Le Brecht II
Selman "Sully" Ali, district manager for Western Connecticut, agrees that the benefits of volunteering are multifold. "It can make [the people you're helping] feel good, but it also makes you feel good, being able to do the things we do," Ali says.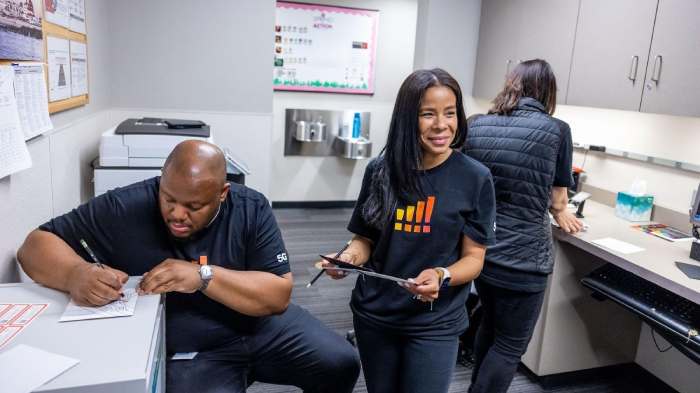 Taishaly Lebron (center) believes the Verizon Volunteers in-store events serve the community as well as the VTeamers who participate in them. Credit: Michael J. Le Brecht II
For the group of VTeamers gathered at the Wallingford store, the many benefits of volunteering are familiar. Ali enjoys organizing and participating in Verizon Volunteers' virtual walks, in which VTeamers, walking on their own wherever they are, join their colleagues via videoconference to raise money for a cause. Diane Cyphers, indirect account manager for Western Connecticut, donates her time to veteran causes, volunteering at the V.A. hospital in Newington. Jennifer Parsons, a solution specialist with the Waterbury store, built a rain catchment system she learned how to make during one of the climate protection volunteer projects she found on the Verizon Volunteers portal. And Shepard is fundraising for a hospital in upstate New York by collecting soda-can tabs.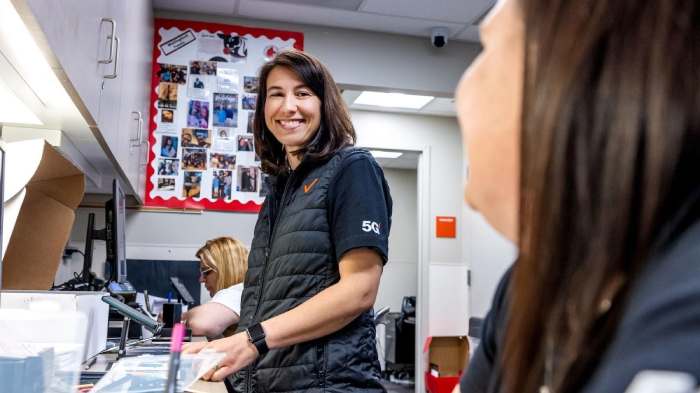 Diane Cyphers, Jennifer Parsons and Shauna Shepard work on their messages of encouragement. Credit: Michael J. Le Brecht II
Before participating in Citizen Verizon Volunteers, Ryan Ramos, a retail manager at the Waterbury store, was hesitant about volunteering. "Once I did it, I fell in love with it," Ramos says. "When you think about everyone who's benefiting—whoever finds these cards, for example—this can turn their day around, give them that push they need. It makes you feel good."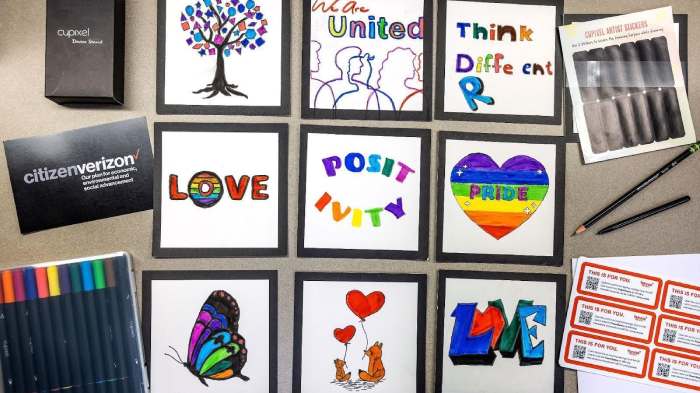 The completed cards are placed at a local community setting such as a coffee shop, library, etc., for someone to find, or can be handed out by a VTeamer to someone in their life. Credit: Michael J. Le Brecht II
Shepard agrees and encourages her VTeamer colleagues to take the first step in giving back to their community.
"Don't be scared to get involved," she says. "Some people may think it's a lot to take on or that they don't have time. But there are little things you can do — it's OK to start small."
Join VTeamers serving communities around the world during Pride Month. Visit the Citizen Verizon Volunteers portal to see what volunteer activities inspire you.
"The 'Creating an Inclusive World' event provided our VTeamers the opportunity to celebrate uniqueness and share kindness with one another and the communities we serve."