The right stuff.
Why V teamers would make great astronauts -- and vice versa.
Full Transparency
Our editorial transparency tool uses blockchain technology to permanently log all changes made to official releases after publication. However, this post is not an official release and therefore not tracked. Visit our learn more for more information.
More of our content is being permanently logged via blockchain technology starting [10.23.2020].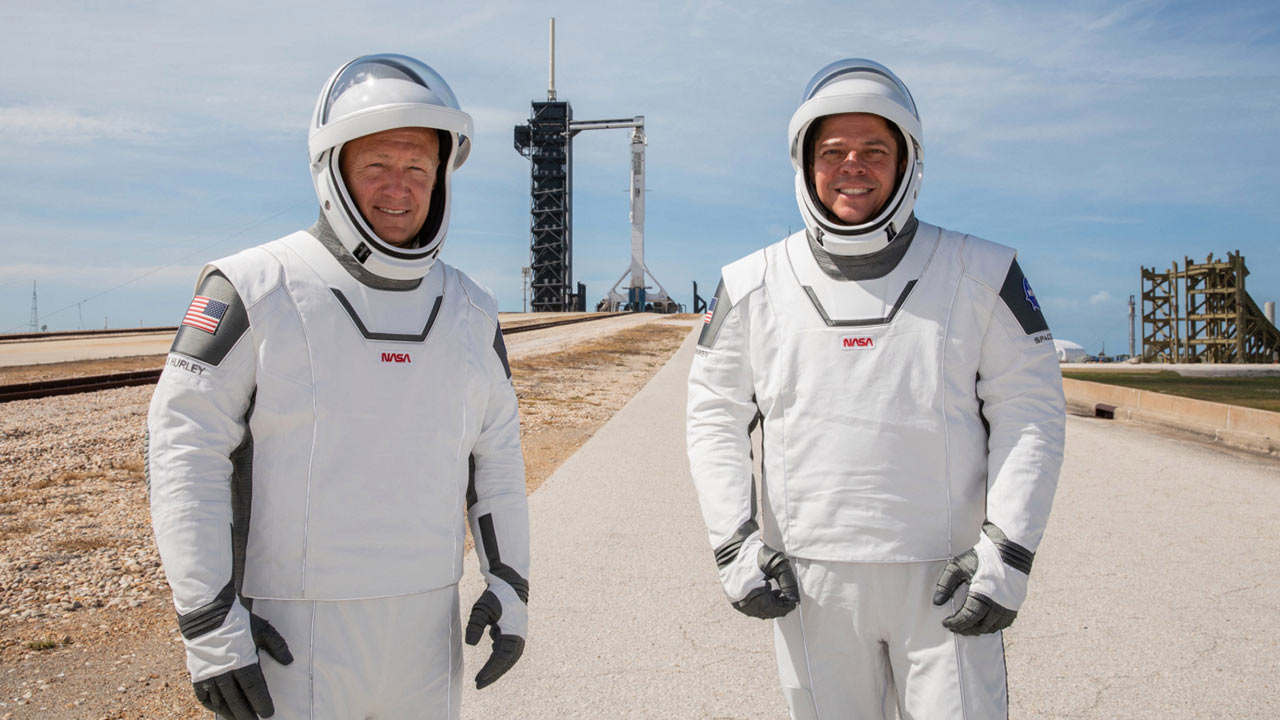 This weekend, SpaceX is scheduled to launch the first-ever, commercial-crewed mission to the International Space Station.
You know what that means: A new generation of daring, heroic astronauts; superhuman men and women who are literally out of this world.
And yet, the more we learn about the two men making the historic flight - Robert Behnken and Douglas Hurley - the more they sound like typical Verizon employees (a.k.a. "V teamers").
And we mean that in a good way.
Note the similarities:
Engineering background
Doug Hurley graduated with a bachelor of science degree in civil engineering. Behnken earned a master's degree and doctorate in mechanical engineering from Caltech. In a another life, they could easily have been designing high-speed routers or 5G towers.
Military experience
Like many of our colleagues, Behnken and Hurley chose to serve in the armed forces. Both are former military pilots who rose to the rank of colonel. Behnken served as a flight test engineer in the Air Force Reserve Officers' Training Corps. Hurley served on three deployments as a naval aviator in the western Pacific. Both could have easily landed jobs at the #1 Military Friendly Company the past two years running.
Practice, practice, practice
While at Air Force Test Pilot School, Behnken logged over 1,500 flight hours and flew in over 25 different types of aircraft. He's also a veteran astronaut, having logged 708 hours in space, including 37 hours of spacewalks. Hurley logged more than 5,500 flight hours in more than 25 different types of aircraft. He has also spent more than 27 days in space.
Similarly, our V team technicians have to log long training hours before graduating to field work. Making a visit to a consumer's home during a pandemic is a lot like doing a space walk: safety has to be top of mind at all times.
Long-time colleagues and friends
Like so many V teamers who make some of their closest friends on the job, the two astronauts have developed a strong rapport over the years.
"One of the things that's really helpful for us as a crew is the long relationship that Doug and I have\," Mr. Behnken said during interviews with reporters. "We're kind of at the point in our experience where we, in addition to finishing each other's sentences, we can predict, almost by body language, what the person's opinion is or what they're going to do, what their next action is going to be."
I had the same experience with my V team colleague Erin whenever she'd order at Starbucks. Just sayin'.
Family men
Both Behnken and Hurley are proud dads and husbands. In fact, both have sons and both are married to fellow astronauts. On one level, this is charming. On another, it indicates astronauts don't get out much and may suffer from inbreeding.
That said, if they had met their spouses at Verizon, they certainly wouldn't be the first V-to-V unions.
Willing to work overtime
Bob and Doug have been rescheduled to stay in space two weeks longer than originally planned due to the space station being short-staffed. They will probably spend at least a month in orbit and their stay could stretch to four months.
This is similar to our colleagues on the Verizon Emergency Response team who often run to a crisis, then pull all-nighters and all-weekenders until network equipment is back up and running. The only difference is that astronauts have to pee in a tube. Actually, scratch that as a difference. Just a guess on my part.
Unfailing sense of humor
V teamers of all stripes, be they technicians in the field, customer care specialists or retail solutions specialists, have all learned to face adversity with a smile. Astronauts must do the same.
Mr. Behnken said he was looking forward to the splashdown at the end of their mission: "I'm expecting a bit of vomiting, maybe, to happen in that end game. When we get to that opportunity to do that in the water together, it's kind of a weird thing to say, but I'm looking for that kind of celebratory event."
Bon voyage
In all seriousness, we wish Bob and Doug - our V team brothers from a different mother - a safe and successful mission, and best of luck as they move the world forward by blasting off of it and returning again.