Verizon and Team Penske unveil new IndyCar livery
Full Transparency
No Updates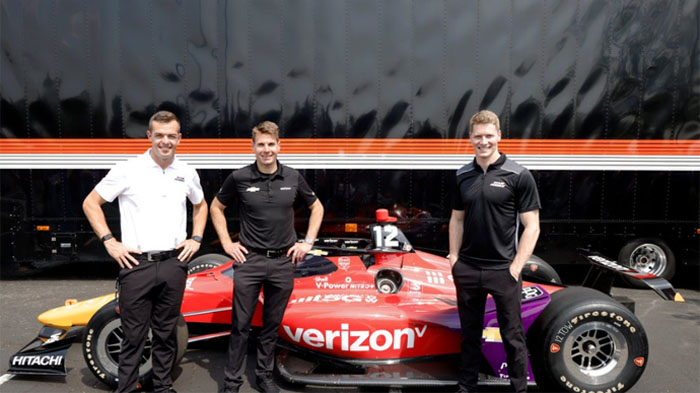 NEW YORK - Verizon and long-time partner Team Penske, along with motorsports driver Will Power, unveiled the new livery on the No. 12 Verizon 5G Ultra Wideband Dallara/Chevrolet that will debut on track at the 2022 Indianapolis 500 on May 29. The unveiling event was held at IU Health North Hospital in partnership with Riley Children's Foundation, in Carmel, Indiana, in honor of National Nurses Week. Will Power, along with Josef Newgarden and Scott McLaughlin, all Team Penske IndyCar Series drivers, were on-site to meet-and-greet nurses and hand out toys to young patients.
"We're very excited with the new livery from Verizon. I think it's going to be very recognizable for fans and I think Verizon did a great job," said Will Power, Team Penske driver and 2018 Indianapolis 500 winner.
Designed by Verizon, the livery is inspired by the company's 5G Ultra Wideband logo and features yellow, orange, and purple colors in addition to the brand's signature red.
"We love Verizon and Team Penske. What they have done in coming here really says to nurses that you count and we really appreciate you. This just means so much," said Liz Elkas, President and CEO of Riley Children's Foundation.
Verizon offers exclusive discounts for nurses, which includes saving up to $25 a month on our best 5G Unlimited phone plans1 – which adds up to $300 a year – and Fios 300 Mbps home internet for as low as $34.99/mo with enrollment in Auto Pay2.
Verizon's high-performance 5G Ultra Wideband network can provide game-changing benefits, like speeds up to 10 times faster than median Verizon 4G LTE speeds. It currently covers 110 million people in over 1,700 cities around the country and is expected to reach 175 million people by the end of 2022.
To learn more, please visit https://www.verizon.com/featured/nurses/.
---
1 With 2 - 3 lines on 5G Do More, 5G Play More and 5G Get More plans. Plus taxes & fees. For personal lines only. 5G Unlimited plans: $10/mo account discount applied to single line; $25/mo account discount applied to 2-3 lines; $20/mo account discount applied to 4+ lines. Unlimited 5G Nationwide/4G LTE: In times of congestion, your data may be temporarily slower than other traffic on 5G Start plan; for 5G Play More and 5G Do More plans, your smartphone and Mobile Hotspot data only after 50 GB/mo of 5G Nationwide or 4G LTE data. Mobile Hotspot not available on 5G Start. Domestic data roaming at 2G speeds.
2 Plus taxes & equipment charges.