Verizon offers exclusive savings via myPlan perks and first-of-its-kind streaming bundle on +play
Save on the subscriptions you love on the network you rely on: Choose the myPlan +play perk and get Netflix's Premium Plan and the Paramount+ with SHOWTIME bundle together at incredible savings – only for Verizon customers, and only on +play
Full Transparency
No Updates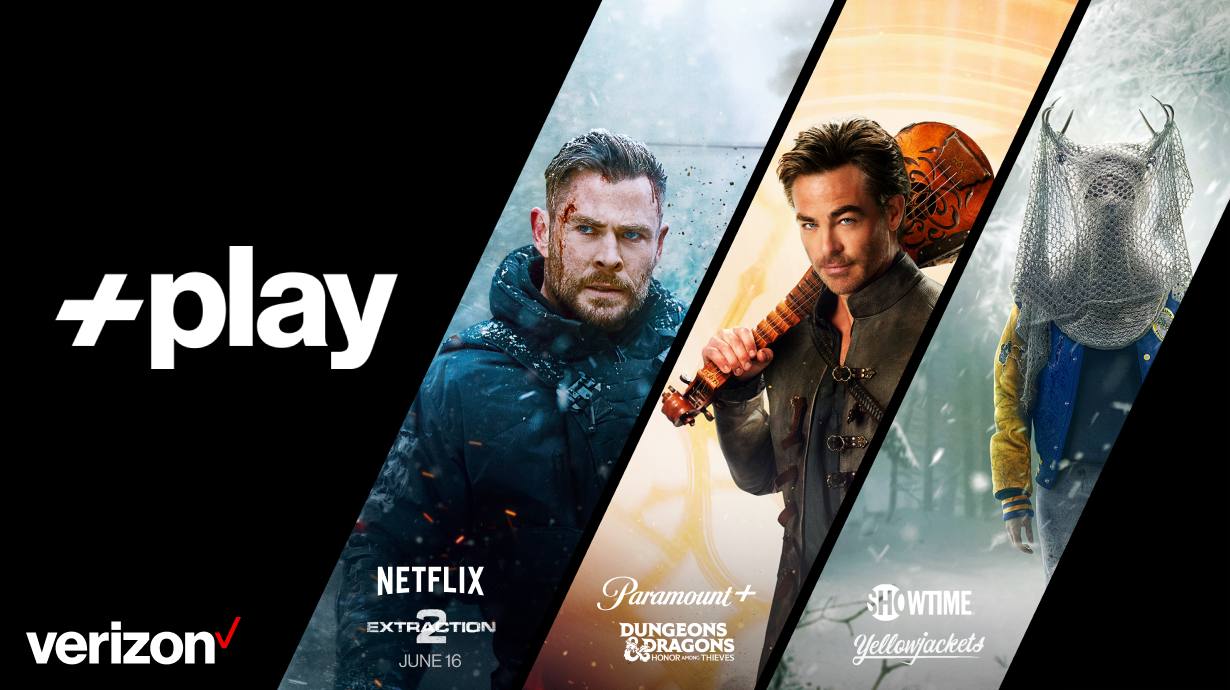 NEW YORK - Verizon today announced another first in the industry – for the first time, Netflix, Paramount+ and SHOWTIME are offered together as a bundle with exclusive savings and access only on +play, once again innovating on behalf of customers and driving the industry forward. Starting tomorrow and for a limited time, get Netflix's Premium Plan and the Paramount+ with SHOWTIME bundle together for just $25.991 – all on the Network America relies on. 
This is the first time the streaming giants have been offered together, giving Verizon customers added value on their premium services ($70 in annual savings2) they can't get elsewhere – and the benefits of being on the network America relies on.
+play is Verizon's one-stop-shop to discover, purchase and save on subscription services, and now features over 30 partners spanning from entertainment to education, lifestyle to fitness and more. With myPlan, customers can get more savings for subscriptions on +play via myPlan's +play monthly credit perk – that's just $10 for $15 in +play credits.
Why it's important:
+play gives Verizon customers access to value and savings that they can't get anywhere else. With over 30 services available on the platform, +play has offers ranging from exclusive free trials to one year of a Netflix Premium subscription on us with the purchase of another service on +play.
What executives are saying:
Erin McPherson, Chief Content Officer, Verizon Consumer Group: "With partners like Netflix and Paramount+ with SHOWTIME on +play, we're leading the industry in offering customers the content they want, with never-before-seen bundles they can't get anywhere else. And now with +play as a perk offered with myPlan, we're looking forward to even more customers taking advantage of the savings we have to offer. This marks a milestone for both Verizon and the streaming industry, and we're grateful and excited to be in it with these partners."
Jeff Shultz, Chief Strategy Officer and Chief Business Development Officer at Paramount Streaming: "This new and distinctive streaming bundle on Verizon's +play is yet another example of our commitment to offering consumers universal distribution and industry-leading deals. By partnering with Verizon, we are making our broad and popular streaming offering on Paramount+ with SHOWTIME just that more accessible."
Who it's for:
Streaming fans who want to get in on savings for some of today's most popular content, like 1923, Yellowjackets, Extraction 2 (streaming on Netflix June 16) and more – all in one place.
+play is available to all Verizon mobile, 5G Home and LTE Home Internet customers who want exciting content from entertainment, lifestyle, gaming and more – all in one place and only on Verizon.
Even more to know and love about +play:
Verizon launched +play as a solution to common customer pain points, such as keeping track of current subscription services and payments, discovering new content and finding ways to save.
It's a single place where customers can easily search, subscribe to, save on and pay for their subscription services. It builds on the services we already offer through leading content providers including Disney+, Hulu, ESPN+, discovery+ and AMC+, all of which are featured in the new service, and introduces new subscription service partners, like NFL+, NBA League Pass, Max (formerly HBO Max), Netflix, the Peloton App, A+E Networks (Lifetime Movie Club, HISTORY Vault, and A&E Crime Central), The Athletic, Calm, Starz, AMC and Duolingo, among many others – with more to come later this year.
More +play discounts for mobile customers via myPlan, with plans starting at $25/line:
myPlan is the first plan in the U.S. that gives customers freedom and full control to pay for what you want, exactly how you want it. And for a limited time, when you bring your phones to Verizon you can get the new Unlimited Welcome phone plan for $25/line/month when you add four lines (plus taxes and fees with Auto Pay3).
Plus, get even more added savings for subscriptions on +play via the +play monthly credit perk in myPlan, which is $10 for $15 in +play credits. And for customers with multiple lines, the savings only multiply.
Learn more about the Netflix, Paramount+ and SHOWTIME bundle offer – as well as other savings – by visiting plusplay.verizon.com, or myPlan to take advantage of +play perks.
---
1 Plus taxes. Offer only applies to new subscribers of Paramount+ Premium with SHOWTIME® bundle and new or existing subscribers of Netflix Premium. Existing Paramount+ Premium with SHOWTIME® bundle subscribers must first cancel their current subscription to be eligible for this offer; existing Netflix Premium subscribers can link their existing account to this offer. Not combinable with any other promotional offers or pricing. Billing begins from time of activation of first service. Separate activation required for each service. Limited-time offer. Add'l terms apply. Paramount+ Dungeons & Dragons © 2023 Par. Pics. TM Hasbro.
2 Savings based on Netflix Premium and Paramount+ Premium with SHOWTIME® bundle monthly retail plan prices.
3 $180 promo credit per phone applied over 36 mos when you add 4 new smartphone lines with your own 4G/5G smartphone on Unlimited Welcome plan. Promo credit ends if eligibility req's are no longer met. Limited time offer. 3-yr Price Guarantee: Applies to the then-current base monthly rate charged by Verizon for your talk, text, and data; excludes taxes, fees, surcharges, additional plan discounts or promotions, and third-party services. Price guarantee is void if any of the lines are canceled or moved to an ineligible plan. Plan perks, taxes, fees, and surcharges are subject to change. Unlimited Welcome: $30/line for 4 lines, less $5/line discount. Max 12 lines. Auto Pay (Debit Card, Bank account, or Verizon Visa Card) & paper-free billing req'd. Unlimited 5G / 4G LTE: For Unlimited Welcome plan, in times of congestion, your data may be temporarily slower than other traffic. Mobile Hotspot not included on Unlimited Welcome plan. Domestic data roaming at 2G speeds. 5G access requires a 5G capable device.