Why 5G is the future of home entertainment
The next generation in wireless technology will bring about serious innovation—but sometimes it's all fun and games.
Full Transparency
Our editorial transparency tool uses blockchain technology to permanently log all changes made to official releases after publication. However, this post is not an official release and therefore not tracked. Visit our learn more for more information.
More of our content is being permanently logged via blockchain technology starting [10.23.2020].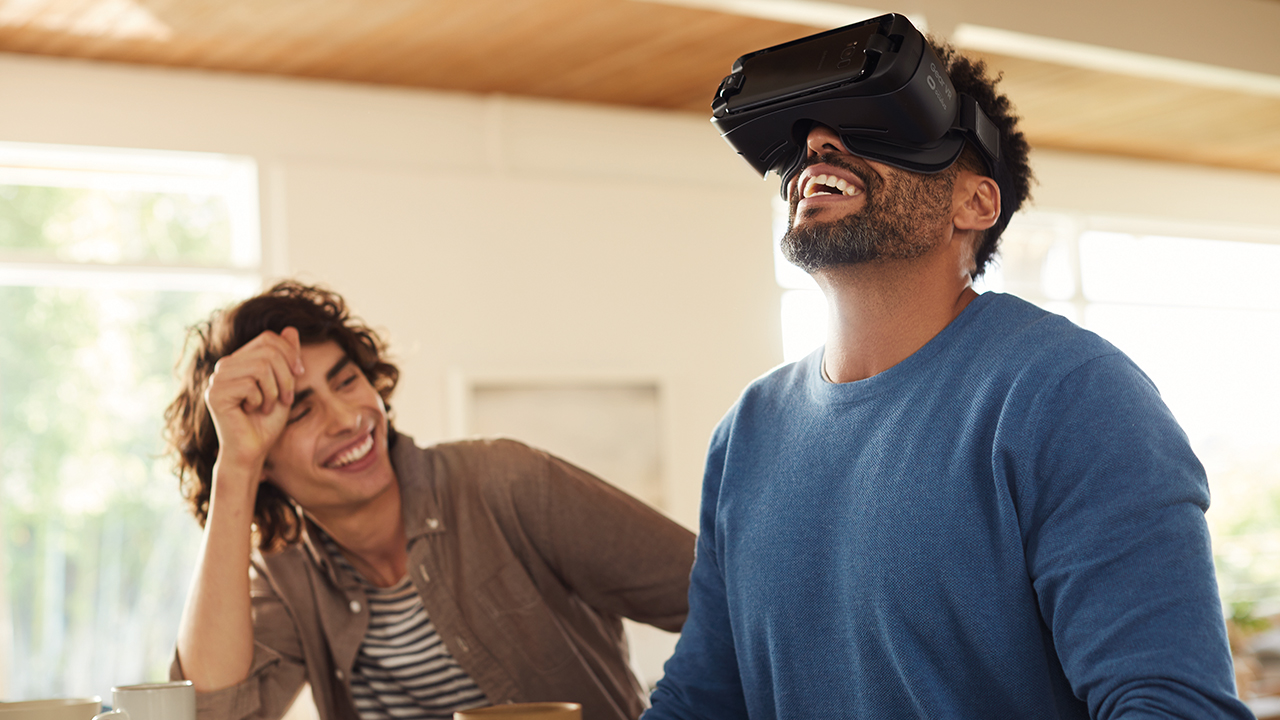 There's no denying the potential of 5G, a technology expected to fundamentally change the way we live. The applications it will help make viable—from autonomous cars to connected cities to remote medicine—are poised to have massive impacts on how the world works.
But what about play time? The game nights? The rainy weekends custom-made for binge-watching the latest must-see drama? Verizon 5G Home Internet is helping to redefine online experiences at home, whether it's streaming movies, playing multiplayer games or just browsing the web. Verizon 5G Home Internet is poised to change how entire households get their entertainment fix, with near zero lag—that annoying delay caused by network latency—and virtually no buffering
When it comes to Verizon 5G Home Internet, uninterrupted entertainment is serious business.
The future of entertainment
The average American household now has 7.3 screens. And with all those smart TVs, laptops, tablets and gaming devices clamoring for network bandwidth, demands on network connectivity are only growing fiercer. Indeed, an estimated 20.4 billion things are expected to come online by 2020.
In those same homes, many consumers have cable running from the street into their house. Snaking through living rooms or hallways as unobtrusively as possible—but there nonetheless—a coaxial line connects to a cable box, which connects to a modem, which connects to a router to provide Wi-Fi throughout the home. That's before adding ethernet cables to the mix. For wireless service, that's a lot of wires.
The solution to both this brewing digital logjam and this growing snarl of cords is Verizon 5G Home Internet, now live in parts of Indianapolis, Houston, Sacramento and Los Angeles. Based on cutting-edge Verizon 5G Ultra Wideband technology, Verizon 5G Home Internet provides a fixed wireless connection via a small modem that links to Verizon's 5G Ultra Wideband network and its fiber resources, small cell deployments and significant spectrum holdings, particularly in the millimeter wave bands. It blankets your home in connectivity, offering users the reliability and speed of a cable connection without the wires. In fact, some users have reported network speeds from 300Mbps to nearly 1Gbps. 
"As someone who works from home, having a strong, reliable connection to the internet is very important," says Vincent, an early adopter who has reached speeds approaching 1Gbps in his Sacramento home.
Mike, another early customer, has put Verizon 5G Home Internet through the rigors of bandwidth-sharing demands at his Los Angeles apartment, and has found that it deftly shoulders the data load. "I have everything you can imagine connected to the internet—thermostats, security cameras, motion sensors, light bulbs, iPads, iPhones, laptops, desktops, gaming consoles," he says. "I've had no problem watching TV and streaming videos on the iPad at the same time. It just runs." 
How Verizon 5G Home Internet can change home viewing habits
With Verizon 5G Home Internet, the viewing experience can be individually tailored to an unprecedented degree, without the need for extra cable boxes. Streaming happens with virtually no buffering, even in the case of ultra-high-definition 4K content. Households without multiple set-top boxes can still watch what they want, without staggering their viewing; Verizon 5G Home Internet can support multiple data-hungry devices at the same time. 
But a richer picture delivered with virtually no jitters and stutters is just the beginning.
We've formed incredible partnerships with many of the world's leading technology companies, public officials, developers and our own customers to drive the 5G ecosystem forward, faster than most had predicted.
— Ronan Dunne, Executive Vice President and Group CEO, Verizon Consumer Group
Like the move to color, the birth of cable and the rise of streaming, 5G in the home will change the very act of watching television. Eventually, augmented and virtual reality applications will transform the way we consume live events like concerts and sports, creating immersive experiences from the comfort of your couch. Today's VR environment only allows for a single video stream on mobile, but experts at the Verizon 5G Labs are successfully employing multiple 4K and HD streams to create a completely unique experience. In the future, with the aid of connected headsets and an ultra-low latency network, viewers should be able to get previously unimaginable vantage points of the action.
5G and the next level of gaming
Verizon 5G is likely to have a massive impact on gaming, thanks to a reduction in lag. Latency issues can make fast-paced mobile multiplayer games unwinnable or, worse, unplayable. But 5G has significantly less lag than 4G LTE, ensuring mobile gamers stay in lock-step with the action—whether they're moving from room to room or through the city on their morning commute. And as virtual reality games become more popular, a robust 5G network will be especially crucial for accurate graphics and sound playback.
Another gaming paradigm shift: Thanks to Verizon 5G, the console of the future is likely no console at all. That's because 5G allows computing power to be relocated to the edge of the network, so connected devices can be less bulky, process less data and sustain longer battery life, all while operating with high speed and low latency. 
Gamers can expect to play the same game on any device, be it a tablet, smartphone or laptop. Eventually, cloud-based subscription models (think Netflix for video games) may overtake the dedicated console, a shift some consider "the last frontier of consumer cloud services."
What's next
As Verizon 5G proves essential in our cities, factories and beyond, it's important to remember how strong its impact will be right where we live, and how imminent those improvements are for Verizon customers nationwide. 
"We've formed incredible partnerships with many of the world's leading technology companies, public officials, developers and our own customers to drive the 5G ecosystem forward, faster than most had predicted," says Ronan Dunne, Executive Vice President and Group CEO, Verizon Consumer Group. "It's been an incredible journey. And we're just at the starting line."
Verizon 5G Home Internet Availability
Verizon's 5G Home Internet service is now available in parts of Chicago, Houston, Indianapolis, Los Angeles, and Sacramento.
Verizon 5G Home Internet will expand coverage to more markets in the second half of 2019.  Sign up here to find out when service is coming to your area.
For related media inquiries, please contact story.inquiry@one.verizon.com