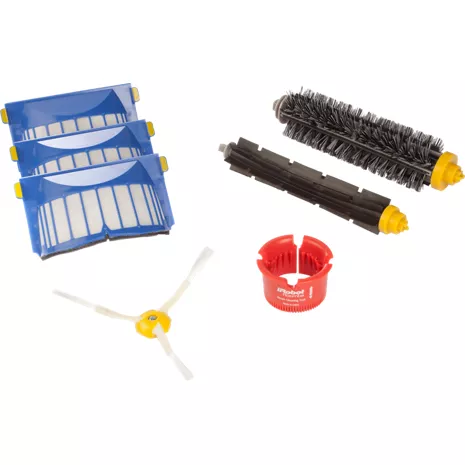 Overview tab selected 1 of 4
Overview Section Start
Maintain your robovac with the Roomba 600 Series Replenishment Kit. This kit contains everything you need to help maintain cleaning performance, including a bristle brush, beater brush, spinning side brush, AeroVac filters and a round cleaning tool. The kit is compatible with most Roomba 600 series robots.
Reviews
83% of reviewers recommend this product.
quality product well made products.
Yes, I'd recommend this product.
I had this robot vac for 3 years. and I cant believe how long the brushes lasted.. I did out realize you were supposed to be changing out the brushes.. well go iRobot for making them last 3 years. I installed the new filter and brushes. and its like having a new matching works amazing and easy to install the 20% off made it 40 bucks and that enticed me to order it.. Glad I did.
store.irobot.com Originally posted on store.irobot.com
Filter causing issues
Yes, I'd recommend this product.
Can't rate it a five star because when I put the new filter in the room (614) wouldn't spin but when I put my old one in it worked. I noticed the new one says made in china while the is one says Malaysia.
store.irobot.com Originally posted on store.irobot.com