Just ask
Alexa.
One name to make things a lot simpler. Get the wide selection of Alexa-enabled products on America's most reliable network.
Command
convenience.
Skip searching for the remote or scrambling to write something down. With Amazon Alexa, all you have to do is talk. Alexa can handle the rest.
Get more
done.
Stay on top of your day, stream your favorites and help control your home with your own voice.
Everyone
gets their say.
With Amazon Alexa Voice Profiles, users can send and receive their own messages, get tailored news briefings and more.

Based on RootMetrics® by IHS Markit's RootScore® Reports 2H 2019 of 4 mobile networks. Results may vary. Not an endorsement.
Get more from Alexa.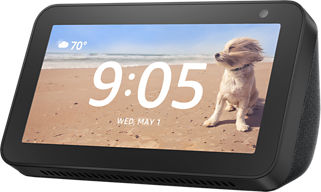 Get the Amazon Smart
Home Bundle. On us.
Get the Amazon Smart Home Bundle
on us with Verizon 5G Home. Includes Amazon Echo Show 5 and more Alexa- enabled devices (a $250+ value).
Check availability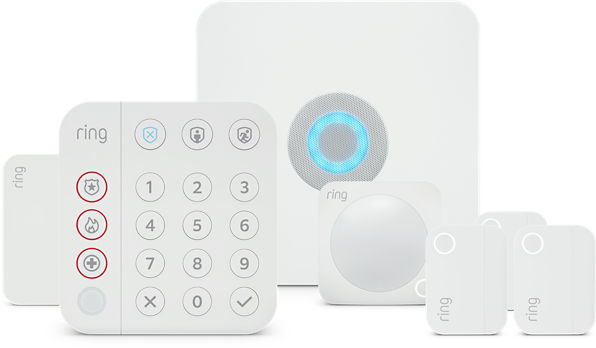 Safe and sound.
The smart way.
Ring Alarm Security Kit with
Verizon LTE for
$229.99. Plus, 24/7
professional monitoring
through
Ring for just $10/mo.
Buy
Have questions?
We've got answers.
Verizon Protect Home covers a variety of the most common electronic products in your home. This includes, but is not limited to:
Expert technical support for your covered products and virtually anything they connect to while you're enrolled in Verizon Protect Home. It also includes up to 2 in-home visits per year from Connected Home Experts.
Extended warranty protection for:

Flat screen TVs (LCD, Plasma, LED)
Desktops / laptops*
Printers
Home theater systems
DVD / Blu-rayTM players
Audio/video streaming devices*
Routers*
Smart home / Wi-Fi products (e.g., smart thermostat, AlexaTM, etc.)
Wearables (e.g., smartwatches**)
Gaming consoles (e.g., Xbox®)
Premium audio headsets
Tablets**

Coverage for damage as a result of accidental handling for:

Laptops
Wearables (e.g., smartwatches**)
Tablets**
For more details, please refer to the Verizon Protect Home Terms & Conditions.
*Excludes any Verizon branded or provided devices.
**To be covered by Verizon Protect Home, eligible products must be equipped with a Windows® operating system version Windows 7 or newer, AndroidTM version 1.6 or newer, or for Apple® computers, an Apple operating system version OS X (10) or newer. Verizon Protect Home doesn't cover products connected to a Verizon wireless account or covered by any one of the Verizon wireless device protection options. For information about coverage for these wireless devices, please go to our Verizon Protect FAQs.
Alexa Hands Free setup is as easy as 1, 2, 3:
Download the Alexa App from Google Play.
Open the app and complete voice setup.
Just ask Alexa! For example, "Alexa, where is the nearest pharmacy?"
To learn more about Alexa on your phone, visit the Use Alexa page. For more help setting up, visit the Getting Started page.
The Ring Alarm Security Kit with Verizon LTE is a security system for your home. Security by Ring service provides professional monitoring service and other features, all billed directly on customers' monthly Verizon bills.
The Ring Alarm Security Kit with Verizon LTE includes:
A 7-piece alarm kit:

1 base station
1 keypad
1 motion sensor
3 door/window or contact sensors
1 Z-Wave extender

24/7 professional monitoring from Ring with emergency response
60-day cloud storage for Ring videos if you have Ring cameras at the same location (cameras not included)
LTE backup from Verizon in case Wi-Fi connectivity is lost
Ring Alarm Security Kit with Verizon LTE devices will connect with the Ring ecosystem and work with any additional Ring sensors, Ring cameras, Alexa products, etc. that you currently have or may want to purchase.
It costs:
$229.99 to purchase the Ring Alarm Security Kit with Verizon LTE (initial one-time cost)
$10/month for the Security by Ring monitoring service
When you sign up for Security by Ring, you'll receive a 30-day free trial at the start of your service.
If you currently have a standard Verizon wireless account*, you can activate the Ring Alarm Security Kit with Verizon LTE as a new line on your Verizon account.
*Florida residents aren't eligible to purchase the Ring Alarm Security Kit with Verizon LTE at this time. Prepaid, government and business accounts aren't currently eligible.
You can use the Ring app to control your Ring Alarm Security Kit with Verizon LTE right from your phone.
Learn more on Ring's Support website:
If you need help using your Ring Alarm Security Kit with Verizon LTE or troubleshooting an issue with any of the devices, please call Ring at (800) 656-1918.
You can also find help on Ring's Support website.