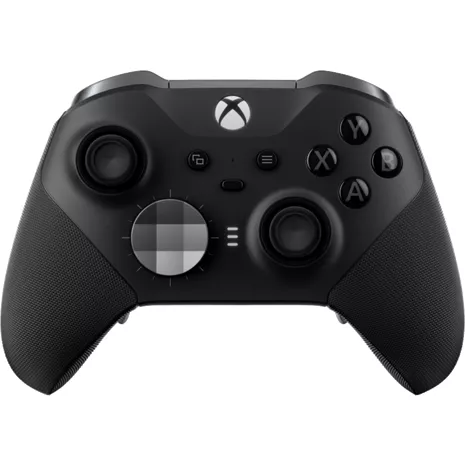 Overview tab selected 1 of 4
Overview Section Start
Take your gaming experience to the next level with the Xbox Wireless Controller Elite Series 2. This Bluetooth® controller helps you play like a pro. Stay on target with interchangeable adjustable tension thumbsticks, shorter hair trigger locks as well as a hybrid D-Pad. The wrap-around rubberized grip makes it easy to keep hold of your controller while playing. Map your buttons to fit your gaming style, allowing for streamlined playing. And, capture and share your favorite moments with the dedicated Share button.

Wide compatibility.
This controller seamlessly pairs with your gaming apparatus. It works with Xbox Series X|S, Xbox One, Windows PC, Android and iOS.

Reviews
71% of reviewers recommend this product.
Used Controller, Warranty Expired, Nightmare to Resolve - Shame on Verizon
OldController . 7 days ago
Typed in Serial Number to Microsoft to see that the warranty expired in August, as everyone else here is saying. Was guarantied by a Verizon Rep before purchase that the controller was brand new with an intact warranty. This was a lie. Been on phone with Microsoft for hours to get the warranty fixed. Contacted Verizon about returning, and at first they wanted to charge a return shipping fee. After going off on them about their fraudulent listing, they said they would do me the honor of waiving the shipping fee. This whole situation is wrong. Shame on Verizon.
Bought it on sale.
Yes, I'd recommend this product.
I ordered the product in november. Once I received the product it was still sealed in box when opened I noticed a smudge on the right side of the controller. Everything else looked good. Entered the serial number into my Microsoft account to register my device noticed it was out of warranty as of August 2023. I contacted a "gamer" at Microsoft who could not help me resolve the issue. They transferred me to a real Microsoft associate who I sent the PDF of the receipt, pictures of the sealed box (I had taken beforehand) and pictures of the controller itself. After about 5 minutes they came back and said my warranty would be updated sometime in the next 72 hours. The product looks good doesn't look brand brand new. Maybe just a low quality control batch of controllers. For me as long as my warranty is updated I'm gonna be fine with the product just sucks it was such a hassle to get the warranty updated on a "new" product.