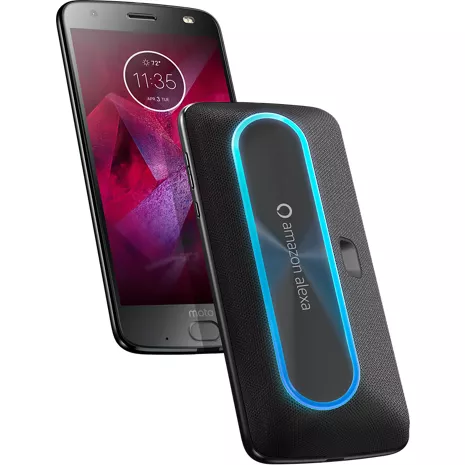 This item is currently only available for Express Pickup. 
Select a store to continue.
Free returns within 30 days.Details
Overview tab selected 1 of 4
Overview Section Start
Play music, get answers to questions and more, just using the sound of your voice. With the Smart Speaker with Amazon Alexa Moto Mod™, you can experience the benefits of Amazon Alexa right from your smartphone.*

Hear and be heard.
Turn up your favorite tunes with a powerful stereo speaker.† Four microphones make it easier for Alexa to hear your questions, even when music's playing or you're sitting across the room.

Ask Alexa.
Plan out your day by checking the weather, setting your schedule, mapping your commute and more. Pick a new song or look up which artist you want to play next. Just ask, and Alexa automatically updates your screen.

Convenient charging.
Access Alexa, even while your phone is still charging. The smart speaker with Amazon Alexa Moto Mod includes a convenient docking design for fueling up your phone.

Built-in battery.
Add up to 15 hours of power to your phone.‡ Power your speakers without draining your phone by using the built-in battery.

*Amazon Alexa only available in select markets, including the U.S., Germany and UK. Not all Amazon Alexa features available on Amazon Echo devices may be supported.

†Requires the use of an Amazon, Amazon Prime or Amazon Unlimited account. Smart home or smart hub features require compatible devices.

‡ Actual battery performance will vary and depends on many factors including signal strength, network configuration, age of battery, operating temperature, features selected, device settings, and voice, data, and other application usage patterns.
Reviews
29% of reviewers recommend this product.
Not impressed
Way to much money for what it does. Don't Recommend !!!
Motorola Customer Care - 3 years ago
Hi Pipes, we value our customer's opinions. As we stand by our phones, we're happy to work with you on any issues. Please don't hesitate to drop us a message at supportforums@motorola.com. We're always here to help. Thanks.
motorola.com Originally posted on motorola.com
Speaker only
The Alexa on this is a joke. If this is a way to introduce new users to the world of Alexa, it does a poor job. I only use it as a speaker and for that it does ok. I've not used any other speaker mods so can't say if it 's better or worse than those but certainly an improvement over the phone's speaker.
Motorola Customer Care - 4 years ago
Hi tkdrd, we understand your point but believe that the specs of one component can't tell the whole story about one of our mods. We always value customers who are keen to give us their feedback. Let us know if there's anything else we can do to help.
motorola.com Originally posted on motorola.com