Full Transparency
Our editorial transparency tool uses blockchain technology to permanently log all changes made to official releases after publication. However, this post is not an official release and therefore not tracked. Visit our learn more for more information.
More of our content is being permanently logged via blockchain technology starting [10.23.2020].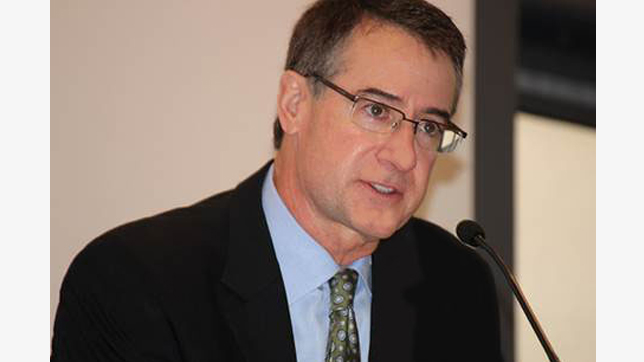 Tom Dailey, Verizon's Chief Strategy Counsel and International Legal, Regulatory and Policy Officer, gave a keynote at the IIC annual conference in Mexico City recently on the theme of 'Delivering connectivity: building certainty and incentives to promote investment and innovation". This was one of six key themes discussed at the event, which brings together over 250 senior executives and public policy-makers in the global Technology, Media and Telecoms (TMT) sphere to discuss hot topics and key concerns.
I sat down with Tom last week to discuss his speech and its key themes.
Tom, can you outline why you think 'delivering connectivity' is so important?
My start point at the IIC event was that Connectivity is Key. Today, we stand on the cusp of the Fourth Industrial Revolution, a technology revolution that will fundamentally change how we live, work and play. Everything that can be connected will be, with innovations such as artificial intelligence, automation, robotics and biotechnology changing our world, enabled by the low latency, stupendous speeds and continuous connectivity of the 5G revolution. 
Connectivity is being changed by new technologies – wireless, with 5G as the 2018 hot topic, but also wireline, including Intelligent, Virtual and Software Defined Networks and Deep Fiber.
Intelligent, Virtual and Software Defined Networks – essentially software solutions that sit on top of underlying networks – are fast becoming a must-have technology. Many of Verizon's enterprise customers around the world are now looking at how they can accelerate their adoption of Software-Defined Networking to be able to benefit from this secure, high performance, and adaptable solution that can flex to support changes in bandwidth demands by application, and application use.
Deep Fiber is essentially the foundation of 5G – 5G cannot exist without fiber networks. Verizon has been investing and laying the foundation for 5G for years, as we have deployed and continue to deploy an extensive fiber network in the United States.
And then, let's talk about 5G. 5th-generation wireless technology isn't just another iteration of wireless innovation. It is transformational. It has the potential to change everything: redefining work and having a profound and sustained impact on our global economic growth.
Verizon is a leader in the 5G space, isn't it?
Yes, Verizon was the first to launch 5G commercial services, but we've been the leader in 5G from the start. Verizon led the way in developing and deploying 5G and accelerating 5G innovation. In 2015, we created the 5G Technology Forum (5GTF) -- bringing together key partners like Ericsson, Qualcomm, Intel and Samsung -- to move the entire 5G ecosystem forward. The 5G Tech Forum's technical work helped accelerate the release of the 3GPP 5G New Radio (NR) standard in December of 2017. In 2018, Verizon achieved a series of technological "firsts" with other 5G technology leaders, including:
We are now "open for business" when it comes to 5G, offering Verizon 5G Home, the nation's first commercially available 5G home broadband service, in Los Angeles, Sacramento, Houston, and Indianapolis. We said we would be first to 5G and we are, with 5G home broadband service built on the first and only 5G Ultra Wideband network.
Why is Verizon betting on 5G in such a big way?
As I said before, 5G is transformational.
For consumers, 5G means ultrafast wireless broadband service, which gives people a simple way to "cut the cable" and easily get wireless internet. For your cell phone, it means longer battery life, faster data speeds, and more bandwidth than anything offered today.
For enterprises, Verizon's 5G network will support businesses' innovation ambitions and create new markets. For enterprises, we are enabling solutions to transform supply chain management and create smarter, more efficient manufacturing. 5G is a fundamental platform to support the Internet of Things (IoT) which refers to the rapidly expanding number of devices that collect, transmit and share data via the internet. Enterprises will log an estimated $15 trillion in aggregate IoT-related expenditures in the next eight years. And by 2020, more than half of all new businesses will rely on IoT to cut costs, build efficiencies, and grow their bottom lines. For IoT to realize its limitless potential, 5G is critical. Many of the use cases for 5G technology literally haven't been invented yet.
What do these developments mean for society as a whole?
I believe that technology-led disruption and innovation will transform communications around the world, and open up business and collaboration opportunities that we can't yet imagine. That's why our 5G Innovation Labs are working with partners to explore this potential.
Let's imagine 5G's potential when it comes to a positive social impact on the big issues of sustainability, public safety, healthcare and education. When you combine human innovation with emerging technology, the possibilities to do more new and more good become endless.
Now is the time for civil society, industry, academia and decision-makers to work together, and pool resources to make investing in connectivity a reality globally, and take the lead on exploring 5G potential. There is no question but that we need to move quickly, and think differently, to realize our collective power, and reinvent our future in the 5G age. 
What's the role of the regulator in promoting the necessary investment and innovation to make this happen?
Verizon believes that light-touch (and in most cases, no-touch) regulation is vital if new technologies like Intelligent, Virtual and Software Defined Networks are to flourish. The right regulatory and public policy environment is critical for driving investment – and investment in turn fuels the innovation we all need to deliver network connectivity.
The key for policymakers is to find ways to protect consumers where necessary, ensure competition and continue to promote innovation and investment, while minimizing regulation to instances where it is necessary, and avoiding regulation that skews markets.
One change in approach that could have a hugely positive impact here: the simplification of regulatory frameworks. Regulatory simplification promotes a pro-investment and innovation climate and seeks, wherever possible, to rely on existing horizontal competition and consumer protection rules, and to deregulate where appropriate, rather than incrementally building on historic—and often outdated—sector specific laws and regulations.
Regulatory simplification can lead to a number of benefits including greater regulatory certainty and predictability, regulatory outcomes that minimize compliance costs and inefficiencies, a more prosperous environment in which innovation thrives, and a boost to economic competitiveness.
Regulators have important responsibilities, and the challenging task of keeping up with rapidly changing markets, services and products that can strain their resources. They also need to care about quality regulatory outcomes. Appropriately targeted regulatory simplification that is "fit for purpose" can result in significant benefit to all stakeholders, especially when existing regulations often impose outdated reporting requirements that task both the regulated entity and the regulator with compliance procedures that provide no real public policy benefit.
Is there any specific area for focus?
We believe that a key area for reform, and one that is relatively simple to adopt with little impact on consumers, relates to the simplification of regulatory obligations imposed on service providers for enterprise customers. Regulators should consider the unique characteristics of enterprise services and the benefits of eliminating outdated regulations or taking a light-touch approach when updating applicable rules.
Services that cater to enterprise customer markets are categorically different from those offered to mass-market retail service customers. The first key difference is contractual in nature, enterprise services present various specificities that differ from mass-market services: extensive bi-lateral, individually negotiated and tailored contracts, significantly more complex telecom services provided (multiple locations across countries, different access technologies, bundle of services, very demanding Service Level Agreements (SLAs)), sophisticated knowledge of the technology and economic implications of telecommunications services among high-end business users.
Enterprise customers often negotiate specific terms and packages with a provider under a SLA. In many cases, enterprise customers even issue a tender process to select a provider on a competitive basis. This enables greater flexibility for enterprise customers to tailor their contractual arrangements, and highlights how the mass-market retail and enterprise customer markets are separate and distinct.
How important a role has the FCC played in 5G deployment so far?
It's hard to overstate the importance of the role that Regulators in general, and the Federal Communications Commission (FCC) in particular, are playing in the rollout of 5G in the U.S.  Verizon's ability to accelerate the deployment of 5G could not have happened without the FCC's forward-looking and proactive efforts to make necessary spectrum available and to simplify outdated and inefficient regulation.  On this latter point, the FCC has taken significant steps to adopt the right polices to facilitate the deployment of the necessary infrastructure, especially the deployment of small cells. The FCC's reforms will directly address investment barriers, lower the cost of infrastructure rollout, and support further coverage enhancements.
And 5G isn't just happening in the U.S., is it.
No, 5G Adoption is happening across the globe. More than 40 operators have announced plans to launch 5G commercial services across over 30 markets, including China, Japan, South Korea, Singapore and Europe. In many countries government actions are expected to free up both mid-band and high-band spectrum for 5G in the near future. But it's important to recognize that, in order to be competitive on a global scale, governments must adopt national policies that promote the deployment of next-generation networks and services that offer huge promise to consumers, the economy, and society.
Any closing thoughts, Tom?
Network connectivity is key to supporting this next "industrial revolution" and delivering the new services it will enable. We need to create the right environment for investment and innovation in network connectivity to flourish. To do that, we need to simplify regulation, especially for services to enterprise customers. Industry is doing the hard work to develop disruptive technologies like 5G, SDN and more. The regulators need to do their bit as well, if the fourth industrial revolution is to become a reality.
For related media inquiries, please contact story.inquiry@one.verizon.com