Verizon brings the heat in the latest third party test results
Delivering what matters to our customers - reliability, speed and consistency
Full Transparency
Our editorial transparency tool uses blockchain technology to permanently log all changes made to official releases after publication.
More of our content is being permanently logged via blockchain technology starting [10.23.2020].
By Mike Haberman, Vice President of Network Engineering for Verizon
While outside temperatures may have cooled, Verizon continues to bring the heat in the latest third party test results. Just this week, we hit a milestone in the RootMetrics® by IHS Markit 2H 2018 U.S. Metro RootScore Reports drive and indoor tests of 125 metro areas. Of the 106 markets tested to date, Verizon is undefeated in 100. That's better than 9 out of 10 cities tested to date--compared to just over 3 out of 10 for the nearest competitor.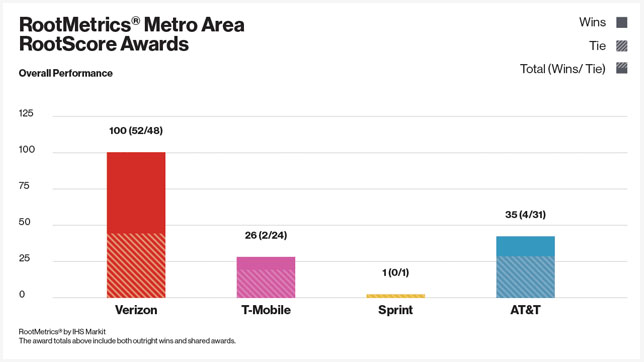 An unbeaten wireless network experience in 100 of the first 106 metro areas tested.
These results come on the heels of Tutela's 2018 US Mobile Network Quality study* in which Verizon was named the Best Network, delivering "the highest levels of consistency" in network performance nationwide, and the P3 Mobile Benchmark US** report declaring Verizon "BEST in test." 
It's clear from these results that we continue to extend our lead over the competition. Our team has achieved more market network performance wins than our competitors combined. That's great news for our customers.
Remaining on top through Innovation
Our relentless focus on innovation and continued investment in our network drive these results and underscore our commitment to our customers—to make the best network experience even better.
Verizon has been on the forefront of virtually every major network innovation, leading the industry with groundbreaking technology and capability for our customers. For example, when we first introduced 4G LTE in late 2010, it ushered in fundamental change in how people live, work and play. Today, we continue to push the boundaries as we set the stage for next generation tech. Our launch of the world's first 5G Ultra Wideband Network on October 1 is just the beginning, as we lead the way to unlocking the power and possibilities of 5G. 
Having the best 5G network starts with the best 4G network. We lead the industry and deliver technology firsts and innovations designed to ensure our customers have an ever-improving 4G LTE experience. Here are just some of the advancements we've delivered this year:
The combination of three powerful technologies—4x4 MIMO (Multiple Input and Multiple Output), 256 QAM and carrier aggregation – delivers a huge boost to our LTE Advanced network. Customers in the 1,100 U.S. markets where these three technologies are deployed will notice significantly increased data speeds and available capacity
Small cells in cities across the country to meet the growing demand today and to lay the groundwork for our 5G network
Innovative use of drones in emergencies to assess damage on the ground and provide temporary wireless coverage
Achieved peak data speeds of 1.45 gigabits per second (Gbps) on LTE in a live commercial environment using six channel carrier aggregation, a key LTE Advanced technology
Consistently Recognized By Multiple Independent Third Parties
These latest third party results echo what we've been hearing throughout the year. This summer, Verizon was ranked #1 in the nation for a record 10th time in a row by RootMetrics***. Other independent testers agree. Verizon received more awards than any other wireless provider in the J.D. Power Wireless Network Quality Performance Study****(21st time in a row); has been recognized as best in streaming*****; and was declared the largest 4G LTE footprint "by far" on the U.S. Interstate System in the recent Connectivity on Interstates Report by P3******.
Building the future
In 2018, Verizon has led the way in innovation with no plans to slow down. Our launch in October of our 5G Ultra Wideband network was a significant milestone and we're just getting started. Verizon's 5G took a giant leap toward mobility availability in November with the first 5G data transmission on a smartphone. We were first with 5G broadband internet service and will be first with mobile 5G service in 2019.
At the same time, we continue to expand and enhance our existing 4G LTE network, making it faster and capable of carrying even more network traffic. The two networks will operate in parallel for many years to come, meeting the ever-growing needs of our customers.
We don't wait for the future, we're building it!
*Verizon customers received the best overall download speeds across the U.S., according to the study of United States' mobile performance from January through August 2018 by Tutela, a widely installed network testing software that collects more than 2 billion network quality measurements every day in the USA.
** The data used by P3, a global industry-leader in mobile benchmarking, was collected during the period of three months, from June to August, 2018 and comprises of 34.7 billion samples speed samples from 2.3 million users.
***Rankings based on the RootMetrics US National (1H 2018) and Metro (2H 2018) RootScore Reports. Tested with best commercially available smartphones on 4 national mobile networks across all available network types. Your experiences may vary. The RootMetrics award is not an endorsement of Verizon. Visit www.rootmetrics.com for more details.
****Verizon Wireless received the highest numerical score among wireless service providers in the J.D. Power 2018 (V1 & V2) U.S. Wireless Network Quality Performance Studies rating it Highest Wireless Network Quality Performance across the Nation. 2018 V2 study is based on 36,320 total responses, measuring the network quality experienced by customers with wireless phones, surveyed January – June 2018. Your experiences may vary. Visit jdpower.com.
***** Based on Nielsen Video Network Scores using data collected nationally between 1.1.18 and 6.30.18.
****** The data used by P3 was collected during the period of three months, from March to May, 2018 and comprised of 2,361,675,005 measurements and 43,565 interstate miles.