Verizon at the United Nations: How we're investing in a more sustainable future
At the UN General Assembly, Verizon joins world leaders and policymakers to discuss how greater connectivity can help ensure a brighter tomorrow.
Full Transparency
Our editorial transparency tool uses blockchain technology to permanently log all changes made to official releases after publication. However, this post is not an official release and therefore not tracked. Visit our learn more for more information.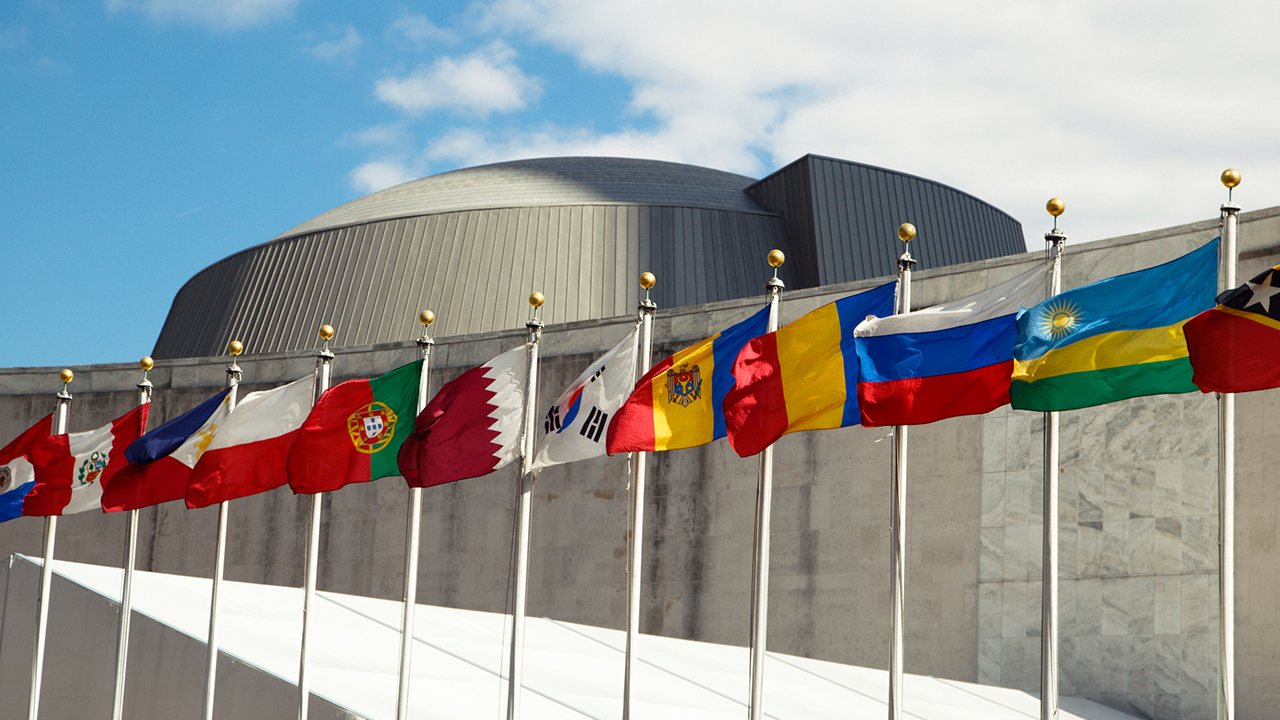 Verizon believes technology should not only empower people to do more, but to do more good. This philosophy has driven Verizon leaders to the United Nations General Assembly in New York this week to discuss how mobile connectivity can help create a healthier planet and promote global equality.
Verizon's presence at the General Assembly focuses on three main pillars: empowering more sustainable business practices; championing clean energy; and expanding access to education.
We're proud to report that our impact in these arenas has been registering for years. Whether through enterprise technology platforms that help boost fleet efficiency or through our support of innovative, impactful social responsibility initiatives, we understand the stakes. But we're just getting started. As we continue to roll out 5G Ultra Wideband, the next generation of wireless connectivity, high network speeds and ultra-low latency have the potential to supercharge these objectives and many others.
Driving sustainable business practices
Many businesses are now taking a broader look at their corporate missions, with a focus on the so-called "triple bottom line," one that factors in social and environmental implications, as well as the financial, and drives companies to make more sustainable choices.
Verizon's business solutions help bring environmental consciousness to the fore. The Verizon Connect mobile worker and fleet management software platform delivers critical data that helps drive efficiency, productivity and safety for businesses of all sizes. By improving routes, monitoring fuel usage and tracking driver behavior like idling and harsh driving, the Verizon Connect platform also enables companies to address climate protection and to do their part to reduce the estimated 33% of total smog-producing air pollution caused by motor vehicles.
Similarly, Verizon Intelligent Traffic Management utilizes video, smart lighting and intersection safety analytics to ease congestion and reduce the 16 billion pounds of CO2 emitted annually by motor vehicles stuck in traffic. In select cities around the country, Verizon 5G Ultra Wideband can help introduce the next phase of these innovations, with the potential for smart communities that will attract next-gen businesses. Using IoT technology and a vast sensor network, these businesses should be well positioned to conserve energy, reduce waste and preserve local government budgets.
"The world is facing a daunting challenge in climate change," says Verizon chairman and CEO Hans Vestberg. "5G has the potential to reduce up to 90% of our current power consumption. That's an enormous amount, and an important way we can address these issues with technology, with the goal of bringing positive change through a Fourth Industrial Revolution."
Promoting clean energy
Making the planet's sources of electricity cleaner and more sustainable is more than a worthy business goal. It's a global imperative, and Verizon is doing its part.
In Hawaii, the first state in the U.S. to commit to deriving 100% of its energy from renewable sources by 2045, Verizon 4G LTE technology powers the smart sensors that allow the collection of near-real-time data on the grid. The Grid Wide solution manages and balances energy loads, helping ease the transition to solar and empowering residents to take more active roles in preserving their local resources.
The world is facing a daunting challenge in climate change. 5G has the potential to reduce up to 90% of our current power consumption. That's an enormous amount, and an important way we can address these issues with technology, with the goal of bringing positive change through a Fourth Industrial Revolution."
— Hans Vestberg, chairman and CEO of Verizon
In the near future, Verizon 5G Ultra Wideband should help modernize the electrical grid across the country, making it more resilient, efficient and capable of handling the move to renewable energy and the widespread electrification of passenger vehicles. By some estimates, a smart energy grid could reduce energy usage and carbon impact by 12% directly and 6% indirectly.
"We all want to use less energy," says Sean Harrington, Vice President, City Solutions at Verizon. "There's a greater need to modernize the grid, which by definition means putting sensors throughout. Devices connected to that grid system can use 5G to manage that connectivity on a large scale, with near-real-time processing."
Democratizing education
In 2015, the U.N. adopted 17 Sustainable Development Goals, a comprehensive shared blueprint for peace and prosperity, with the objective of full implementation by 2030. Perhaps no initiative contains greater potential than investing in the education of future generations. That's why Verizon is working to ensure young people in under-resourced middle schools across the U.S. have access to quality educational resources.
Since 2012, Verizon Innovative Learning has been focused on addressing barriers to digital inclusion. The program provides free hardware, connectivity and STEM (science, technology, engineering and math) curriculum to Title 1 middle schools. By increasing access to technology that provides immersive classroom experiences, the geographic and socioeconomic barriers to quality education could one day be virtually eliminated.
"The ability of teachers and students to collaborate in near-real time, even when they're not in the same room, will be a game-changer," says Justina Nixon-Saintil, director of corporate social responsibility at Verizon. "Remote education through 5G is expected to give schools the opportunity to bring experts into the classroom in the form of holograms. Thanks to AR and VR tools, whether a student is in the classroom or miles away should no longer make much of a difference. They'll always feel like they're right there with the teacher."
The promise of 5G has always been one of better connections, but as companies, governments and like-minded organizations collectively strive to protect the planet and uplift its people, the notion of connection takes on greater significance. That's why at Verizon we strive to do more new and do more good. From sustainability to clean energy to education, we're using our technology and assets to help build a brighter future—for our customers, for our communities and for the world around us.
For related media inquiries, please contact story.inquiry@one.verizon.com