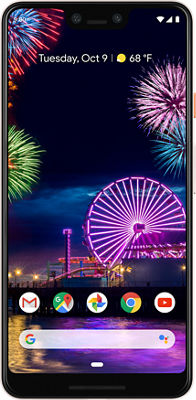 This device is no longer available for purchase.
Meet the Google Pixel 3 XL. Explore your world with Google Lens.¹ Capture breathtaking photos using Portrait Mode. Screen phone calls and get answers with Google Assistant.2 The Google Pixel 3 XL features wireless charging and an all-day battery3 for more power on the go. Comes in Just Black, Clearly White and Not Pink colors (subject to availability). Verizon is your destination for the hottest phones like the Google Pixel 3 XL, all on the nation's most reliable 4G LTE network.
Reviews
start rating review 3.0 out of 5 stars
3.0/5
121 Reviews
46%
of reviewers recommend this product.
High quality phone from Google
verizon member - 11 months ago
Yes, I'd recommend this product.
I will not get to all details about phone, however this is my impression about it after weeks of having it. This is an excellent phone, perfect size, easy and comfortable to watch, type and read. Calls are clear and natural. It is not have unnecessary apps. Phone is thin, elegant, fast, responsive and solid. Highly recommend
Best Phone I've Ever Had
BED03 - 1 year ago
Yes, I'd recommend this product.
Having had an iPhone before going to Samsung, then this Pixel, this is the best yet. Fast operating with great battery. I can do pretty much anything on this phone I could my Samsung, but it processes faster and more smoothly. It also takes amazing photos, and the Google Photo app and cloud make altering, sharing and storing photos a cinch.
Great phone
Amy P - 1 year ago
Yes, I'd recommend this product.
I was impressed with this phone right from the beginning. Very easy to use. Great interface. Love the way the apps are in alphabetical order and easy to find. Price was right and transfer was easy. Love the set up of the Pixel. This was the first one I have owned. Always an Android user and I am just so pleased with this phone.
Solid Phone
DungeonsAndDragons - 7 months ago
Yes, I'd recommend this product.
Just switched from iPhone to the pixel 3, and I'm not disappointed. Screen is large and very clear, haven't had any issues with slowness, and the camera is great. Easy to set-up and easy to use.
Great phone, easy switch from iPhone!
William - 11 months ago
Yes, I'd recommend this product.
First of all, the only smartphones I have ever owned were all iPhones. I was really nervous about making the switch, and just assumed that the android operating system would be more difficult to use. However, I had always been pretty disappointed with my iPhone cameras, and decided to go with the Pixel 3 XL because it supposedly had the best camera. So the camera really and truly is great, but what I didn't expect was how easy and better the Google operating system is which was a pleasant surprise. The integration with all of Google's services, i.e. Google Photos, Google Maps, Google search, make the phone easier to use and more truly useful than my previous iPhone. The Google Assistant also blows Siri out of the water. Also, it was super easy to transfer all of my apps, contacts, photos and data with the adapter that comes with the phone. The free Google Photos storage means I don't have to use my phone's internal storage for photos and videos, meaning the 64 gb goes much further and is more than enough for me. My main problem with my iPhone's storage was my photos and videos, so its nice not having to worry about it anymore. The battery life could be a little better, but is still good and way better than my previous iPhone. In summary, I really couldn't be happier with the Pixel 3. The camera is phenomenal, and the operating system is easy and useful, and switching from iPhone has been easy and better than I expected.
Business Machine with a Great Camera
freddysrevng - 1 year ago
Yes, I'd recommend this product.
Video and pictures at the Chicago Auto Show - incredible. Use the Pixel 3XL all day at the office. Keyboard is spot on for multiple text messages and emails a day. Call quality terrific. Apps, including, Microsoft office - flawless. Total productivity with a fast and smooth interface.
1 For available Google Lens languages go to g.co/help/lens Requires Internet connection.
2 Requires Internet connection.
3 Approximate battery life based on a mix of talk, data, standby and use of other features, with always on display off and mobile hotspot off. An active display or data usage will decrease battery life. Wired charging: rates are based on use of the included charger. Wireless charging: Up to 10 W with Pixel 3 and Pixel 3 XL charging with Pixel Stand (sold separately). Actual results may vary.
4 Free unlimited online original-quality storage for all photos and videos uploaded to Google Photos from Pixel 3 through 1/31/2022. Photos and videos uploaded before 1/31/2022 will remain free at original-quality. Requires Google Account. Data rates may apply. g.co/help/photostorage
5 Up to 10 W with Pixel 3 and Pixel 3 XL.
6 Pixel Stand sold separately.
7 The Google Assistant on Google Pixel Buds is available only on Android and requires an Assistant-enabled Android device and data connection. Data rates may apply.
8 Requires Internet connection.