Google Pixel 3 128GB White - OCPO3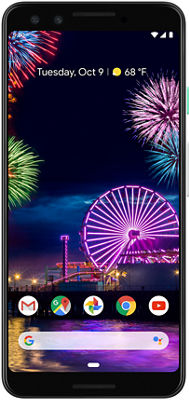 This device is no longer available for purchase.
Meet the Google Pixel 3. Explore your world with Google Lens.¹ Capture breathtaking photos using Portrait Mode. Screen phone calls and get answers with Google Assistant.² The Google Pixel 3 features wireless charging and an all-day battery³ for more power on the go. Comes in Just Black, Clearly White and Not Pink colors (subject to availability). Verizon is your destination for the hottest phones like the Google Pixel 3, all on the nation's most reliable 4G LTE network.***
Reviews
There are no reviews, be the first to write one.
1 For available Google Lens languages go to g.co/help/lens Requires Internet connection.
2 Requires Internet connection.
3 Approximate battery life based on a mix of talk, data, standby and use of other features, with always on display off and mobile hotspot off. An active display or data usage will decrease battery life. Wired charging: rates are based on use of the included charger. Wireless charging: Up to 10 W with Pixel 3 and Pixel 3 charging with Pixel Stand (sold separately). Actual results may vary.
4 Free unlimited online original-quality storage for all photos and videos uploaded to Google Photos from Pixel 3 through 1/31/2022. Photos and videos uploaded before 1/31/2022 will remain free at original-quality. Requires Google Account. Data rates may apply. g.co/help/photostorage
5 Up to 10 W with Pixel 3 and Pixel 3.
6 Pixel Stand sold separately.
7 The Google Assistant on Google Pixel Buds is available only on Android and requires an Assistant-enabled Android device and data connection. Data rates may apply.
8 Requires Internet connection.