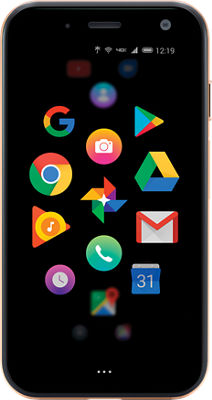 A Verizon exclusive, Palm lets you rethink the way you connect with your world. With its 3.3-inch screen, this ultra-mobile phone is perfect for minimalists who don't way to lug around a large and burdensome device. Palm gives you all your smartphone essentials, including a 12MP rear-facing and 8MP front-facing camera, Android OS, the full Google Play app ecosystem and WiFi compatibility. Unleash its full potential with Verizon, the nation's largest and most reliable 4G LTE network.
Reviews
48 reviews
of reviewers recommend this product.
Love it
Yes, I'd recommend this product.
My big phone is out for repair but I am not cut off from the world.. I just take.a small external battery. with.me
Great Phone - until 3G got cancelled!
JayMan_869 · 3 months ago
I bought my Palm by Verizon in Nov of 2019 and it was a great phone. The customers/users where the best advertising that Verizon could have gotten for this product. Every time I pulled my phone out to use it - someone commented on it's size. And that gave me the chance to talk up the product. Yeah - the pre-installed Google products could be a challenge. But, overall, I loved this phone and talked it up every chance I got. However, when 3G was deactivate back in early 2022 - this phone turned into a useless item. Unless the micro display says 4G - which is almost impossible to read - the phone will NOT connect a call or receive a call - thus making it a "non-phone". The device can show 5 bars of service - but if 4G isn't displayed - the call will not go through (inbound or outbound). Turning on the WiFi calling function does little to help. Additionally, there is now an "HD" function that has just started to activate. It was either not present - or it never activated - when 3G was in service. But is has mysteriously shown up now - and from much research - it cannot be deactivated. When the "HD" function shows active on the phone, there is HIGH possiblity that you will be muted. You can hear the other party crystal clear - but they cannot hear you - no matter how loudly you yell. It's is maddening to try to use this phone now. I have contacted Verizon Customer Service regarding my issues and Verizon has not been able to understand what is happening, resolve the issue,or give me a solution other than to force me to another phone that is 5G compatible. This phone is exactly what I wanted and I waited until Verizon made it a "stand alone" phone. But now I cannot recommend it to anyone. I sincerely hope that Verizon supports it's users that believed in them and bought their product - the "Palm by Verizon".
*IP68-rated to withstand dust, dirt and sand, and resistant to submersion up to a maximum depth of up to 5 feet of water for up to 30 minutes.