Krista Page, leading through change from the military to the corporate workplace.
Learn how Krista Page, VP of Global Strategic Sourcing, has gained the power to go beyond from the military to the V Team.
Full Transparency
Our editorial transparency tool uses blockchain technology to permanently log all changes made to official releases after publication. However, this post is not an official release and therefore not tracked. Visit our learn more for more information.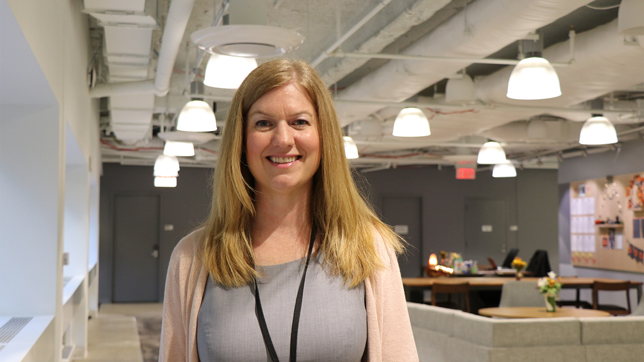 Complex problem-solving, decision making, operational excellence and breakthrough thinking — these are just a few of the skills Krista Page took with her when she transitioned from the military into the civilian world. She also carries these skills into her role as Verizon's VP of Global Strategic Sourcing. 
Post-military, Krista found her calling in strategic sourcing — a field where she is a catalyst for growth, flexibility and innovation by being involved in virtually every aspect of the business. Read Krista's story to learn how she has gained the power to go beyond, from the military to the corporate world.
Paving the way for change.
Coming from a long line of service members, Krista always enjoyed the military culture she was surrounded by, which inspired her to attend the Naval Academy, graduating in 1995. During this time, combat roles began opening up for women in the military, and she immediately saw an opportunity to pursue her lifelong love of math and science by becoming an engineer. After petitioning to the Secretaries of the Army and Navy, Krista successfully cross-commissioned from the Naval Academy into the Army as an Engineer Officer, becoming the first woman to do so!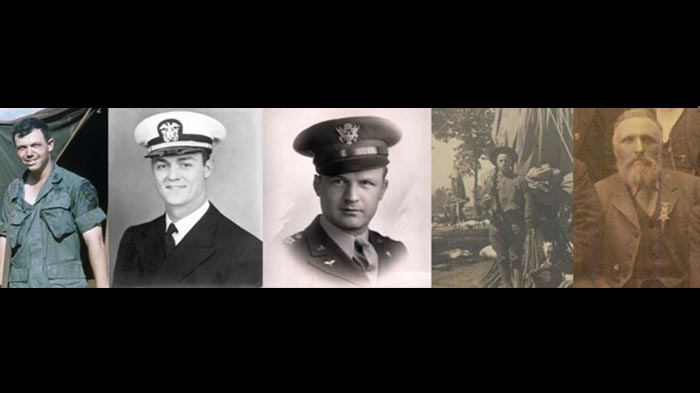 Krista Page comes from a long line of service members. Photographed above are her father — Maurice Murphy, a rifle platoon leader in Vietnam, both grandfathers who served in World War II, great-grandfather who served in the Mexico Expedition, and great-great-grandfather who served in the Civil War. 
Another noteworthy feat that Krista recalls from her military career is her service during Operation Joint Endeavor, a multinational peacekeeping force in Bosnia. Bosnia-Herzegovina was the scene for the most violent armed conflict in Europe since World War II and led to one of the greatest humanitarian crises to include genocide. Krista led her platoon in stabilizing the region, creating peace and enabling free elections. Every soldier Krista led in this mission made a safe return home — something she is very proud of.  
In the military, Krista gained leadership, collaboration and conflict management skills that she carries with her to this day. For her, learning how to lead through ambiguity and adversity has made her resilient and has been essential to her success in service as well as her post-military career.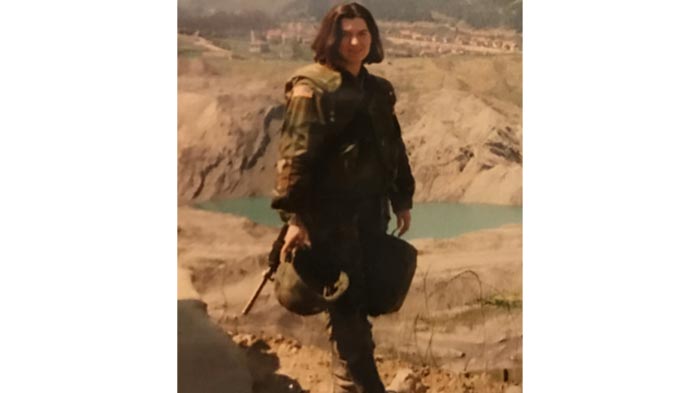 Krista in Bosnia during Operation Joint Endeavor.
"Put yourself in someone else's shoes and try to meet them where they are," she said. "People from different walks of life see things differently. You'd be surprised at what a diverse group of people can accomplish when you empower them to think about a challenge and work through it." 
Verizon's commitment to service members. 
Before joining the V Team, Krista knew Verizon was a military-friendly company based on commercials she saw highlighting the importance of keeping military families connected. What she didn't know was that our commitment to service members extends to every aspect of the business, including our military recruitment efforts.
Almost everybody that I interviewed with started the conversation with, 'Thank you for your service.' It made me feel welcome and appreciated for who I am and what I bring to the table.
Krista Page, VP of Global Strategic Sourcing
Krista also came to this realization when she noticed a key parallel between Verizon and the military: Our core values. Integrity, respect, accountability, trust and honor — all qualities Krista upheld in the military, are also qualities she has seen in Verizon's Credo as well as the V Teamers she works with. As she watches her new team help each other overcome challenges and changes in the company, Krista finds herself reunited with the same sense of camaraderie she felt so strongly in the military.
Krista felt even more at home in her new role when she spent time with West Point Cadets who joined Verizon around the same time she did, as part of our summer internship program. Having the opportunity to serve as a mentor — providing the cadets with advice on their career choices and what it's like to transition from the military into the civilian world — opened Krista's eyes to just how much Verizon does for the military community.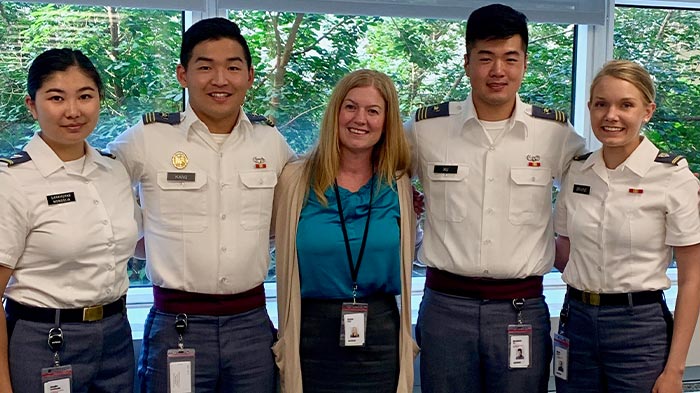 Krista photographed with West Point Cadets at Verizon.
"Being able to mentor and provide guidance to the cadets was very energizing for me. What I hope they took away is, while they will be asked to do hard things, they're not alone and it's an incredible honor to be a military member," Krista said. "They have to be able to live up to their promises. The most important thing they can do is lead authentically." 
Transitioning from the military to the civilian workforce.
While transitioning back into the civilian world after five years of military service came with new challenges for Krista, she overcame those obstacles by finding purpose, seeking out mentors, asking questions, listening and adapting, while staying true to self. She leaves these tips for anyone facing a major life change, including veterans transitioning into civilian life and candidates seeking new roles. 
Look at opportunities with a leadership lens. 
Leadership—the ability to provide purpose, direction and motivation for yourself and others around you — can open up doors for you and show that anything is possible. If you're a veteran seeking your first post-military job, for example, translate your military and leadership skills into skillsets that are being asked for in civilian roles and responsibilities. It may not seem like it, but you'll find many correlations. Most roles, for example, require the ability to collaborate, plan, prioritize, make decisions and lead through conflict or ambiguity — all skills learned in the military.
Do things that scare you. 
Don't do things just because you think it's going to be comfortable or because you've done it already. Do it because you'll learn, you'll grow, you'll stretch and you can then help your team do the same. You learn from the failures just as much as you learn from the successes, so don't be afraid — just do it. 
Show up and ask questions. 
It's too hard to be something you're not, so in every arena and aspect of your life, be the person that you are. Don't be afraid to ask for help. It is not a weakness. Humanity, at its very core, is helpful so leverage it.
Learn more about how Verizon goes beyond for the military community.