How 5G can power public safety communications
Verizon 5G Ultra Wideband can help first responders do their jobs more effectively, improving overall quality of life within communities.
Full Transparency
Our editorial transparency tool uses blockchain technology to permanently log all changes made to official releases after publication. However, this post is not an official release and therefore not tracked. Visit our learn more for more information.
More of our content is being permanently logged via blockchain technology starting [10.23.2020].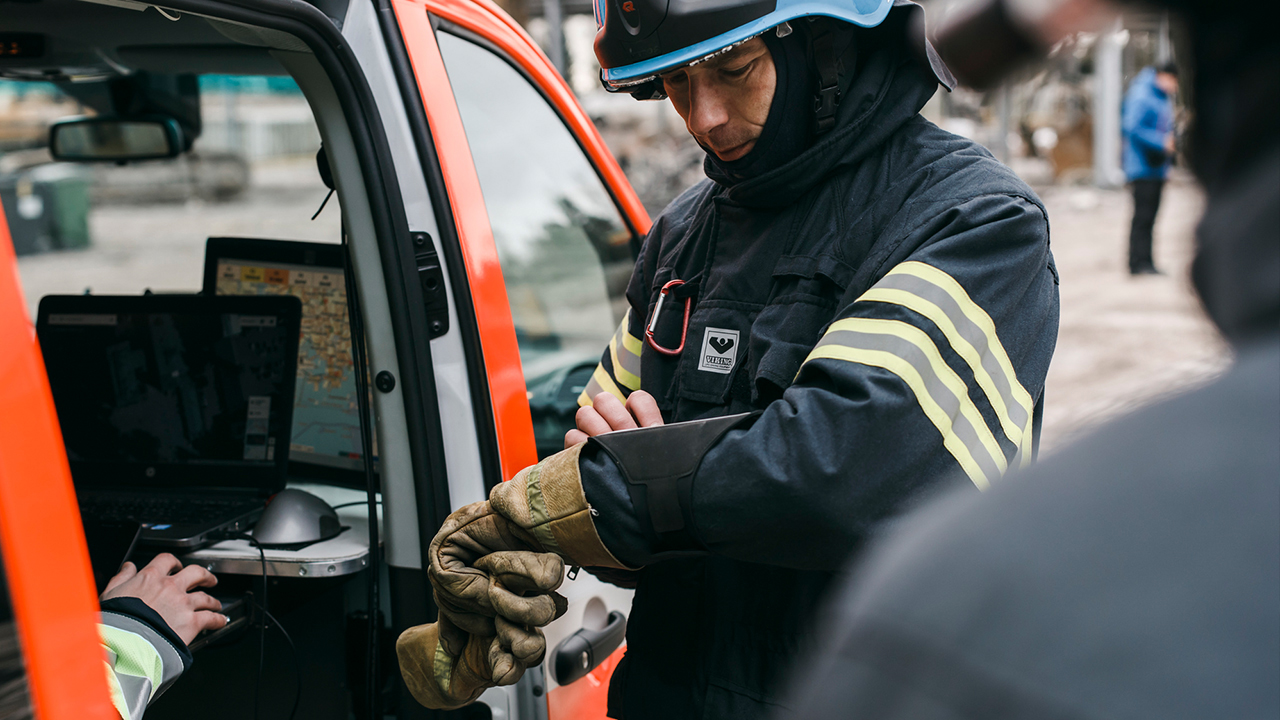 Investing in public safety communications is a balancing act. Communities need to equip themselves not only to handle emergencies, but to prevent them. Both efforts require strategic coordination, situational awareness and intelligent deployment of resources.
While wireless network services may appear as just a line item on a budget, communications play a critical role in any public safety initiative. And as the nationwide rollout of 5G continues, next-generation connectivity can help decision makers at the local, state and federal levels make their communities not just safer, but smarter.
Improving public safety communications
There is no substitute for a firefighter who rushes selflessly into a burning home or a paramedic who performs a critical intervention inside an ambulance, but 
Verizon 5G Ultra Wideband
 can help these brave men and women do their jobs more effectively, and in a world of almost limitless 5G potential, there may be no greater use case.
Harnessing the speed and low latency of 5G, IoT sensors could allow for near-real-time gathering and sharing of data, creating an environment in which critical information can be acted on by coordinated teams and departments. An ambulance could provide diagnostics to a waiting team of ER doctors before the patient reaches the hospital. A squad car could send video to headquarters, signaling the need for backup more quickly than describing the scene over a radio call. 5G-powered drones have the potential to scan and relay rich imagery from disaster areas, helping streamline search and rescue missions, aerial aid drops and mass evacuation efforts.
First responders should have the absolute best. That means the most effective technologies available as they protect our communities and respond to emergencies large and small.
— Toby Redshaw, Senior Vice President of Enterprise Innovation and 5G Solutions at Verizon
Verizon's commitment to public safety is evident in existing 4G LTE technologies. From Responder Private Core, a service that segregates public safety data communications from commercial and consumer traffic, to Intersection Safety Analytics, a solution that aims to decrease the likelihood of crashes, these technologies provide the backbone for many future applications. Recently, Verizon co-presented its third annual Operation Convergent Response, a showcase and proving grounds for advanced technologies that can assist in crisis situations. The importance of this work can't be overstated, nor can the value-add of 5G in driving potentially life-saving innovations.
"Today's connected devices are already enabling improvement in the spheres of public safety, sustainability and quality of life," explains Sean Harrington, Vice President of City Solutions at Verizon. "With 5G, the good we'll be able to achieve is going to be exponentially more."
Preparing for the worst
When it comes to public safety communications, Verizon 5G Ultra Wideband will do some of its most critical work behind the scenes.
For starters, robust 5G Ultra Wideband allows citizens in need to be connected during times of crisis. And as 5G helps make some of today's most promising technologies more viable, first responders should be able to use computer vision and augmented reality training tools to simulate emergency events that are otherwise difficult to recreate, from five-alarm fires to multi-car accidents, allowing them to perform more confidently when every second counts.
"First responders should have the absolute best," says Toby Redshaw, Senior Vice President of Enterprise Innovation and 5G Solutions at Verizon. "That means the most effective technologies available as they protect our communities and respond to emergencies large and small."
5G could also increase environmental awareness via intelligent video and AI-assisted analysis. The ability to deploy more cameras in tighter spaces—and to focus on vital information in near-real time—has the potential to significantly alter the public safety apparatus, from finding lost children to deterring lawbreakers.
Safety in numbers
Safeguarding the public takes the coordinated, cumulative effort of many individuals, and that spirit of collaboration drives many of Verzon's most important public safety initiatives.
Together with Responder Corp., Verizon's 5G First Responder Lab recently announced its third cohort of participants. Using 5G to develop, test and refine their applications, innovators are creating the next generation of life-saving public safety technology, from AI-powered autonomous security solutions to wall-penetrating radar for rescue operations.
Verizon also announced a 5G-based partnership with Tom Tom HD Maps, with the goal of reducing the estimated 6,500 accidents involving ambulances and 300 involving police cruisers each year. Using Tom Tom's high-definition mapping capabilities and the speed and low latency of 5G Ultra Wideband, the collaboration plans to create near-real-time 3D visualizations and corral communication within intersections reliably and accurately. Together, we're doing our part to help protect those who routinely put themselves in harm's way, and creating safer conditions for everyone on the road.
A critical mission
For Verizon, every collaboration and deployment is another opportunity to challenge the limits of what 5G Ultra Wideband can do. As Verizon chairman and CEO Hans Vestberg has said, "5G is an open invitation to not simply change how we do certain things, but to fundamentally rethink how we do all of it."
Empowering breakthroughs for public safety agencies, innovators and the people they ultimately serve is core to Verizon's culture. From prevention to response, when milliseconds count, communities can count on Verizon.
For related media inquiries, please contact story.inquiry@one.verizon.com