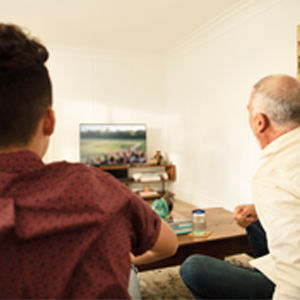 Hooray for Blu-ray.
Blu-ray players, which have become more affordable over the years, can also make a great alternative. Many of today's Blu-ray players are Internet-connected, offering the same video streaming options as other smart-enabled devices. A good number of models also feature apps for music services, web browsers and popular social platforms like Facebook® and Twitter.
As a bonus, Blu-ray Discs™ provide better HD picture quality and sound compared to streaming services.
Let the Games Begin.
How about Blu-ray movies, classic smart TV features and awesome video games, all rolled into one?
Although a bit pricier than other accessories alternatives, the titans of today's gaming world — the Xbox® One and PlayStation® 4 — cam make a nice addition to your living room.
Both gaming consoles offer online subscription services including a host of apps such as Amazon Instant Video and Crackle for streaming movies, sports, music and more. View the complete lists of available apps for the Xbox One and the PlayStation 4. Both gaming systems also have built-in Blu-ray players. And when it's time to let loose, you can play cutting-edge, eye-popping games in dazzling high-definition glory.
No matter what your budget is, you're bound to find an accessory that can help turn your TV into a smart TV. Be sure to visit Verizon's Smart home page to browse our complete selection today.