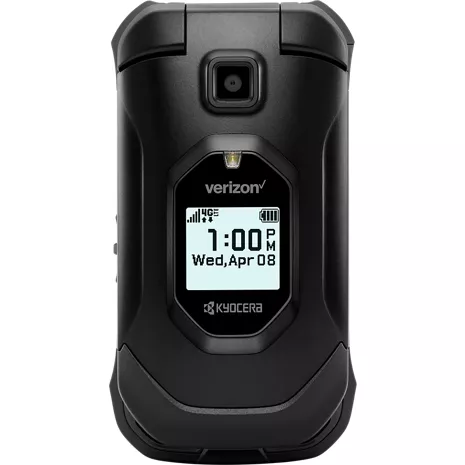 Introducing the ultra-rugged Kyocera DuraXV Extreme, designed to withstand harsh environments so you can meet life's challenges head on. Intelligent, compact and ultra-durable, DuraXV Extreme performs under the most challenging conditions. Built with easy-to-use features like a large, tactile keypad and a programmable Alert1 and Push to Talk1 buttons, Speaker and Stop keys. DuraXV Extreme also has an intuitive interface that's simple to navigate or customize. Combined with long battery life, loud dual front speakers, dual-mic noise cancellation, Wi-Fi hotspot capabilities,2 and a powerful Quad-Core processor, this phone is the extreme environment companion that won't let you down. You can count on the DuraXV Extreme and Verizon, America's most awarded network to be there when you need it.
Reviews
37% of reviewers recommend this product.
Great basic phone. Sturdy and simple. sssss
Yes, I'd recommend this product.
I bought my Kyocera phone eight months ago, and I am very satisfied with its performance. I should note that I filtered the phone, and I do not have access to internet or email. However, I have used the phone to call, text (extensively), take minimal pictures, set alarms, add calendar events, and take notes. All these features are easy to use and perform well, but I often get feedback from people I call that I sound far away or like I am in a wind tunnel. This could be a result of poor 4G reception. Of course, the camera takes images with low resolution, and there is no selfie camera. This is to be expected, and I think the customer base for this product isn't really seeking a sophisticated camera. Perhaps my favorite aspect of the DuraXV Extreme is that it is rugged and indestructible. I have dropped the phone many times, and I can honestly say that it is no worse for wear. The flashlight is also excellent. Many basic phones do not have flashlights, so it was a pleasure to find one that has this feature. The phone's battery life is good. I don't use it very much daily, but on days when I text heavily or open it a lot it usually still has about 80% battery at the end of the day. The keypad is a number keypad with symbols and emojis as alternative text options, so it's not texting at lightning speed no matter what you do. I enjoy this feature because it makes me think of what I want to say before typing, but if you want a phone that you can whip out and text quickly and for a long time, this might not be the choice for you. The speakers are fine. My reception isn't that great, so sometimes the audio blacks out during calls. This is not an issue when I have good reception (around 3 bars). Overall, I would definitely recommend this phone to someone who wants a device that they can use but won't distract them with flashy colors, pictures, or addictive content. It is fine for teenagers, and children can navigate its menus fairly easily as well. I'm not sure if it is the best choice for seniors because the screen is small.
New model a mix of good & bad. sssss
I've had multiple prior models of this phone and loved them all. My initial experience with the XV Ext+ is a mixed bag. It's speed and responsiveness are noticeably improved. Most of the menus and layout are comfortably familiar making migration from an older model pretty easy. It retains Wi-Fi calling and can operate as a mobile hotspot with reasonable speed. The connectivity options and data capability are very good for this style phone. What may ultimately turn me off from the XV Ext+ is the messaging layout and poor text input. The messages screen sacrifices far to much space for contact pictures/images icons which, on a phone like this, are completely unnecessary. The number that shows participants in a group message is indistinguishable from the number showing unread messages from an individual. What little space is left on the messages list shows message previews which are so short as to be nearly useless in most cases. Now, for the text input... specifically what should be the most useful choice, the Predictive (T9) option. As in previous models the "#" key is supposed to be (per the manual) a "Space" key. In reality it is an "Underscore" which confuses the Predictive text feature creating words of jibberish. No combination of settings I can find changes this behavior. There is an option to use the round button on the arrow rocker as a word "Select" key but this automatically adds a space after every word whether you want it or not. When punctuation is correctly added to the end of a sentence it removing the last unnecessary space. The problem comes when you need to enter an abbreviation or acronym. After using "Select" to choose a letter and getting the automatic space, you have to "Back/Left Arrow" to remove the automatic space after each character before entering the next one. Predictive/T9 texting works well when implemented normally but this setup is nearly unusable. Unless I can find a settings change to make the text entry behavior work the way it should I'll be returning the phone... restocking fee or not.
1 Alert and Push toTalk requires a subscription
2 Mobile Wi-Fi Hotspot Capability requires activation and may incur additional data charges.
3 IP68 dustproof and waterproof rated for up to 30 minutes in up to 6.5 feet of water. Drop-proof up to 1.5m onto concrete
4 Certified for use in classified hazardous work environments where concentrations of flammable gases, vapors, or mists are not normally present in an explosive concentration (but may actually exist).
5 Based on average battery life under typical usage conditions. Average expected performance based on typical use. Actual battery life depends on factors such as network, features selected, frequency of calls, and voice data, and other application usage patterns. Results may vary.
6 Non-camera version available.