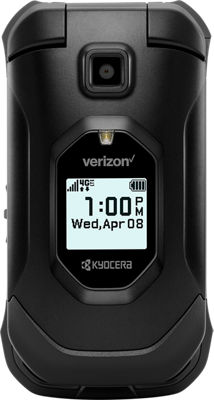 Customize
Black
Monthly payments shown are for customers who qualify to pay $0 Down, $6.66/mo for 36 months; 0% APR. Retail price: $240.00. One-time activation fee of $35.
Get it fast
Select shipping options at checkout. Subject to eligibility.
Introducing the ultra-rugged Kyocera DuraXV Extreme, designed to withstand harsh environments so you can meet life's challenges head on. Intelligent, compact and ultra-durable, DuraXV Extreme performs under the most challenging conditions. Built with easy-to-use features like a
large, tactile keypad
and a programmable Alert
1
and Push to Talk
1
buttons, Speaker and Stop keys. DuraXV Extreme also has an intuitive interface that's simple to navigate or customize. Combined with long battery life, loud dual front speakers, dual-mic noise cancellation, Wi-Fi hotspot capabilities,
2
and a powerful Quad-Core processor, this phone is the extreme environment companion that won't let you down. You can count on the DuraXV Extreme and Verizon, America's most awarded network to be there when you need it.
Reviews
133 reviews
of reviewers recommend this product.
Nice phone, horrendous battery life.
The battery life on this phone is horrendous. After the phone ages, the battery life decreases significantly. The phone is rarely used and all of the "helpful" hints have not worked. I've purchased 2 batteries and each fully charged do not fix the problem. The phone is nice, but not worth the aggravation.
Good Phone, But.....
Yes, I'd recommend this product.
I like this phone, however at times I can not send an individual person text. Can send group messages with no trouble, but will not send to a single person. This is my 2nd phone like this and had same trouble with both.
1 Alert and Push toTalk requires a subscription
2 Mobile Wi-Fi Hotspot Capability requires activation and may incur additional data charges.
3 IP68 dustproof and waterproof rated for up to 30 minutes in up to 6.5 feet of water. Drop-proof up to 1.5m onto concrete
4 Certified for use in classified hazardous work environments where concentrations of flammable gases, vapors, or mists are not normally present in an explosive concentration (but may actually exist).
5 Based on average battery life under typical usage conditions. Average expected performance based on typical use. Actual battery life depends on factors such as network, features selected, frequency of calls, and voice data, and other application usage patterns. Results may vary.
6 Non-camera version available.