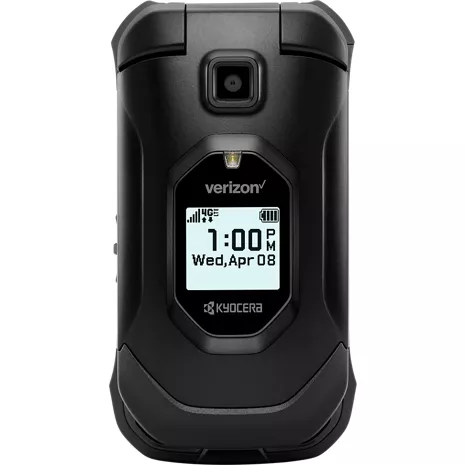 Overview tab selected 1 of 4
Overview Section Start
Introducing the ultra-rugged Kyocera DuraXV Extreme, designed to withstand harsh environments so you can meet life's challenges head on. Intelligent, compact and ultra-durable, DuraXV Extreme performs under the most challenging conditions. Built with easy-to-use features like a large, tactile keypad and a programmable Alert1 and Push to Talk1 buttons, Speaker and Stop keys. DuraXV Extreme also has an intuitive interface that's simple to navigate or customize. Combined with long battery life, loud dual front speakers, dual-mic noise cancellation, Wi-Fi hotspot capabilities,2 and a powerful Quad-Core processor, this phone is the extreme environment companion that won't let you down. You can count on the DuraXV Extreme and Verizon, America's most awarded network to be there when you need it.
Reviews
50% of reviewers recommend this product.
Basically the best for those who simply want a phone w/text
This phone is for those who want to keep it simple. This is my second Kyocera (I've had it for 3 years) and my husband also has one. Sure some of the fancy emojis don't show up from others, but those who know me are getting used to it. If you don't want to pay the big bucks, but want all the tools, this is not the phone for you.
Kyocera Customer Support - 2 days ago
We agree that DuraXV Extreme is perfect for consumers who prefer uncomplicated and affordable devices. Thanks for leaving a 5-star review.
Great phone for my vision impared wife
This phone is a godsend for my wife who is visually impaired. There is so much functionality with this phone although the basic functionality of making calls is its most used feature. Buttons that are easy to feel and distinguish from one another. Voice activated calls. Voice commands for time and date. Like I said its a lifesaver. There are not many basic phones of this kind available anymore. This a rare standoud for a basic flip phone. SHe wont every really be able to use a smartphone. FOr as long as it lastes, I will be getting these over and over again for her..
Kyocera Customer Support - 2 months ago
We're so happy to hear DuraXV Extreme works well for your wife with its voice commands and easy-to-distinguish buttons. Stories like yours are inspiring – thank you for posting this positive review.
1 Alert and Push toTalk requires a subscription
2 Mobile Wi-Fi Hotspot Capability requires activation and may incur additional data charges.
3 IP68 dustproof and waterproof rated for up to 30 minutes in up to 6.5 feet of water. Drop-proof up to 1.5m onto concrete
4 Certified for use in classified hazardous work environments where concentrations of flammable gases, vapors, or mists are not normally present in an explosive concentration (but may actually exist).
5 Based on average battery life under typical usage conditions. Average expected performance based on typical use. Actual battery life depends on factors such as network, features selected, frequency of calls, and voice data, and other application usage patterns. Results may vary.
6 Non-camera version available.