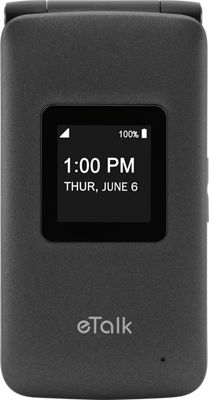 Customize
Black
Monthly payments shown are for customers who qualify to pay $0 Down, $2.22/mo for 36 months; 0% APR. Retail price: $79.99. One-time activation fee of $35.
Efficiency meets elegance with the eTalk flip phone. Get the essentials you need on a sleek device that features a bright,
easy-to-read 2.8-inch internal and 1.44-inch external display
. The eTalk offers high-resolution sound, a long-lasting battery and up to 32 GB in expandable memory. Unleash its full potential with Verizon, America's most awarded network.
Reviews
110 reviews
of reviewers recommend this product.
Cheap flip phone
Needed to upgrade and Verizon auto-shipped a Kazuna phone. Wow! How cheap can you get? Amazed Verizon could offer these. Kazuna, Alcatrel, TCL= cheap! My first incoming phone call on the Kazuna was dropped half way thru the conversation! What happened to brands like LG or Samsung? The quality is gone just like the old days. Sad!!!!!
Not great for hearing impaired
This phone is not great for anyone who doesn't know how to use internet,its not good with hearing devices, my husband hates it and won't use it.