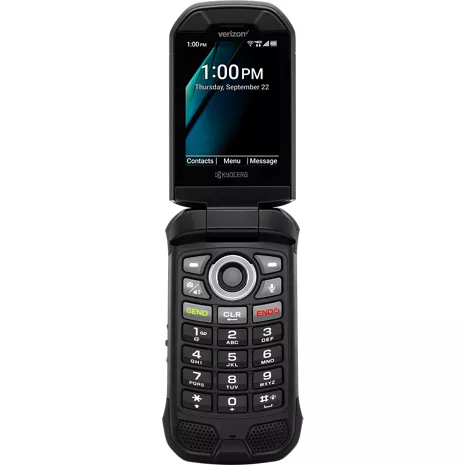 Overview tab selected 1 of 4
Overview Section Start
Designed to be durable, the Kyocera DuraXV Extreme+ is the compact and reliable talk and text phone that stands up to the elements. Compact and portable, plus with long-lasting battery life, you can take the DuraXV Extreme+ with you on the go and support up to 10 devices on the built-in mobile hotspot. And, when paired with Verizon's 4G LTE network, you can enjoy crystal-clear phone calls with HD voice calling.
Reviews
0% of reviewers recommend this product.
Not good for older people
Lot of steps to make a call. Can't hear callers
Kyocera Customer Support - 3 months ago
Thank you for your feedback on DuraXV Extreme+. Here are a couple of tips that might help you make calls faster. First, you can get to the Contacts list quickly from the home screen by pressing the left softkey (in the upper left corner of the keypad). This will open the Contacts list and you can scroll to the contact or start entering the letters of the name to narrow the list. Second, for people you want to call quickly, you can add their contact to the Speed Dial list. To do this: 1) Go to Settings::Call settings::Speed dial setup. 2) Press the left softkey to add a speed dial entry. 3) Enter the speed dial number which is the number you want to press in order to call that person. (The number 1 is already reserved for voicemail.) 4) Press the left softkey to set the contact name. 5) Select the contact from the list and press the center navigation key to choose that one. 5) Press the center navigation key again to save the speed dial entry. 6) Press the End key to return to the home screen. After this, when you are on the home screen, you can press and hold the number key for the speed dial number of the person you want to call. For example, you would press and hold 3 to call the contact in speed dial 3. For speed dial 12, you would press 1, then press and hold 2. For more tips about your phone or to get a copy of the user guide, contact our customer support team at 1-800-349-4478.
No camera this is what's available
Going back in time wish Verizon would sell a smart phone with no camera! Allot of people work in environments you can't have a camera phone. Thousands of people!!! Military gov etc. This is what you have to look forward to.
IP68 dust proof and waterproof rated for up to 30 minutes in up to 6.5 feet of water. Drop proof up to 1.5m onto concrete.
SOS and PTT require subscription.