TCL FLIP Pro Voice & Text Only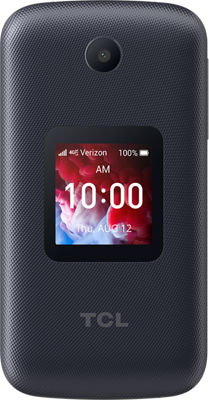 Customize
Slate Gray
Monthly payments shown are for customers who qualify to pay $0 Down, $2.22/mo for 36 months; 0% APR. Retail price: $79.99. One-time activation fee of $35.
Get it fast
Select shipping options at checkout. Subject to eligibility.
The TCL FLIP Pro Voice & Text Only delivers the classic flip phone experience with a modern and sophisticated design to keep you connected with texts and calls, without the distractions of email or social media. The 2.8" color display features an easy-to-use interface while the external preview color screen alerts you of incoming calls and text notifications. The upgraded keypad with dedicated shortcut keys lets you quickly respond to messages and access favorite contacts with ease. Enjoy enhanced HD audio and clear calls with Verizon, the network more people rely on.
Reviews
12 reviews
of reviewers recommend this product.
phone cut off
have had this phone for less then 6 months. The phone cuts off in the middle of a call at randome times.Went to the verizon store and they could not do anything to help. they changed the sim card, no help. called tec support and was on the line for almost 2 hr, they could not help.Lleast dependable phone I have ever owned. Would not recomend this phone to anyone.
Not the worst phone ever- it's a flip phone with some good features, and not so good
First, on the volume control on the side- this is the same as any other phone. If someone has muscular control or has cognitive issues then the volume control might be a problem. The phone is what you would expect for the price and maybe a little more. It has a C-connector, so charging is fast and the phone can be connected to another device to access the phone's public folders. It has a separate microSD slot, so, through the C-connector, you have access to the data on that as well. I would strongly advise getting a microSD chip. They are inexpensive now and are important to essential for some things you might want to do with this phone. It has wifi calling, which is important when the signal is not strong at your home. It has FM radio as well. You just need a 3.5 headset. or Bluetooth. It has Bluetooth. Bluetooth allows phone to phone transfer (only useful when you have a microSD chip), which can be essential when setting the phone up. Bluetooth also allows connecting your phone to your home internet phone (eg, OOMA). Or a bluetooth headset. It has a camera. Set storage to the microSD chip. Two things that make lower the score on this phone. Transferring contacts to this phone is a real problem. Unless you know a trick, you will need to reenter all your contacts, one by one. The trick involves using the microSD card, but I will leave it at that. The other problem is that the phone is shipped with spelling correction turned on by default. If you try to enter a name of person, good luck! The spelling correction control is called "Use Predictive" and it is located in an obscure place: Settings.Personalization.Input Methods.English.
Based on average battery life under typical usage conditions. Average expected performance based on typical use. Actual battery life depends on factors such as network, features selected, frequency of calls, and voice data, and other application usage patterns. Results may vary.