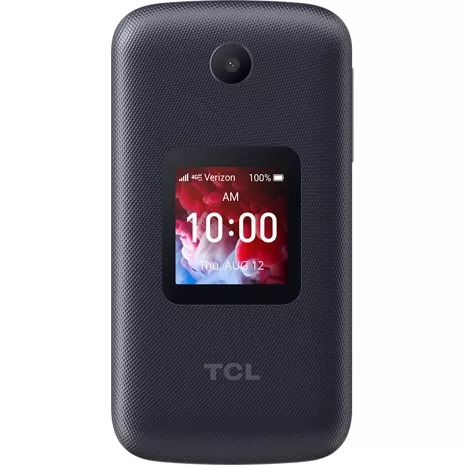 Meet the TCL FLIP Pro, delivering a familiar flip phone experience with smart features to keep you connected. The 2.8" color display features an easy-to-use interface while the external preview color screen alerts you of incoming calls and notifications. The upgraded keypad with dedicated shortcut keys lets you quickly access Favorite Contacts and Messages from any screen. Speak your text with ease thanks to the Voice Assistant. And now you can pair it with Verizon, the network more people rely on.1
Reviews
17% of reviewers recommend this product.
frustrating phone sssss
velveteileen . 4 days ago
The size and weight are great. I has never been able to properly hook to blue tooth in my car. One year later, now the alarm will not work. The buttons work most of the time. It freezes often so that I have to take the battery out to restart - problem from the beginning. In the beginning, I went to Verizon twice thinking it was a defective phone - this is the 3rd they gave me - but realized same problem with every phone, so it's the phone model itself. Disappointing...I have never used the Smart features - only photo, call, text, alarm, and calculator.
TCL/Alcatel Mobile - 1 day ago
Dear Customer, thank you for your feedback. The Flip Pro supports Bluetooth 4.2 version and it should pair to most car. You can either make the BT on your car discoverable or make the phone's BT discoverable. The pairing will be for audio and mic only and not for app like Android Auto. As for the alarm, please try different ringtone to see if that helps. If that didn't clear the problem, cleaning up the cache memory on your phone may help. Go to Settings > Storage > Clean Up Storage > Go to Clock > Clean. You can also check the storage section to see if the storage memory is getting full or not. Clearing up some memory will help with the performance of the phone. Lastly, f you are still having trouble with the buttons, then your device may need a keypad repair/replacement. Feel free to reach out the TCL mobile support team at: 1-855-224-4228. Hope this helps. - Kevin.
1. America's most reliable network based on rankings from the RootMetrics® US National RootScore® Report: 1H 2021. Tested with best commercially available smartphones on 3 national mobile networks across all available network types. Your experiences may vary. The RootMetrics award is not an endorsement of Verizon.
2. Based on average battery life under typical usage conditions. Average expected performance based on typical use. Actual battery life depends on factors such as network, features selected, frequency of calls, and voice data, and other application usage patterns. Results may vary.