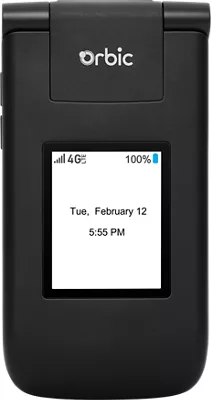 Monthly payments shown are for customers who qualify to pay $0 Down, $2.77/mo for 36 months; 0% APR. Retail price: $99.99. One-time activation fee of $35.
Reviews
4 reviews
of reviewers recommend this product.
95% negative reviews of Orbic - FIBS
Yes, I'd recommend this product.
Standby battery is NOT only 7 hrs. It has been over 3 days and battery is still 69% left. You don't have to wait for someone to call you to send them a text. Just put people you text a lot into favorites and select anytime you want to text. Texting with abc mode is more time consuming but the more you use the better you get at it! Love the 2 screens on phone Very easy to use once you understand the logic of navigating through menus. User guide is great and makes all the difference if you actually look up what you want to set up. One on the best user guides I have seen Give it a chance - with a positive attitude
Orbic
Has to be the biggest waste of plastic masquerading as a phone.