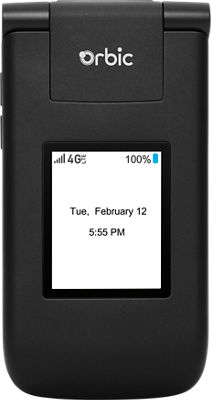 Customize
Black
Monthly payments shown are for customers who qualify to pay $0 Down, $2.77/mo for 36 months; 0% APR. Retail price: $99.99. One-time activation fee of $35.
Reviews
3 reviews
of reviewers recommend this product.
Orbic
Has to be the biggest waste of plastic masquerading as a phone.
Not so great features
My friend texted me a link to a YouTube video and when I opened it in the browser, the video wasn't found. It turns out when you open the link from your messages, the browser will open an all-lowercase version of the URL, which breaks links to YouTube and probably other sites. No way am I typing in the link manually. The browser option is nice because people will just share links with me when they want me to check something out, but this phone can't perform on that front. There hasn't been a software update since November 2021 so chances are they won't be updating it to fix it. Trying to text with T9 is not the best because a lot of common English words are not in the phone's dictionary so you have to type it manually with ABC mode which is a lot slower than T9. Most of us know what the experience was like to use old 3G flip phones from other companies, Verizon should have put more pressure on Orbic to release a better performing product before accepting it. If this phone was made by LG, Samsung, or Motorola, problems like this would not fly but instead these people are doing the bare minimum as long as the phone sells. The phone makes good calls, has good signal, and if you're someone who doesn't need any data, go into the phone's settings under cellular data and turn it off because it will save your battery and be talk/text only.