Available offers
Buy one, get one $300 off.  
Overview tab selected 1 of 4
Overview Section Start
Apple Watch Series 9 helps you stay connected, active, healthy, and safe. Featuring double tap, a magical way to interact with Apple Watch,1 an even-brighter display, faster on-device Siri, and Precision Finding for iPhone.2

Your essential companion for a healthy life is now even more powerful. The S9 chip enables a superbright display and a magical new way to quickly and easily interact with your Apple Watch without touching the screen. Advanced health, safety, and activity features provide powerful insights and help when you need it. And redesigned apps in watchOS give you more information at a glance.
Reviews
89% of reviewers recommend this product.
Time for an upgrade
Yes, I'd recommend this product.
I am loving the series 9 so far! I had the series 5 prior to this one and I'm glad I switched up the color to something bright.
Great upgrade
Yes, I'd recommend this product.
Love the size and new features
Compare devices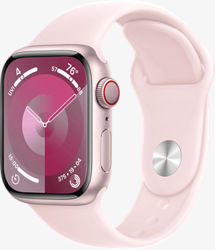 Apple Watch Series 9
Starts at $13.88/mo
for 36 months, 0% APR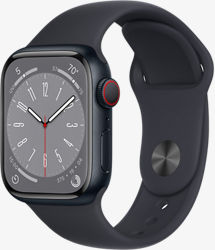 Apple Watch Series 8 41mm Midnight Aluminum Case with Midnight Sport Band - SM
Starts at $12.49/mo
for 36 months, 0% APR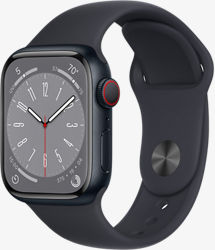 Apple Watch Series 8 41mm Midnight Aluminum Case with Midnight Sport Band - SM
Starts at $12.49/mo
for 36 months, 0% APR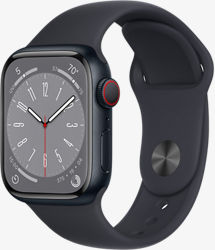 Apple Watch Series 8
Starts at $12.49/mo
for 36 months, 0% APR
Apple Watch Series 9
Battery life
Up to 18 hours | Up to 36 hours in Low Power Mode
Apple Watch Series 8 41mm Midnight Aluminum Case with Midnight Sport Band - SM
Battery life
Up to 18 hrs.*
Apple Watch Series 8 41mm Midnight Aluminum Case with Midnight Sport Band - SM
Battery life
Up to 18 hrs.*
Apple Watch Series 8
Battery life
Up to 18 hrs.*
Apple Watch Series 9
Screen
Apple Watch Series 8 41mm Midnight Aluminum Case with Midnight Sport Band - SM
Screen
Apple Watch Series 8 41mm Midnight Aluminum Case with Midnight Sport Band - SM
Screen
Apple Watch Series 8
Screen
Apple Watch Series 9
Reviews
Apple Watch Series 8 41mm Midnight Aluminum Case with Midnight Sport Band - SM
Reviews
Apple Watch Series 8 41mm Midnight Aluminum Case with Midnight Sport Band - SM
Reviews
Apple Watch Series 8
Reviews
Apple Watch Series 9
Storage
(Subject to availability)
Apple Watch Series 8 41mm Midnight Aluminum Case with Midnight Sport Band - SM
Storage
(Subject to availability)
Apple Watch Series 8 41mm Midnight Aluminum Case with Midnight Sport Band - SM
Storage
(Subject to availability)
Apple Watch Series 8
Storage
(Subject to availability)
Apple Watch Series 9
Rear camera
Apple Watch Series 8 41mm Midnight Aluminum Case with Midnight Sport Band - SM
Rear camera
Apple Watch Series 8 41mm Midnight Aluminum Case with Midnight Sport Band - SM
Rear camera