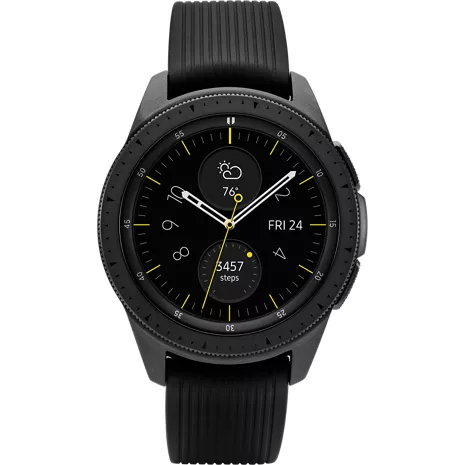 This item is out of stock.
Get the tools you need to live a smarter, stronger life with a Certified Pre-Owned Samsung Galaxy Watch. Track your exercise routines, monitor your sleeping patterns and measure calorie intake using a smartwatch that automatically recognizes and records select activities.1 The Galaxy Watch is the ideal health companion, with guided meditation, breathing exercises and reminders to stay hydrated throughout your day.2 Make calls, respond to texts, stream music and use Samsung Pay3 – all while leaving your smartphone at home.4 Verizon delivers consistently fast speeds in more places than any other 4G LTE network, unlocking the full potential of your Galaxy Watch (Certified Pre-Owned).
Reviews
56% of reviewers recommend this product.
Great, cheap sssss
Yes, I'd recommend this product.
I had a lot of the issues others mentioned but I just took it on and off the charger a few times and the charge issues straightened right out. It took a while to go through all the updates to get it to the current version, I'd basically let it run one update each time I charged it for a while and for some reason I had to manually push the updates but since then it's been a great watch and super cheap. Definitely worth a try to see if it's something you like at the price.
Best watch out there! sssss
Yes, I'd recommend this product.
Have had it since it's release and still continues to work great, and have never had issue charging. After 2 years the battery life was 6hrs but a new battery fixed the problem. Its had its ups and downs with the updates, but overall is the best watch I've ever owned, and until they make a better one (WITH THE ROTATING BEZEL) I will not get another. Highly recommend!
Samsung Galaxy Watch requires pairing with a compatible Android smartphone running Android OS 5.0 (Lollipop) or higher with at least 1.5GB RAM, or iPhone 5 or newer with iOS 9 or later.

1. Galaxy Watch auto tracks six different workouts after ten active minutes. Up to forty workouts can be tracked manually.
2. This device and related software are not intended for use in the diagnosis of disease or other conditions, or in the cure, mitigation, treatment or prevention of disease.
3. Samsung Pay is not available on iOS smartphones. After initial setup, Samsung Pay on the Galaxy Watch can make at least five transactions without reconnecting to a network. Samsung Pay requires network connection through LTE, Wi-Fi or Bluetooth pairing with a compatible smartphone. Samsung Pay is compatible with select cards, carriers, Samsung devices and non-Samsung Android phones. Samsung Pay on the Galaxy Watch is compatible only with NFC-type payment terminals.
4. Voice calling on LTE versions requires initial pairing with eligible Verizon devices and separate qualifying wireless plan. Please check with your carrier for more information.
5. Additional bands sold separately.
6. Water-resistant up to 50 meters per ISO standard 22810:2010. Not intended for scuba diving. Avoid excessive, sudden temperature changes and high-velocity activities. Rinse in fresh water/dry after use in sea water or chlorinated water. This device passed military specification (MIL-STD-810G) testing against a subset of 10 specific conditions, including drops from 4.9 feet, extreme temperatures, dust, shock/vibration, and low pressure/high altitude.
7. SmartThings is not preloaded on the Samsung Galaxy Watch.
8. Usage based on average user profile. Actual battery life depends on factors such as network, features selected, frequency of calls, and voice, data and other application-usage patterns. Results may vary.