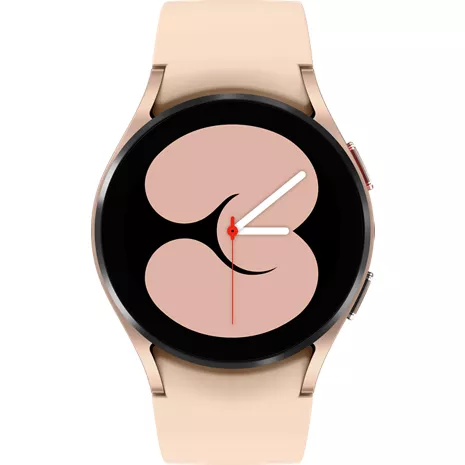 carousel with 1 slides
Ways to save
For personalized offers, .
Introducing the Samsung Galaxy Watch4, a smartwatch to conquer healthy living every day to crush your wellness goals with coveted health features you've been waiting for. Make the most of each run with automatic workout tracking, advanced run coaching and oxygen level monitoring to exercise smarter while gaining endurance. Feel confident when exercising away from home with Trip Detection and SOS messages that automatically send alerts to a trusted contact.1 Combining style and function, the Galaxy Watch4 offers fashionable bands to match your every mood and all-day comfort making it a customizable and stylish tech companion. Stay connected with the Galaxy Watch4 to call and text all from your wrist no matter where you are with Verizon, the network more people rely on.
Reviews
28% of reviewers recommend this product.
Waste of money
Does not last the day charged and I have no apps no notifications on. Not even a year with it and it will not charge anymore
Samsung - 4 days ago
Salutations Veronica, thanks for taking the available time out of your busy day to share your thoughts with us about your Samsung Galaxy Watch4. Your feedback is invaluable to us as we strive to provide the very best products with superior functionality on the market to our customers while we remain committed to constant innovation. Our goal is for our customers to feel like they are having the most memorable experiences while using our products. Samsung provides a 12-month warranty on our products for manufacturing defects in materials and workmanship. There are several reasons why your Galaxy Watch may be experiencing battery drain or have decreased battery life. For example, certain apps can increase battery consumption. Be sure to check out the article titled, "Reduced battery life on your Samsung smart watch" for some tips and tricks on getting the most out of your Watch4 battery. If you would like further assistance and/or troubleshooting, do not hesitate to reach out to Samsung Support. Thank you for being a faithful Samsung customer. - Debra
Very good watch, but a very bad battery
I got this free with the purchase of a Samsung Galaxy S22 Ultra. I'm glad I didn't pay anything for it! I went from a Vivo Active 3 to the Galaxy Watch4 because, 1. It was free and 2. It has more features on it However, if you run the apps necessary for these features, you battery life is cut dramatically short. It needs to be charged daily as opposed to the every third or fourth day for the Vivo Active 3. I went back to the Vivo Active 3.
1. Trip detection measurement software is not intended for use in the diagnosis of disease or other conditions, or in the cure, mitigation, treatment or prevention of disease. Trip detection recognizes falls when engaged in dynamic motion, not when still. Requires network connection to notify emergency contact. GPS accuracy may be affected by obstructions to satellite signals such as buildings.
2. Requires Samsung Galaxy smartphone with Android 7 or later and Samsung Health Monitor app (available only at the Samsung Galaxy app store).
3. The ECG Monitor app is not intended to replace traditional methods of diagnosis or treatment and is for information purposes only. The ECG Monitor app is not intended for users with known arrhythmias other than atrial fibrillation or users under 22 years old. Users should not interpret or take clinical action based on the device without consultation of a qualified healthcare professional.
4. Water resistant up to 50 meters per ISO standard 22810:2010. Not intended for scuba diving. Avoid excessive, sudden temperature changes and high velocity activities. Rinse in fresh water/dry after use in sea water or chlorinated water. This device and related software are not intended for use in the diagnosis of disease or other conditions, or in the cure, mitigation, treatment or prevention of disease.
5. Accurate VO 2 max reading requires running outdoors for at least 20 minutes with GPS on; consult user manual before use. This device and VO 2 measurement software are not intended for use in the diagnosis of disease or other conditions, or in the cure, mitigation, treatment or prevention of disease.
6. Select interchangeable watch bands sold separately.
7. 4G LTE standalone connectivity only available on Samsung Galaxy Watch4 LTE / Galaxy Watch4 Classic LTE version. Standalone voice calling and standalone text messaging on LTE version requires initial pairing with an eligible Android 6.0 or later smartphone device and separate qualifying wireless plan. Your carrier may not support standalone voice calling, or support may be available only in certain areas. Please check with your carrier for more information. Standalone functionality is limited if paired phone is not powered on or connected to a wireless network.
8. The Samsung Body Composition Analysis provides a comprehensive evaluation of various physical fitness and weight management parameters. It is solely for general wellness use and is not intended to diagnose or treat any disease or medical condition.