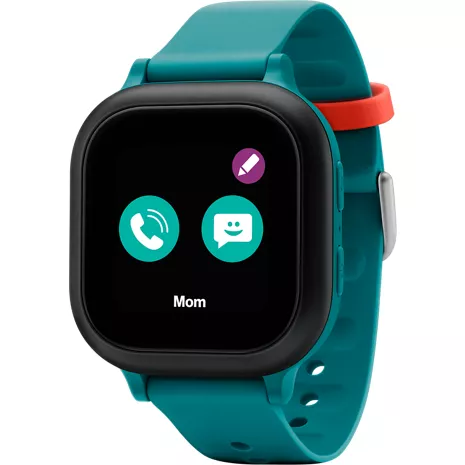 Ways to save
For personalized offers, .
Buy one, get another up to $100 off. Any plan.
GizmoWatch 2 is a kid-friendly smartwatch designed with your child's safety in mind. GizmoWatch 2 is chock-full of features parents will love, like a GPS locator, ¹ reminders and easy-to-use parental controls. This is one smart watch that fosters independence while helping to provide parents a little peace of mind. It includes interactive features like a step tracker to encourage healthy habits and to-do lists with rewards. Set up to 10 trusted contacts that kids can send voice notes to, call, or text.2 Waterproof3, durable and easy to use, the new GizmoWatch 2 connects to 4G LTE from Verizon, the nation's most awarded network.
Reviews
30% of reviewers recommend this product.
Great GPS tracker for special needs individuals sssss
The Gizmo has been a fabulous device to give our daughter autonomy and gives us peace of mind to know we can track her, as needed. We can talk to her on the device and she can call us - It's been a "life saver" for all of us who work with our daughter. Thank you!
So far it's been good sssss
Yes, I'd recommend this product.
Only had it a few days, but so far we like it. While the child texting is limited as some have mentioned, they can do any voice message they want. It would be mighty hard to put a keyboard function on a watch like this, and the voice memos do a fine job of covering that function. One thing I need to mention though - not sure if this is common to other apps/phones but I have a Pixel 6 Pro, and while listening to music I wanted to send my son a voice memo. I did so, thinking that like sending a voice text message, it would pause the music app automatically. Not only did it not pause the music app, but as soon as I completed the voice memo my music app immediately jumped to 100% volume. I have a $350 pair of studio on ear headphones, so this was a horrific experience and lucky I didn't blow the drivers. So next time I paused my music app, sent the voice memo, and then pressed play - at which point again my volume had been reset to 100%!!!! I have to assume that now anytime I want to send a voicememo, I'm going to need to also adjust my phone volume back down. That's a bit of a pain, and I certainly hope this can be fixed in a future update for the watch.
The Verizon Gizmo Team - 17 hours ago
Hi Prof. We're happy that you find the Gizmo voice message feature to be useful. The volume issue you describe is a new one to us, so we would really like to look into it and see if we can determine the cause and offer a solution. Please email us at gizmo@verizon.com
1 Dependent on carrier coverage. Device must be turned on. Verizon makes no representations or warranties about the availability or accuracy of the GPS or about the accuracy or completeness of any map data or other information.
2 Numbers must be registered through the GizmoHub App. Gizmo Watch permits up to nine contacts in addition to the primary registered caregiver.
3 Waterproof: This device has been tested to be IPX7 compliant. Do not operate underwater. If all covers are tightly closed, device is protected against water ingress to a maximum of 1 meter deep for 30 minutes.
4 Data usage applies for app download and use.
5 Repeat call must be placed within 60 seconds of the previous unanswered call.