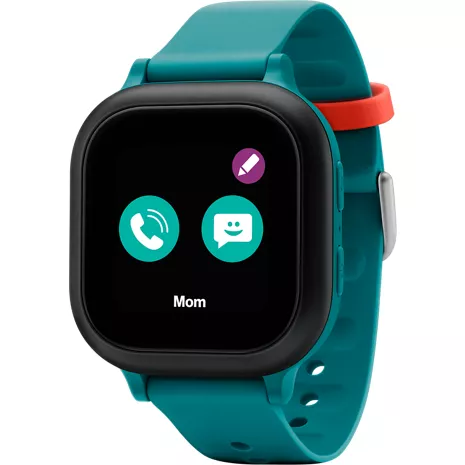 Ways to save
For personalized offers, .
Buy one, get another up to $100 off. Any plan.
GizmoWatch 2 is a kid-friendly smartwatch designed with your child's safety in mind. GizmoWatch 2 is chock-full of features parents will love, like a GPS locator, ¹ reminders and easy-to-use parental controls. This is one smart watch that fosters independence while helping to provide parents a little peace of mind. It includes interactive features like a step tracker to encourage healthy habits and to-do lists with rewards. Set up to 10 trusted contacts that kids can send voice notes to, call, or text.2 Waterproof3, durable and easy to use, the new GizmoWatch 2 connects to 4G LTE from Verizon, the nation's most awarded network.
Reviews
30% of reviewers recommend this product.
Don't buy before you read the fine print! sssss
I'll make this short, get an apple SE instead. The SE still has many of the same features, including control over contacts and parental controls. Here is a list of things that are terrible..1) battery rarely makes is through the day so it may be dead when you need it most and you can't reach your child. 2) only being able to add 9 contacts is a lot less than you think. 3) apps are pretty much useless and you can't add more. 4) you CANNOT send or receive texts outside of the Gizmo app. I understand why it's like that, however, this was not clear up front. Why not give us an option? It's super annoying to have to go launch an app to just send a simple text message. And by the way, the child can only record their voice and send a message or send messages using a pre-defined list of messages that cannot be modified. And finally here is the worst part. Once you open the package so you can figure out all the things I mentioned , you're pretty much stuck with it because Verizon's $50 mandatory restocking fee. That's half of the watch price ! That's just ridiculous and that's because I wanted to do an exchange and it was still a $50 restocking fee for this garbage of a watch. This has really changed my view of Verizon's service and for even offering such a terrible device.
The Verizon Gizmo Team - 14 hours ago
Hello, Randy. Yes, for older kids, we agree that the Apple Watch SE is a good choice. In contrast, Gizmo watches are for younger children who are not ready for a full-fledged smartphone or smartwatch. Gizmo introduces kids to wireless technology safely,
1 Dependent on carrier coverage. Device must be turned on. Verizon makes no representations or warranties about the availability or accuracy of the GPS or about the accuracy or completeness of any map data or other information.
2 Numbers must be registered through the GizmoHub App. Gizmo Watch permits up to nine contacts in addition to the primary registered caregiver.
3 Waterproof: This device has been tested to be IPX7 compliant. Do not operate underwater. If all covers are tightly closed, device is protected against water ingress to a maximum of 1 meter deep for 30 minutes.
4 Data usage applies for app download and use.
5 Repeat call must be placed within 60 seconds of the previous unanswered call.