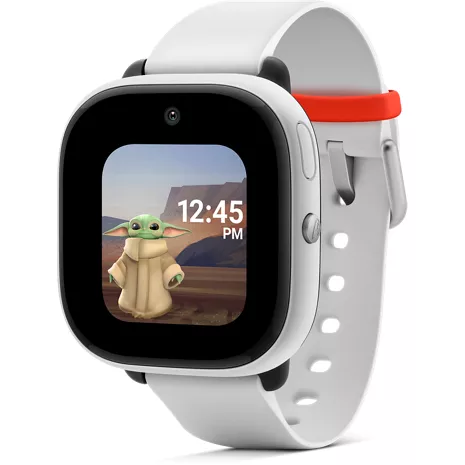 carousel with 1 slides
Ways to save
For personalized offers, .
Buy one, get one $100 off.
Meet the GizmoWatch Disney Edition, a smartwatch designed to empower children and give peace of mind to parents. This watch features animated characters from Disney, Pixar, Marvel and Star Wars™, creating an interactive user experience. Characters react in lively ways on the home screen when checking the weather and when notifications come in. Active lifestyle apps make movement fun with activity-tracking that has characters to motivate and reward children for keeping active. Kids learn how to manage tasks with helpful features like alarms and reminders. An SOS button and Auto Answer will keep you and up to 10 trusted contacts easily in touch with your child. And real-time location tracking and boundary notifications can give parents peace of mind right on their smart devices. Kids can use the GizmoWatch Disney Edition for everything from fun with friends to staying on top of responsibilities at home. Do more with the GizmoWatch Disney Edition and Verizon, the network more people rely on.
Reviews
24% of reviewers recommend this product.
It's cute, but that's it.
We have awful coverage in our area. When we were sold this watch we were told it would have Wi-Fi capabilities but later learned that was not the case. This does so fast and is not worth the investment we've put in. My son does, however, love the interaction you can have with it.
The Verizon Gizmo Team - 19 hours ago
Hi Riana. The watch does have Wi-Fi, but it works only in the background to assist with location tracking. For all other features, the watch uses the Verizon 4G network. We are glad that your son is enjoying his Gizmo. If you would like us to assist you further with this product, please contact us at gizmo@verizon.com
We love it, just one catch…
JC Ciamaricone . 10 days ago
Yes, I'd recommend this product.
Our daughter loves the Disney Gizmo, but the signal quality is very poor, even after Verizon refreshed the line.
1. Only one designated emergency contact can be called, which the parent establishes during device setup, and which the parent can update in the GizmoHub app.
2. This information can be accessed on the device by pressing the SOS button and selecting the Medical ID option.