Verizon 5G MiFi M1000 Hotspot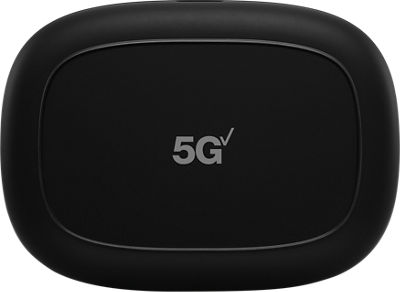 This device is no longer available for purchase.
Next-level convenience, now with 5G Ultra Wideband connectivity. The Verizon 5G MiFi M1000 Hotspot lets you share Internet on the go with other smartphones and Wi-Fi-enabled devices. Experience ultra-fast upload and download speeds on a user-friendly hotspot. Advanced administration tools and user settings put security in your own hands. And a long-lasting 4400 mAh Li-Ion battery keeps your device going for hours on end. Unleash its full potential with Verizon, the nation's most awarded network.
Reviews
start rating review 2.5 out of 5 stars
2.5/5
22 Reviews
40%
of reviewers recommend this product.
This Hotspot is faster than my phone
SKYY - 6 months ago
Yes, I'd recommend this product.
I ordered this because I needed a consistent 10mg download and at least 3mg upload speeds to work from home. I also needed a secure connection connected via ethernet. I received this yesterday and so far have been able to exceed the speeds needed (even with 1 bar.) I live in a very rural location where the internet speeds through our local providers could not provide the speeds I needed consistently. So far I believe this is a great product for me!
This device is great!
Wallace - 7 months ago
Yes, I'd recommend this product.
I'm not sure what is going on with the negative reviews on this product. It is *not* huge, it fits in my pocket easily. Battery life is tremendous and it recharges quickly using the provided charger but will also charge with other USB-C chargers. I haven't had this device for very long so I haven't done exhaustive battery life testing but I will update this review if the system lets me. I am relatively close to a tower but I have 5 bars always. It works with my smartphone, with my tablet, and with my PC. The wired Ethernet port works with my old Linux box. It has an on-board speedtest and - at the device - I get 140 Mbps down, 70 Mbps up with 4G LTE. Unless you stream 4K video all day long, this device will probably work for you.
Excellent Little Device
Edogg - 7 months ago
Yes, I'd recommend this product.
Highly impressed with the speed and design of this equipment. Ordering another for a family member. These devices will only improve performance-wise as this technology continues to grow so folks need to be patient as it rolls out.
Moto Z
Bernbear - 6 months ago
Yes, I'd recommend this product.
I was hesitant about the Motorola Moto Z phone but has surprised me as to how easy it is to use without the loss of quality. In fact I find it easier to use than the Samsung Galaxy S8 that I had.
4g tested only -but solid little device
Nolan - 11 days ago
Yes, I'd recommend this product.
I wanted to have a backup for my internet which is out in the country and often drops off. I did not expect this things to put out the MBPS that it did. It was really easy to setup, and I immediately connected my computer to it to test the speed. First test was 30mbps down and 10mbps up. If you live in a city, you will not be impressed with this speed. HOWEVER, My MAX internet is 12mbps and I rarely get that. This little guy is nearly 3x as fast as my dedicated home internet connection. It also has a built in speed test in it, and was able to pull 50mbps when using that test! This is more than enough to allow me to work from home and not have to worry about it. Honestly, it's life-changing. While we don't get 5g out where I live, (And don't think my town of 900 people will get it anytime soon) the 4g LTE is more than enough to do everything I need.
Inseego 5G MiFi M1000 Hotspot
Debbra - 7 months ago
Yes, I'd recommend this product.
Device works relatively well, however, the unit/battery gets very hot. Had this happen with my other device, and the battery bulged and had to be replaced twice. Concerned this device will be same scenario.
1 5G Ultra Wideband access requires a 5G Ultra Wideband-capable device in the 5G Ultra Wideband coverage area. 5G Ultra Wideband available only in parts of select cities; see vzw.com for 5G Ultra Wideband availability. This device gives you access to 5G Ultra Wideband and 4G LTE but is not 5G Nationwide capable.