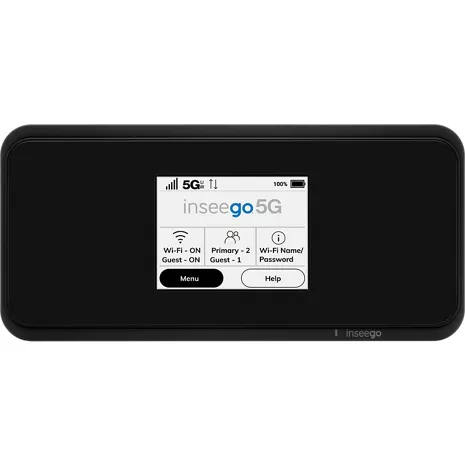 Introducing the Inseego MiFi M2100 5G UW, a 5G mobile hotspot with 4G LTE backup that delivers a seamless Gigabit experience.1 Connect up to 30 devices securely with enterprise-grade dual-band Wi-Fi or with a wired USB-C connection. Customizable user and security settings on the 2.4" touchscreen can be easily modified to meet your needs. The mobile app offers another way for users to connect and manage their device. Now with the coverage of 5G Nationwide and the unprecedented performance of 5G Ultra Wideband.1

This device supports 5G UW high-band (mmWave) only, 5G Nationwide and 4G LTE.
Reviews
36% of reviewers recommend this product.
Less than expected. sssss
Yes, I'd recommend this product.
I've had this device I believe for a year now. And while it does work for the most part I am still disappointed in it. I wish it had an external antenna because to be honest I can set this thing in the exact same spot as my Samsung Tab S7+ and using the tablet as hotspot, the tablet out performs it. Better stronger signal, better connection stability, and definitely better battery life. For an example tablet would show 5G with three bars and have 30 mb down and 10 up. While the hotspot itself would be at 4g 2 bars and 9 down and between 1 to 2 up. Gaming wise there would be apparent packet loss while using the hotspot meanwhile the tablet hotspot would be 98% buttery smooth with only a few hiccups during a session. Battery is to be expected but I would have assumed the device with only one job would do better than a tablet. Playing fps games online though the tablet was a better experience than using the hotspot was and that to me is disappointing. For just browsing the web the hotspot itself performed well. I can't say if I would definitively recommend this hotspot or not because other than my tablet being used as a hotspot this is the only dedicated hotspot I have ever owned and I am deeply considering replacing it. But I can say it will give you internet access if you're in a pinch.
Good for some time sssss
I had one for 2 years. I used it for about six months total. It worked well until all of the sudden it froze. Then Verizon said, well, your only option is to get an upgrade. Only basic troubleshooting was performed. This piece of equipment is not worth the price and Verizon support, what support? ;) stay away from this
1. 5G Ultra Wideband available in select areas. 5G Nationwide available in 2,700+ cities.