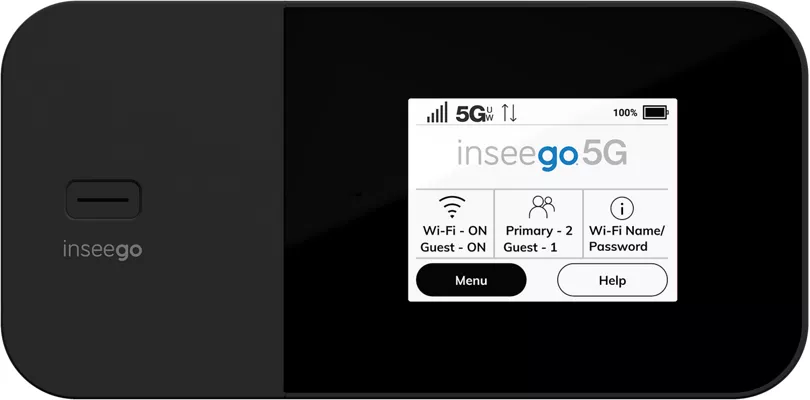 Monthly payments shown are for customers who qualify to pay $0 Down, $9.72/mo for 36 months; 0% APR. Retail price: $349.99. One-time activation fee of $35.
Meet the Inseego MiFi® X PRO 5G UW1, the powerful, secure hotspot device equipped with everything you need to work, create, and communicate. This mobile hotspot delivers a next level, ultra-low lag experience powered by 5G and Wi-Fi 6 for up to 32 WiFi-enabled devices, including laptops and tablets. The intuitive touch screen on the device itself is easy to navigate so you can quickly monitor your connections, identify your WiFi name and password, and more. With built-in security, a fast-charging, and long-lasting battery2 the portable MiFi X PRO will keep your connections protected all day long.
Reviews
6 reviews
of reviewers recommend this product.
Battery doesn't last very long…. I live in Tampa, Florida and the reception is awful. Always 2 bars or less. Sometimes is on 4g
DragonXVIII · 10 days ago
I would not buy this nor recommend it. My 5 year old 4g device was more reliable and provided better reception than this.
Inseego Team - 3 days ago
Please contact us at inseego.com/support to understand your MiFi X PRO performance.
Keeps disconnecting.
Regardless of where I position this hotspot, it consistently drops connection for any connected devices. I simply cannot connect a Samsung smart TV I purchased late last year, thought that same TV connected to an AT&T hotspot with NO issues. I don't understand how the hotspot on my phone, performs way better that an actual hotspot. Whenever I can maintain a connection, it is good, though it hasn't proven to be a reliable source of connectivity. I may be returning this. **As I was typing this, the hotspot dropped my connection AGAIN.**
Inseego Team - 17 days ago
Supreme - Please reach out to us at inseego.com/support to understand what is happening and provide a solution.
5G Ultra Wideband available in select areas. 5G Nationwide available in 2700+ cities.
13 hours of usage on a single connection with light browsing. Battery life and charge cycles vary with use, settings, and other factors; actual results will vary.