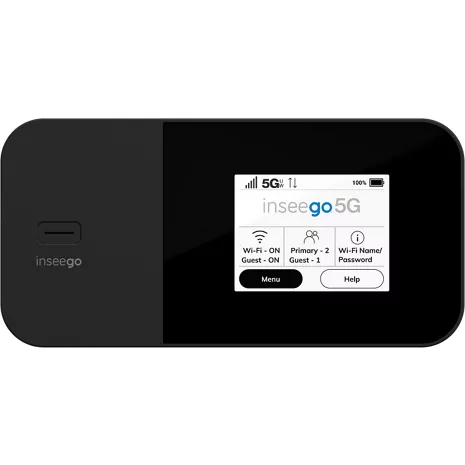 Overview tab selected 1 of 4
Overview Section Start
Meet the Inseego MiFi® X PRO 5G UW1, the powerful, secure hotspot device equipped with everything you need to work, create, and communicate. This mobile hotspot delivers a next level, ultra-low lag experience powered by 5G and Wi-Fi 6 for up to 32 WiFi-enabled devices, including laptops and tablets. The intuitive touch screen on the device itself is easy to navigate so you can quickly monitor your connections, identify your WiFi name and password, and more. With built-in security, a fast-charging, and long-lasting battery2 the portable MiFi X PRO will keep your connections protected all day long.
Reviews
55% of reviewers recommend this product.
Dosn't work half the time
Not a happy customer . 2 days ago
Cannot lock 4g
I wish I could get my money back. This has bad signal strength overall (even though it is the best of all that I've tried from Verizon). I regularly travel and the swapping between 4g and 5g destroys the ability to maintain a reliable stream of data of any kind. I have *never* encountered a device that *did not allow locking 4g*! What are all those people on the edge of a 4g/5g area supposed to do, pray? Seriously, avoid this modem. Get a Nighthawk M5/M6 (not M1) that has full support for B13, B66 and the rest and works wonderfully while allowing the locking to LTE (4g) network (which goes through walls and trees so much better than 5g. 5g is a freaking joke unless you are literally in one spot, with an external antenna, reasonably close to a tower. Thankfully, 4g will *never* be retired because too much depends on it.
5G Ultra Wideband available in select areas. 5G Nationwide available in 2700+ cities.
13 hours of usage on a single connection with light browsing. Battery life and charge cycles vary with use, settings, and other factors; actual results will vary.