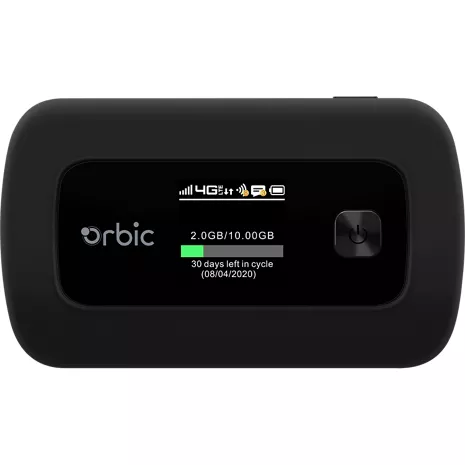 Overview tab selected 1 of 4
Overview Section Start
Verizon exclusive Orbic Speed offers a secure, reliable Wi-Fi connection, whether you're working from home or traveling. Outfitted with the most up-to-date technology, you can easily connect up to 10 Wi-Fi enabled devices such as laptops, tablets and more. A long-lasting, rechargeable battery1 and lightweight, compact design make this mobile hotspot your on-the-go internet solution. The Orbic Speed is equipped with dual-band 802.11 ac Wi-Fi for high-speed connectivity and greater range. Check your email, stream your favorite movies and so much more with the Orbic Speed and Verizon, America's most awarded network.
Reviews
39% of reviewers recommend this product.
Horrible product horrible service.
Unsatisfied new customer . 1 day ago
Unit Sucks
Poor performance and connection with laptop(s). Poor quality connection with phone and often does not appear to abide to connect. Can't access messages from the unit.
1. Based on average battery life under typical usage conditions. Average expected performance based on typical use. Actual battery life depends on factors such as network, features selected, frequency of calls, and voice data, and other application usage patterns. Results may vary.