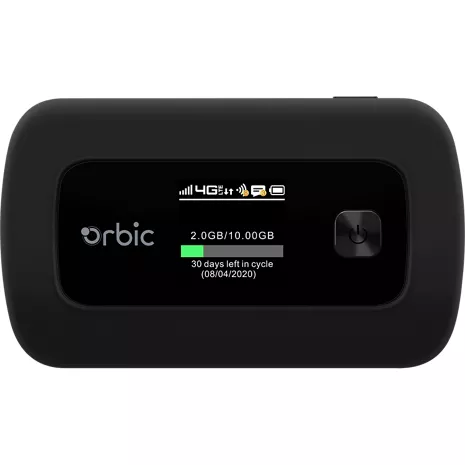 Overview tab selected 1 of 4
Overview Section Start
Verizon exclusive Orbic Speed offers a secure, reliable Wi-Fi connection, whether you're working from home or traveling. Outfitted with the most up-to-date technology, you can easily connect up to 10 Wi-Fi enabled devices such as laptops, tablets and more. A long-lasting, rechargeable battery1 and lightweight, compact design make this mobile hotspot your on-the-go internet solution. The Orbic Speed is equipped with dual-band 802.11 ac Wi-Fi for high-speed connectivity and greater range. Check your email, stream your favorite movies and so much more with the Orbic Speed and Verizon, America's most awarded network.
Reviews
39% of reviewers recommend this product.
Wow to submit you have to agree they can change it
Robert A Swacker III . 1 day ago
Having trouble with it tried to get ahold of tec but going through ai sucked will try again tomorrow
Works well, but……
Yes, I'd recommend this product.
Hotspot works well. My complaint is about the plan. We purchased it after Hurricane Idalia took out our power and internet for over a week. The idea was to use it until the power and internet came up and also for when we go camping. We go camping maybe 4-5 times a year for 4-5 days at a time. My complaint is that I can only suspend it once per 12 month period for 3 months which costs me $10 per month. I can disconnect when not using and pay another $35 every time I want to activate it. My plan is $51 per month. I don't mind the $10 per month to hold onto the phone number, but I'd like more flexibility to keep it inactive for more than 3 months per year.
1. Based on average battery life under typical usage conditions. Average expected performance based on typical use. Actual battery life depends on factors such as network, features selected, frequency of calls, and voice data, and other application usage patterns. Results may vary.