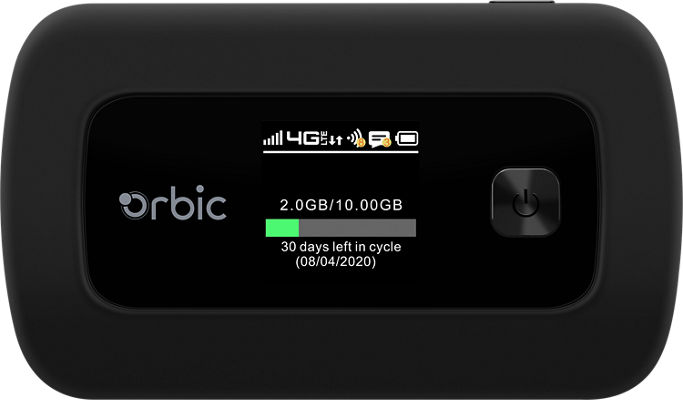 Customize
Black
Monthly payments shown are for customers who qualify to pay $0 Down, $2.22/mo for 36 months; 0% APR. Retail price: $79.99. One-time activation fee of $35.
Verizon exclusive Orbic Speed offers a secure, reliable Wi-Fi connection, whether you're working from home or traveling. Outfitted with the most up-to-date technology, you can easily connect up to 10 Wi-Fi enabled devices such as laptops, tablets and more. A long-lasting, rechargeable battery1 and lightweight, compact design make this mobile hotspot your on-the-go internet solution. The Orbic Speed is equipped with dual-band 802.11 ac Wi-Fi for high-speed connectivity and greater range. Check your email, stream your favorite movies and so much more with the Orbic Speed and Verizon, America's most awarded network.
Reviews
126 reviews
of reviewers recommend this product.
Cannot leave plugged in all the time
If I leave the Orbic Speed plugged in for any length of time I get a message to unplug it as it isn't good for the battery. I can't always do this and now the battery will not keep a charge at all. It isn't a year old yet. I was also overcharged for the device. I paid way over what it is selling for now. Even though I have a strong signal and I have used very little of my unlimited data I get throttled to the point it is unusable. I don't recommend this device and I'll be taking it to the Verizon store to see what they will do to make this right.
Don't buy
It turns off all the time. I work online and I could be in the middle of something and my internet goes down .it happens 3 to 4 times every hour. The worst wifi I ever owned
1. Based on average battery life under typical usage conditions. Average expected performance based on typical use. Actual battery life depends on factors such as network, features selected, frequency of calls, and voice data, and other application usage patterns. Results may vary.