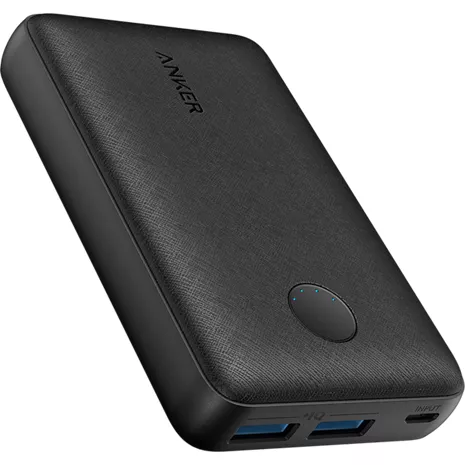 Overview tab selected 1 of 4
Overview Section Start
Make sure your smartphone and devices stay charged wherever you are with the PowerCore Select 10K mAh Portable Power Bank. Featuring two USB-A charging ports, this compact and portable charger offers 10,000mAh of charge to keep your devices going strong, even on the go. And, with universal compatibility, you can charge any device with confidence.

Reviews
73% of reviewers recommend this product.
Power Bank Needs Instructions & Warnings
Appears to be a good asset to carry for emergency low battery. Comes with NO DIRECTIONS. Going to "Manuel" on web site, as suggested, is of no help either. Does not show when charging, finished charging, or how much is left. Seems to stop and turn off before phone is fully charged. If left on after phone fully charged, will discharge phone. Cannot plug in and go to bed. Phone was 89%, in morning was 50%. Dots do not show all time.
Anker Team - 4 days ago
Dear Customer,

I am truly sorry to hear that you are experiencing this issue. We understand how frustrating it can be and we appreciate your patience.

Please rest assured that we stand behind our products and are willing to provide assistance within our capacity. We are committed to ensuring your satisfaction and resolving your concerns promptly.

You can reach out to us via support@anker.com or call us at +1 (800) 988 7973. Our customer service team is always ready to help you.

We look forward to your message so we can address your issue as soon as possible. Thank you for bringing this to our attention and giving us the opportunity to make things right.

Best Regards,
Good Device
Coyote Prophet . 13 days ago
Yes, I'd recommend this product.
Compact, light, and does the job quick and right at keeping devices charged.