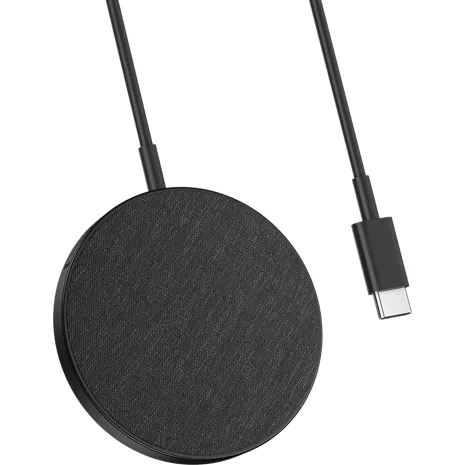 Overview tab selected 1 of 4
Overview Section Start
Keep your devices fully charged with the PowerWave Select+ Magnetic Wireless Charging Pad. The soft PU leather surface is soft to the touch with a sturdy aluminum base forms an ideal charging pad. Your device snaps magnetically into place for perfect alignment and efficient charging. And, the long 5-foot cable allows you to charge your phone with ease, no matter where your outlet is.

MultiProtect technology.
With advanced safety features like temperature control, overload protection and more, MultiProtect technology helps you charge without worry.
Reviews
33% of reviewers recommend this product.
Not happy, took it with me on vacation and could not use it
Bad charger . 5 months ago
Does not have charging plug in
Anker Team - 3 months ago
Dear Customer,

I am truly sorry to hear that you are experiencing this issue. We understand how frustrating it can be and we appreciate your patience.

Please rest assured that we stand behind our products and are willing to provide assistance within our capacity. We are committed to ensuring your satisfaction and resolving your concerns promptly.

You can reach out to us via support@anker.com or call us at +1 (800) 988 7973. Our customer service team is always ready to help you.

We look forward to your message so we can address your issue as soon as possible. Thank you for bringing this to our attention and giving us the opportunity to make things right.

Best Regards,
🫤🫤over heats
Problem finding an adapter for charing andbover heats